New on the iOS App: Log in with a QR Code, Share Charts, and Support for Multiple Accounts.
The ChartMogul iOS app got a refresh. You can share individual charts, add a widget with your ARR, and invite all your team members to use the app securely. Additionally, if you're a VC with multiple ChartMogul accounts, you can easily swipe between dashboards.
Here's what's new in the iOS app.
All users can access the app via secure QR login
When we initially launched the iPhone app, only admins were able to use it. Thanks to the recent upgrade to API access management, we can now offer universal access to all ChartMogul users via a secure QR login.
Anyone with a ChartMogul account can create a read-only API key, scan the QR code and get access to the metrics of the organizations they are part of. 
These are the charts you're able to see in the app:
Monthly Recurring Revenue

Annual Run Rate

Subscribers
Share your charts 
Long-press on one of the charts to share it.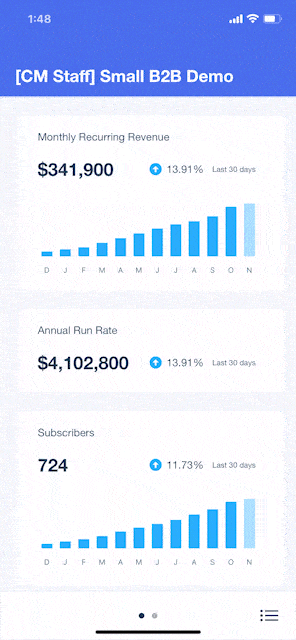 You can choose from many options, whether you want to share it in a private message or publicly on social media. 
Many of you build and grow your companies in public and share ChartMogul charts on social media. Now, you can do it directly from the app in just a few taps.
Some Sunday fun…

ChartMogul went from $0 to >$65K ARR in <2months, and >$100K ARR in <3 months.

We haven't historically shared our revenue numbers. However, here's a glimpse at our first 2 months in business (early 2015). We won our first paying customer on Jan 6th 2015.

1/3 pic.twitter.com/YbbEKfQgU3


— Nick Franklin (@Nick_Franklin) September 5, 2021
Today @microacquire hit $1m/ARR.

Our 2022 goal is $10m in revenue.

Thanks for everyone's support. Truly means a lot to me and my team. We look forward to helping 1000s of entrepreneurs get acquired all across the globe.

For the love of startups! 🤘 pic.twitter.com/kKsyX8zggL


— Andrew Gazdecki (@agazdecki) October 15, 2021
Get the widget and keep your ARR on your home screen
If you're as into your SaaS metrics as we are, you can even add a ChartMogul widget to your home screen and check progress without even opening the app. 
You'll see your ARR and the growth trend over the last 30 days right on your home screen.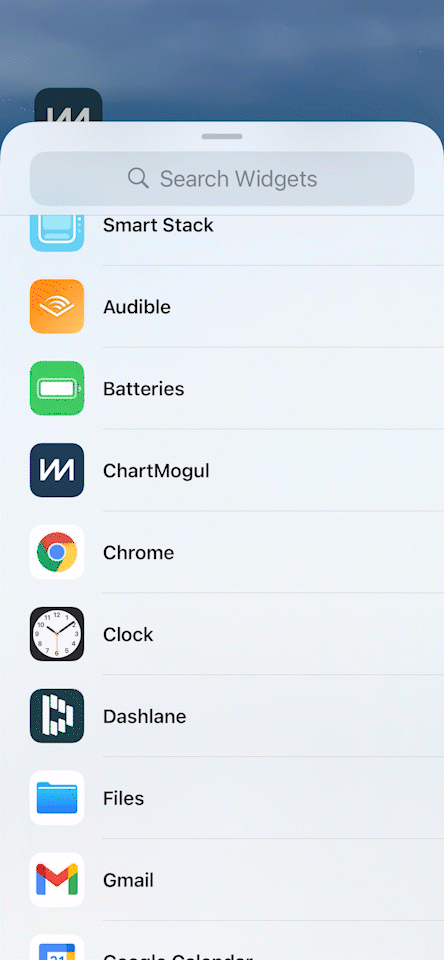 Swipe between accounts with the VC feature 
We created this last feature with VCs in mind. 
You can view multiple ChartMogul dashboards within the same app. Just add the additional ChartMogul accounts and swipe between your dashboards.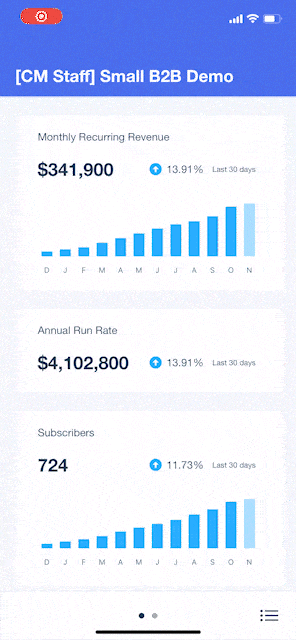 Scan the QR code to get started
Update your app or download it from the App Store to get started, and keep your subscription metrics handy at all times.
To add a ChartMogul account to your app, go to your account in the browser, navigate to your user profile by clicking "Profile" > "View profile" and add a new read-only API key. Next, click on the QR code. Now, using the app, tap on the three dots in the upper right corner and click "Add account". Your new account will show up immediately after scanning the code.
Just scan the QR code on the top of this blog post, and you'll be ready to take your metrics on the road.