Law CRM | Key Features and Top Platforms
Editor's note: Andrew overviews the key features and benefits of implementing CRM for lawyers and shares the best 3 CRM platforms for legal companies. If you are interested in implementing a CRM system, feel free to check CRM consulting services ScienceSoft offers.
Law Customer Relationship Management (CRM) is software for managing relationships with current and potential customers by a law company. CRM is used to attract new B2C and B2B customers, speed up deal closure, manage legal workflows efficiently, and stay in touch with your clients. The aim is simple: to earn and retain loyal clients to support your firm's growth.
Key Features of Law CRM
Customer data centralization. As your legal practice grows, you will need a CRM to organize existing clients and leads and store their contact information. Law CRMs consolidate all communications, documents, and tasks associated with each lead and client, allowing your entire team to access those details anytime. Having a clear view of your customers and their changing needs will put you ahead of the game.
Automation of marketing and sales workflows. Law firms use marketing capabilities of CRM software as a way to attract and nurture new clients who are likely to stay with the business for a long time. CRM helps leverage comprehensive customer data to launch targeted marketing campaigns and then move leads through a sales pipeline to convert them into customers.
Customer interaction management. Law CRM gives lawyers and law firms an opportunity for multi-channel communication with existing and potential customers (via chats, emails, phone calls, and other means of communication).
Automation of daily tasks. Customizable email templates, automated reminders, activity calendars, and other CRM tools will facilitate daily work of your team and contribute to building consistent relationships with your customers.
Self-service for customers. Law CRM provides self-service features for customers, such as a customer portal or a searchable knowledge base with the description of law services, guides and tips on legal processes. Al-powered chatbots make it easy for customers to find the information they need in real time without the human help.
Top CRM Solutions for Legal Firms
Microsoft Dynamics 365
ScienceSoft's choice
Dynamics 365 is a software suite for customer relationship management developed by Microsoft. There are solutions for effective management and automation of marketing, sales, and customer service processes. The bundle allows law firms to handle caseloads time-effectively by centralizing contact information, scheduling activities, and facilitating customer outreach via different channels. The platform provides instant visibility into the goals of client acquisition and retention, and related analytics.
Microsoft Dynamics 365 is an optimal choice for companies looking for comprehensive CRM that can be easily tailored to their specific business needs. The prices are:
Sales solution – from $65 per user/month.
Marketing solution – from $1,500 per tenant/month.
Customer service solution – from $50 per user/month.
More about Dynamics 365
Lawmatics
Lawmatics offers an integrated solution for streamlined client intake, contact management, marketing automation, billing, e-mail marketing, source tracking, analytics, and much more. The pricing is based on the number of users as well as the number of contacts, starting from $199 per month for 3 users.
More about Lawmatics
Law Ruler
Law Ruler is a cloud-based legal practice management software that was designed specifically for lawyers and law firms. It is powered by artificial intelligence, and includes a large selection of modules such as matter management, legal billing, client case intake, and attorney-client communication. The cost of Law Ruler starts at $169 per month for 3 users.
More about Law Ruler
Technology to Win and Retain Long-Term Clients
Law CRM can help optimize marketing, sales and customer service activities, eliminate manual data entry, and get actionable insights on existing and potential customers, thus saving lawyers' precious time. If you'd like to get maximum value from interactions with your clients, prospects, and leads with the help of CRM, feel free to engage ScienceSoft's team for CRM implementation.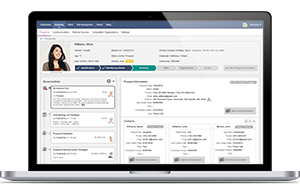 A CRM consulting vendor with 11 years of experience, we will help you choose and implement a CRM that suits your business best.