Introducing UserFeedback – Easy Survey Tool to Uncover What Users are Really Thinking
Do you want to know why your website visitors abandon your site?
Ever wished there was an easy way to read your website visitors' minds WITHOUT learning telepathy or using an expensive user survey tool that costs a fortune?
If you're like me and most other smart website owners, then you have at least wished for this solution a couple of times in your WordPress journey.
Today, I'm excited to share the launch of my free UserFeedback plugin, which enables you to collect real user feedback quickly and easily.
We built this tool because we want to know the "why" behind every website visitor's action that Google Analytics won't tell you.
When you know the why or the intent behind users' actions, you can easily figure out why your visitors buy or do not buy your products.
Background Story
In 2016, I acquired a Google Analytics plugin for WordPress, completely revamped it, and launched it as MonsterInsights.
The goal of this plugin was to help users make informed decisions by showing them the data that matters to their businesses.
For example, you can easily see which products or pages are the most popular or where your most profitable traffic comes from.
As the plugin grows, I often get asked by our users: is there a way to understand the intent of every website visitors' actions?
When you know the intent … the "why" behind users' actions, you can figure out why customers purchased from you or, better yet, why they did NOT purchase from you.
Unfortunately, Google Analytics only tells you half the story: "What is happening on your website?". It's not built to answer the other half of the question: "Why are your visitors doing that?"
In fact, most of the customer feedback tools in the market charge exorbitantly high prices, which aren't affordable to small businesses.
After a lot of thought and consideration, we decided to release a brand-new plugin called UserFeedback, which enables you to understand user intent by collecting real time feedback from them.
With UserFeedback, you can:
Create a demographic survey to fill out your buyer personas
Ask website visitors to leave their phone number for a callback
Run customer satisfaction surveys to see what buyers think about your products
Run NPS surveys
Ask for feedback on your website design
Run product surveys to find out what buyers are actually using your products for
And so much more
What is UserFeedback?
UserFeedback is a free and powerful WordPress plugin that lets you launch in-the-moment surveys to collect quality feedback from your website visitors.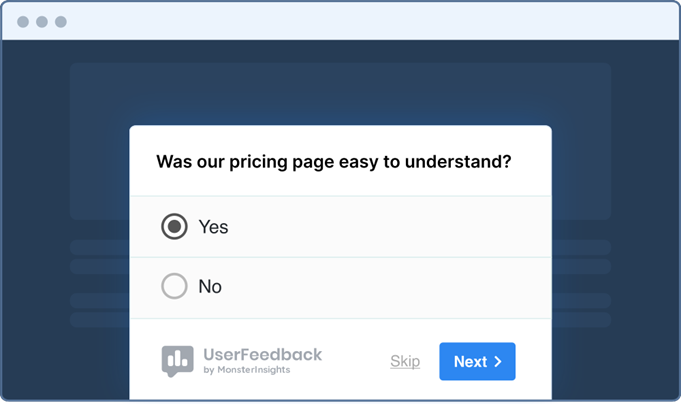 It comes with built-in templates and questions to make creating feedback surveys quick and effortless, including:
Website feedback/experience
Ecommerce store survey
NPS survey
Post purchase review
Product usage survey
Competitive research
And so much more!
Anything you've ever dreamed of being able to easily ask your customers, you can ask with UserFeedback.
In combination with a powerful analytics tool like MonsterInsights, website owners can finally see both the "why" and the "what" of their users' behavior on their WordPress websites.
When you have direct access to your visitors' wants and needs, you can make changes that will take your website and business to the next level.
My plan is to continuously add more helpful templates and addons to make UserFeedback even more powerful and essential to understanding your website visitors.
Collect Feedback in Minutes, not Hours
UserFeedback makes it super easy to launch a survey in minutes, not hours. Its 20+ survey templates give you a head start, so you don't always have to start a feedback survey from scratch.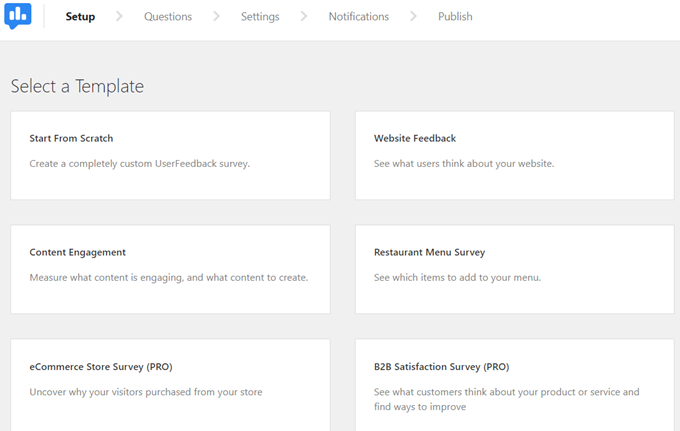 Each of those templates is pre-designed for different user needs. Based on your requirements, choose the right template, make quick changes, and publish it on your website.
For example, the Website Design Feedback template comes with a star-rating question, whereas the NPS Survey template lets your users grade their loyalty on a scale of 1 to 10.
The best part is that you can build and preview your design within the dashboard.
Get Best Results with Laser Targeted Surveys
UserFeedback enables you to display the right surveys at the right time to the right users. Here are some targeting options you can use for the best results.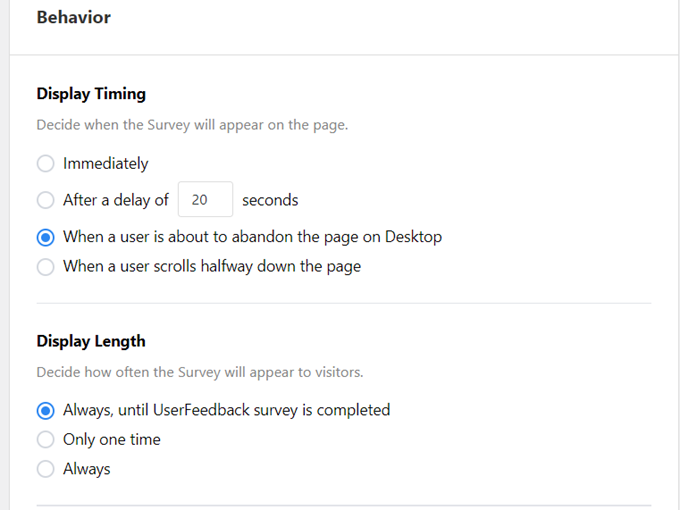 Logged in status: Choose to show your surveys only to logged in or not logged in users.
Page URL: Show it only on certain pages
Traffic source: Display it based on the traffic source, like organic traffic, PPC ads, social media, and so on.
Device type: Choose which types of devices the survey should appear
Display timing: Choose the right time to show the survey.
Exit intent / scroll targeting: You can show it to users who abandon the site on desktop or show when a user scrolls halfway down the page.
And much more…
Now that you know how UserFeedback works, let's take a look at how our customers are using UserFeedback to grow their businesses.
1. Focus on What to Prioritize Next
Are you looking to redesign your website? Wondering how to improve your website copy to boost sales and conversions?
One of the best things about UserFeedback is that it lets you collect feedback score on every page of your site. That way, you can quickly find pages that aren't resonating well with your audience and prioritize those pages while redesigning.
2. Get Feedback to Validate Your Plans
Pushing out new changes on your site can be intimidating. It's especially true when you change the pricing plan on your website.
With UserFeedback, you can validate your plans with a survey and learn what users think about your latest plans.
3. Boost Profit by Reducing Customer Churn
UserFeedback comes with several targeting options, including exit intent. This targeting option helps you understand why users are leaving by collecting feedback at the exact moment when people churn.
4. Collect a Constant Stream of Great Suggestions
Do you want to encourage users to provide you with suggestions to improve your product?
One of the reasons most people hesitate to provide feedback is that it's not easy to do so. With an on-site survey, you can make it convenient for them to send you feedback. Plus, you can collect a constant stream of suggestions to improve your product.
5. Fix the Problems Before They Develop
The biggest benefit of collecting feedback is that it helps you quickly identify problems before they develop. That means you can quickly rectify your problems before your customers start complaining about it.
Get Unlimited Everything – Questions, Responses, and Sessions
A big reason why we built UserFeedback is that most feedback tools are just too expensive. They slow down your site and charge you based on the number of responses and sessions …
Let's take a look at how UserFeedback surveys compare to another feedback tool, Hotjar.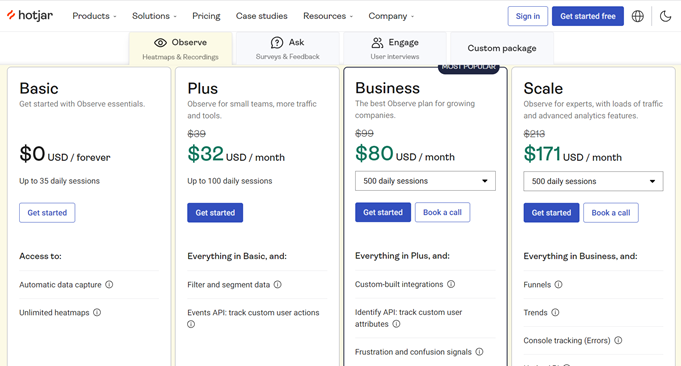 On the other hand, the FREE version of UserFeedback lets you ask unlimited questions and get unlimited responses without a daily session limit! Even our highest pricing plan costs less than Hotjar's cheapest plan.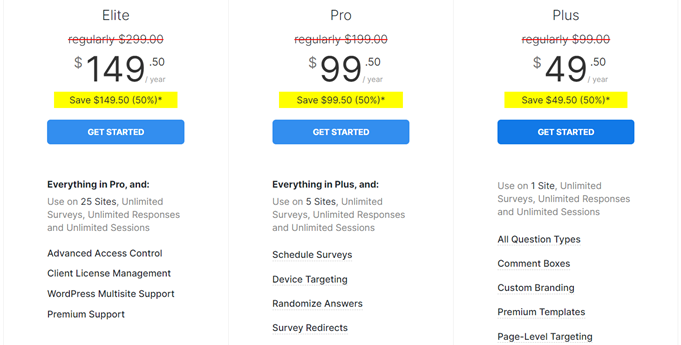 What's Coming Next for UserFeedback?
UserFeedback is a great tool that helps you uncover more insights about your website visitors that Google Analytics won't tell you. I'm extremely pleased with the community response so far, as everyone is loving the new features.
We have lots of great features coming, including:
Customizable survey designs so you can fully tweak them to match your website's colors, fonts, and personality.
Advanced integrations to automatically let you send a special email, add entries to a spreadsheet, and so on.
Additional prebuilt templates to collect feedback for a variety of additional websites.
We're truly building something special here. If you have ideas on how we can make the plugin more helpful to you, please send us your suggestions.
As always, I want to thank you for your continued support of WPBeginner, and we look forward to continuing to serve you for years to come.
Yours Truly,
Syed BalkhiFounder of WPBeginner
P.S. Want us to acquire or invest in your WordPress business? Learn more about the WPBeginner Growth Fund.