How to Pick a WordPress Theme
There's no shortage of website builders in 2023 for those looking for a robust and powerful CMS. But somehow, WordPress.org, an open-source content management system built in 2003, still takes the cake when it comes to customizability.
There's a simple reason for this: Community.
WordPress has managed to tap into the international web design and development community at a scale that no other platform comes close to.
Over the last two decades, this community has contributed tens of thousands of themes, plugins, and other assets to the platform, giving it new ways to customize the look, feel, and functionality of your website or blog.
Customization is an essential part of the WordPress experience, with themes playing a huge role. So let's take a look at some top tips and tricks to help you choose the perfect theme for WordPress.
How to Install a WordPress Theme
Once you have your website up and running on WordPress — complete with its own domain and hosting — installing a theme is actually very simple.
Just access your WordPress dashboard and navigate to the Theme > Appearance tab. Once there, select the Add New button at the top of the page.
WordPress will then allow you to upload the .zip file that you received after purchasing your theme or download whichever WP theme from the that you chose. When the theme is in place, all you have to do is go to the Themes tab and hit the Activate button, and your new theme is ready to go.
Get Content Delivered Straight to Your Inbox
Subscribe to our blog and receive great content just like this delivered straight to your inbox.
#1 What Is Your Website's Purpose?
"Never forget what you are. The rest of the world will not. Wear it like armor, and it can never be used to hurt you."
Tyrion Lannister was clearly on to something here. While he wasn't talking about WordPress websites specifically, it's clear that aligning yourself on the purpose and reason behind your website can be just as important.
Just ask yourself these two very important questions before you do anything else:
What's the point of my website? (Example: Personal blog, ecommerce store, bragging rights, small business, or educational nonprofit.)
Who is my intended audience? (Example: Accounting professionals, vintage toy collectors, or kombucha enthusiasts.)
#2 Prioritize Performance and Speed
If there's one thing people hate, it's a slow website. There are a lot of factors that can affect your site's speed, but the theme you pick will play a significant role. Some themes are better optimized than others, so they tend to be faster across the board.
It can be hard to gauge a theme's level of optimization without taking it for a test drive, but you can look at existing reviews and run a speed test (via WebPageTest or GTmetrix) on the theme's demo website to get a quick idea.
#3 Look through Competitor Websites
In many industries, you'll find that websites tend to share very similar styles. If your audience expects a specific aesthetic, you'll need to consider whether you want to provide what they're looking for or try to give them something unexpected.
If you're all out of inspiration, check out Awwwards and Lapa.Ninja for some award-winning websites specific to your industry and space.
But it's not enough just to look at these websites. Examine their design aesthetic and look for patterns in their visual style. For example, here are some things to be on the lookout for:
Color schemes
Typography choice
Graphic design
Visual hierarchy
Important functionality
#4 Check for SEO Friendliness
Search Engine Optimization (SEO) is key to your website performing well in search results. The quality and consistency of your content and the optimization of your metadata affect your page ranking.
DreamHost Glossary
Metadata
Metadata refers to 'data about other data'. It is information within files that explains what type of file you're dealing with. Common examples of metadata include file size, modification dates, who created the file, and more.
Read More
Why does rank matter? Well, the higher your website falls on the search engine results page, the more people will visit your website.
And you guessed it: your theme matters when it comes to SEO. WordPress sites that perform quickly, are responsive (see above), and are built with clean code are great for SEO.
#5 Ascertain Ease of Use
A user-friendly backend allows you to manage and update your website content more efficiently. This saves time and lets you focus on other aspects of your business or project.
While you may want to buy that fancy-looking multipurpose WordPress theme with a live customizer built in, it's much better to look for something simple and functional if you are new to WordPress. Keep it simple, smarty! Make sure that your theme is complimentary to your level of expertise and comfort with WordPress.
#6 Confirm Relevant Plugin Support
Plugin compatibility issues can manifest in many ways. If you are picky about the theme and plugins you use, these problems should be few and far between. That being said, if you have specific plugins in mind for powering key functionality on your website, it's worth checking to ensure your top theme options are compatible.
For example, WooCommerce is the number one plugin for implementing ecommerce functionality. As such, WooCommerce theme integration is a key consideration if you want to start an online store.
A few other popular WordPress plugins and features that you might want to consider include:
Elementor
MemberPress
BuddyPress
LifterLMS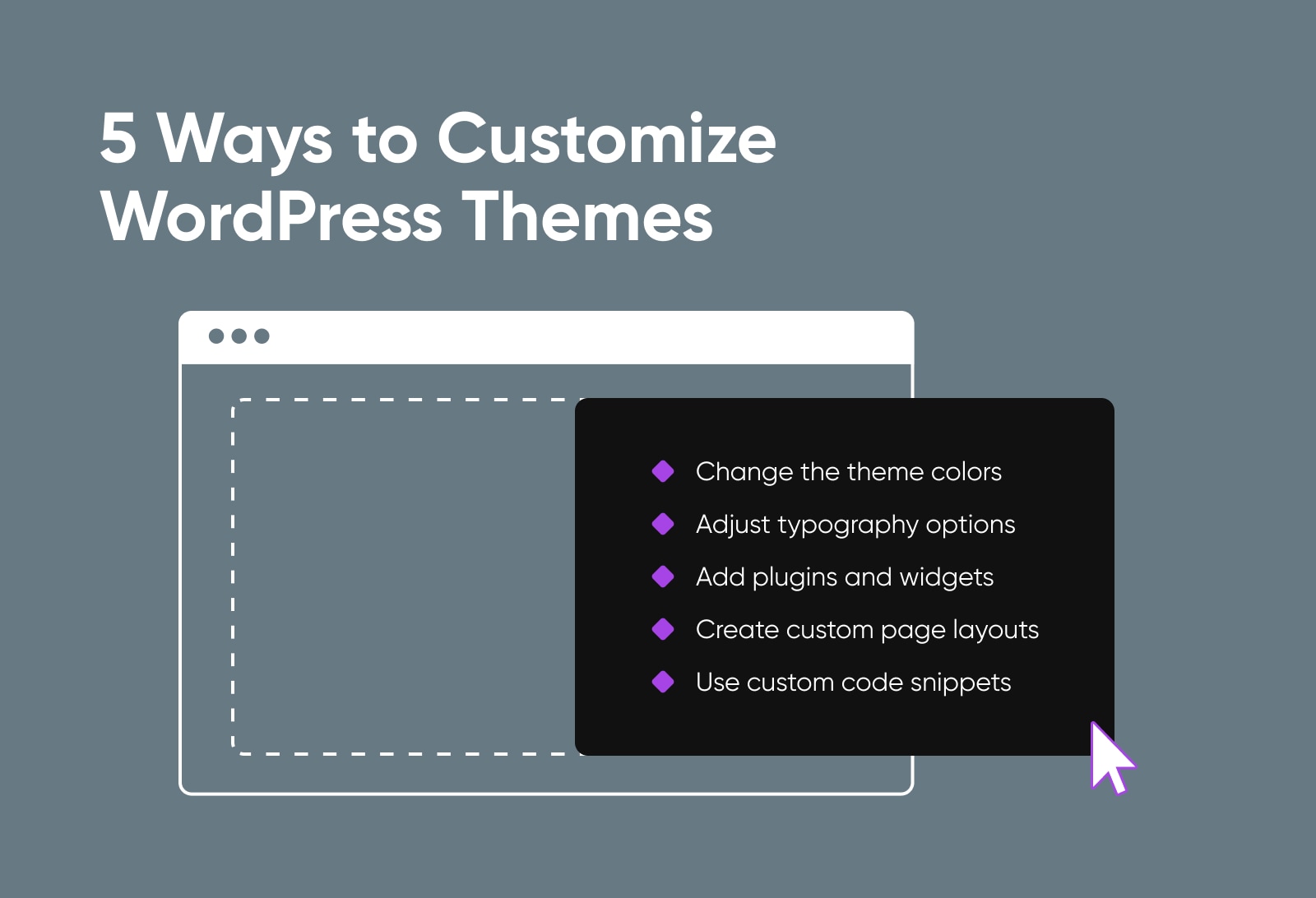 #7 Look for Customization Options
Usually, the first thing you'll notice about a theme is what it looks like — if it fits your idea of what you want for your website. In most cases, you'll need to make some changes to any theme you choose in order to get it looking just right.
Let's say you've done your research and found a theme that's 90 percent perfect. For instance, you like the layout of the pages, how the menus function, and the overall theme design, but the fonts aren't quite what you had in mind.
Fear not, it still might be a good choice for your website. One of the great things about WordPress sites is that they are incredibly customizable, especially when you use plugins. Check out our guide to customizing a WordPress theme to get started!
#8 Analyze Reviews and Ratings
A theme's reviews and ratings are a valuable indicator of what to expect. When it comes to popular themes, you'd be surprised at how many user ratings you can find.
All themes in WordPress.org's Theme Directory are ranked from one to five stars and feature customer reviews. Look for themes that speak to your site's purpose and aesthetic ideal, then read the reviews to see what people are saying.
#9 Confirm Regular Developer Support
If you run into any issues with your theme, it's always nice to know that you can turn to its developers for advice on how to solve it. Ideally, your theme's developers should provide you with multiple support channels, actively trying to help their user base.
But support isn't limited to customer service. WordPress is a platform that undergoes regular updates, some of which massively change the functionality of the core platform. Themes need to be updated on a regular basis to keep up with these changes (things like the new page builder and block editor!)
#10 Check for Multilingual Functionality
There are a lot of tools you can use to translate your WordPress pages and create a multilingual website. However, for this to work, you'll want to use a theme that's translation ready. Try and look for compatibility with the following plugins to get started:
TranslatePress
Polylang
WPML
Weglot
MultilingualPress
Given that English is used by only 26% of global internet users, multilingual support is a feature that's worth investing in.
#11 Prioritize Accessible Design Practices
WordPress websites that prioritize accessibility are a win-win for everyone involved. Look for themes built to create a user-friendly experience for people with disabilities, keeping in mind things like color contrast, typography choice, and visual hierarchy.
DreamHost Glossary
Typography
Typography is a process of arranging a typeface in variations of font, size, and spacing. This involves making text's appearance, style, and arrangement readable and visually pleasing.
Read More
A lot of these things can be adjusted when customizing your theme, but it still helps to have a good starting point. Also remember to test your chosen theme for compatibility with screen readers and keyboard navigation, since integrating these features into a theme that doesn't already support it can require a lot of effort.
#12 Search for Ecommerce Support
WooCommerce is the most feature-complete WP plugin for ecommerce websites. Looking for themes that specifically support WooCommerce is a good way to ensure ecommerce compatibility for your website.
You should be looking for dedicated inner pages and templates to seamlessly showcase your products. Even if your theme doesn't mention WooCommerce specifically, check to ensure that the theme's demo website contains ample examples of ecommerce content like a shopping cart and checkout page.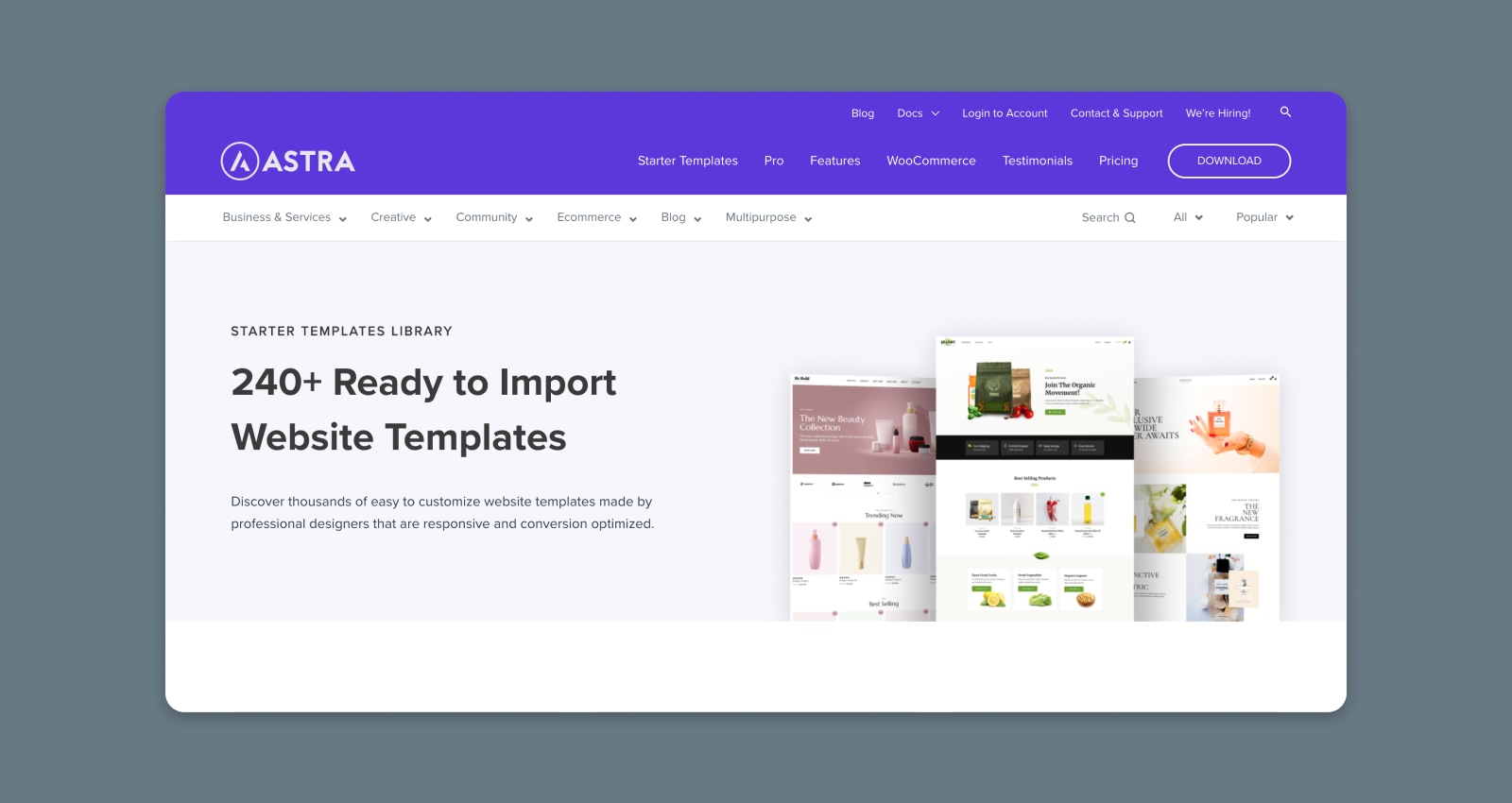 #13 Check Pre-Built Template Variety
Pre-built templates and block patterns provide ready-to-use designs for various page layouts, such as the home page, landing pages, blog pages, or contact pages. This can save you significant time and effort when setting up your website, as you won't need to create these layout options from scratch.
When evaluating a new theme for your website, look for the number of pre-built templates and block patterns available within the demo content. Then, prioritize themes with a good collection of templates that match both the layout and the aesthetic you're looking for.
#14 Stick to Reputable Sources
Themes from reputable sources are less likely to contain malicious code, security vulnerabilities, or hidden backdoors that could compromise your website's safety. Reputable theme developers also invest more time and effort into creating high-quality themes that adhere to design and coding best practices.
Here are a few examples of reputed websites for purchasing and downloading themes for your WordPress:
WordPress Theme Directory: The WordPress.org repository offers a wide selection of free WordPress themes that adhere to strict quality and security guidelines.
StudioPress: Known for their drag-and-drop Genesis Framework, StudioPress offers a range of SEO-friendly themes with professional designs and great customizability.
Elegant Themes: The creators of the popular Divi theme, Elegant Themes provides a collection of well-designed and feature-rich themes backed by excellent customer support professionals and a solid refund policy.
#15 Evaluate Affordability and Pricing
When it comes to WordPress themes, one of the most critical decisions you need to make is whether to go with a free or a premium option.
Premium themes tend to pack in a lot more functionality to justify their price tags. But, WordPress.org really does offer a plethora of great themes in its directory. WordPress volunteers do an excellent job of vetting these themes, which are submitted by third-party developers, to make sure that the code is up to, well, code.
To get started, do a search to find free themes that match your site's criteria and then check out their demos to get a sense of how the theme would look with your content.
But if you are going to invest in a paid theme, marketplaces like StudioPress and Elegant Themes offer excellent options. Just be sure to read through the developer's refund policy and know what level of support you can expect before you go and make your purchase decision. On that note…
#16 Double-Check the Refund Policy
If you're going to invest in a premium theme, it's important to check the refund policy of purchase to ensure that you have sufficient time to decide on its quality. Lots of themes offer a 30-day no questions asked refund policy — so that you have plenty of time to test things and contact support should you encounter issues.
The same goes for theme builders, too. Many of them offer a free trial or have a return policy in place for handling dissatisfied customers. Just be on the lookout for this when reading through their features and terms.
#17 Take a Mobile-First Approach
Responsive design is a must-have feature for most bloggers and website owners, but the mobile-first approach takes it one step further. By designing your WordPress theme for mobile devices first, you can ensure that the devices with the trickiest design requirements, with a huge variety of screen choices and hardware options, get the most attention from your design team.
While not all industries necessitate a mobile-first approach, it's still a great feature to be on the lookout for to ensure that mobile users have the best user experience possible when accessing your site.
#18 Ensure Modern Browser Compatibility
Although most people use the same popular browsers — such as Chrome, Firefox, and Safari — they're far from the only options. There are dozens of browsers you can choose from, and not all of them render content and images in the same way.
Good developers know this, and ensure that their themes play nicely with most browsers by following established best practices for coding and design.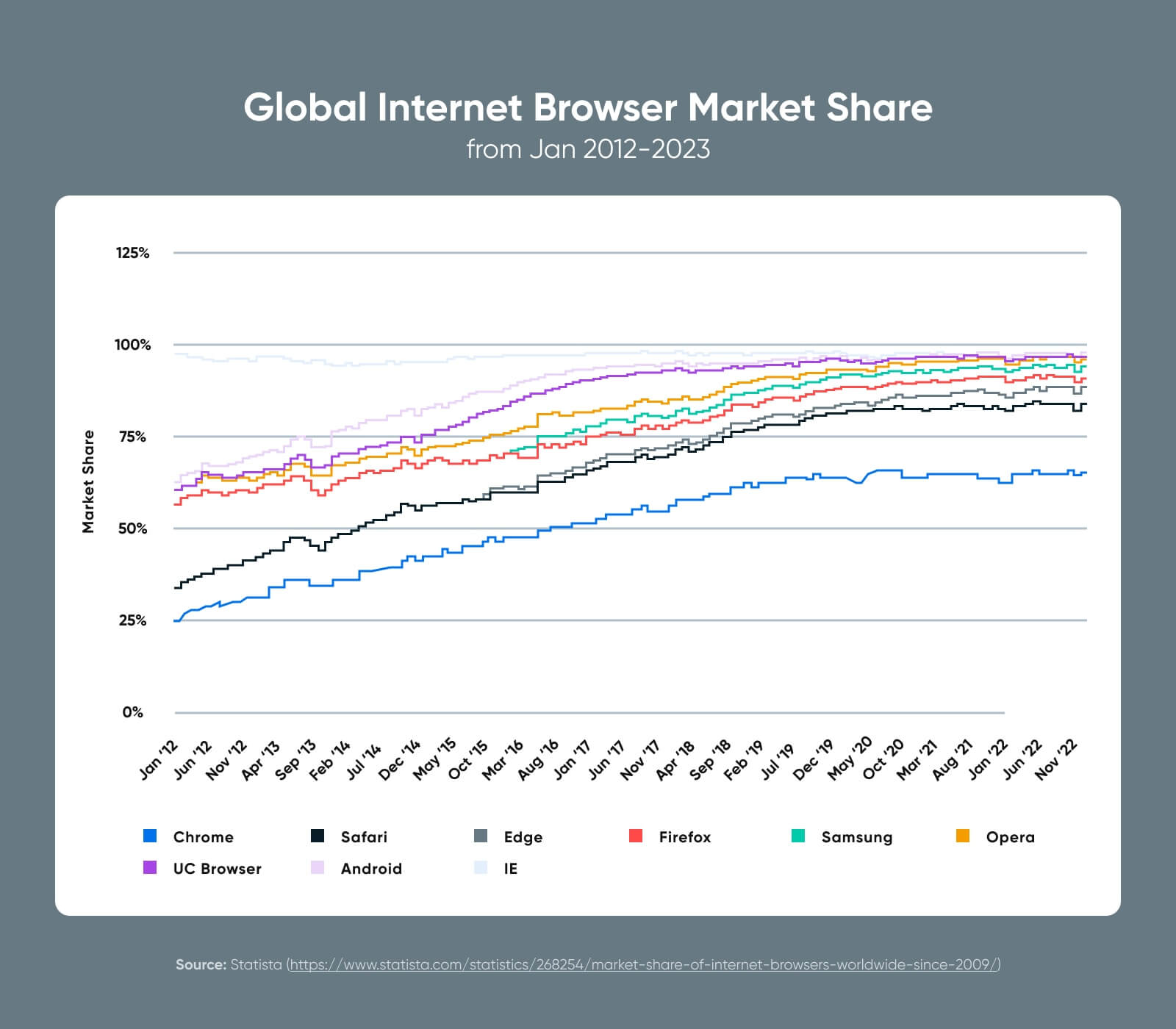 Why Is it So Important to Choose the Best WordPress Theme?
If you have any friends who use WordPress (the numbers say you probably do), ask them how long they've been using their current theme. In most cases, the answer will number in years.
Changing your WordPress theme can be tricky, as it will radically alter the appearance and even the functionality of your site. That's why it's better to make a great choice the first time around and stick with it as long as possible.
Themes are one of the key features that make WordPress an amazing platform. You have literally thousands of themes that you can choose from. Neve, OceanWP, and Astra are some great examples to look into, if you don't know where to start.
This is not a decision to be taken lightly. Your choice of WordPress theme will impact your website's SEO, visitor experience, conversion rates, and much more.
Are you ready to start using your new theme? You'll first need to pick a WordPress hosting service that plays well with the platform's unique requirements. Fortunately, we have plenty of plans for WordPress users to choose from!
Do More with DreamPress
DreamPress Plus and Pro users get access to Jetpack Professional (and 200+ premium themes) at no added cost!