How to Choose the Perfect Domain Name
Choosing a domain name is one of the biggest decisions you'll make as a website owner.
The wrong domain name can make your site hard to find, negatively impact your brand's reputation, or even give squatters opportunities to impersonate your website for nefarious activities.
So what's the secret to avoiding all of that and choosing the perfect domain name? Fortunately, picking a winning domain isn't overly complicated. As long as you do your research, stay on-brand, and keep it user-friendly, you're likely to make a good choice.
Read on to learn more about the importance of choosing the right domain, and check out some of our top tips for choosing a domain name that uniquely and properly represents your website. Ready to learn more? Let's get started!
Why Choosing The Perfect Domain Name Is Crucial
DreamHost Glossary
Domain Name
Domain names are like an address for the internet, making it easier to find websites without having to remember a complex string of numbers. They're also helpful in distinguishing one website from another because each domain name must be unique.
Read More
Imagine if you had to navigate the web by typing long strings of numbers into the address bar in your web browser. You'd have to memorize lengthy sets of numbers for all your favorite websites. Or look them up. Getting around the 'net would be much harder!
That's why domain names were created. They're a part of the larger Domain Name System (DNS), which allows internet users to input combinations of words into the address bar to navigate the internet instead of lengthy and exhausting strings of numbers. Your domain name acts as your web address: the unique word or phrase visitors will type in an address bar to visit your site.
In this sense, domain names serve a highly practical function, but they're more than that. Your domain name is also often the first impression a potential customer will have of your brand, whether you're a freelance photographer, a small business, or an international corporation. That's why it's so important to choose the right domain. It's as important a part of your company's branding as your name or logo.
It's also important to follow some best practices when choosing a domain name. You don't want it to be too long. Many people see that as spammy and a red flag. You also want it to be something catchy and memorable so people can easily recall it when they want to revisit your site.
Also note that changing your domain name can be challenging. It's not impossible, but it can lead to some less-than-desirable outcomes like lost traffic and site downtime. That's why it's best to nail your domain name from the get-go so you don't need to worry about changing it later.
Get Content Delivered Straight to Your Inbox
Subscribe to our blog and receive great content just like this delivered straight to your inbox.
How To Choose The Perfect Domain Name (12 Pro Tips)
Now that you know why picking the right domain name is so essential, let's go over some key tips to help you do just that. The 12 pro tips below will help you choose the best domain name for your website or business. Once we've covered those, we'll go over how to choose a domain name registrar and get your site built. Read on!
1. Stay Unique And On Brand
A unique domain name doesn't just help your website stand out — it boosts your marketing and helps build your brand. However, you can't just start with a great domain name. First, you need a great business name.
That's where our free Business Name Generator comes in. You provide your industry and a few keywords, and the generator uses AI to provide a list of unique and memorable potential business names that will help you stand out from the competition.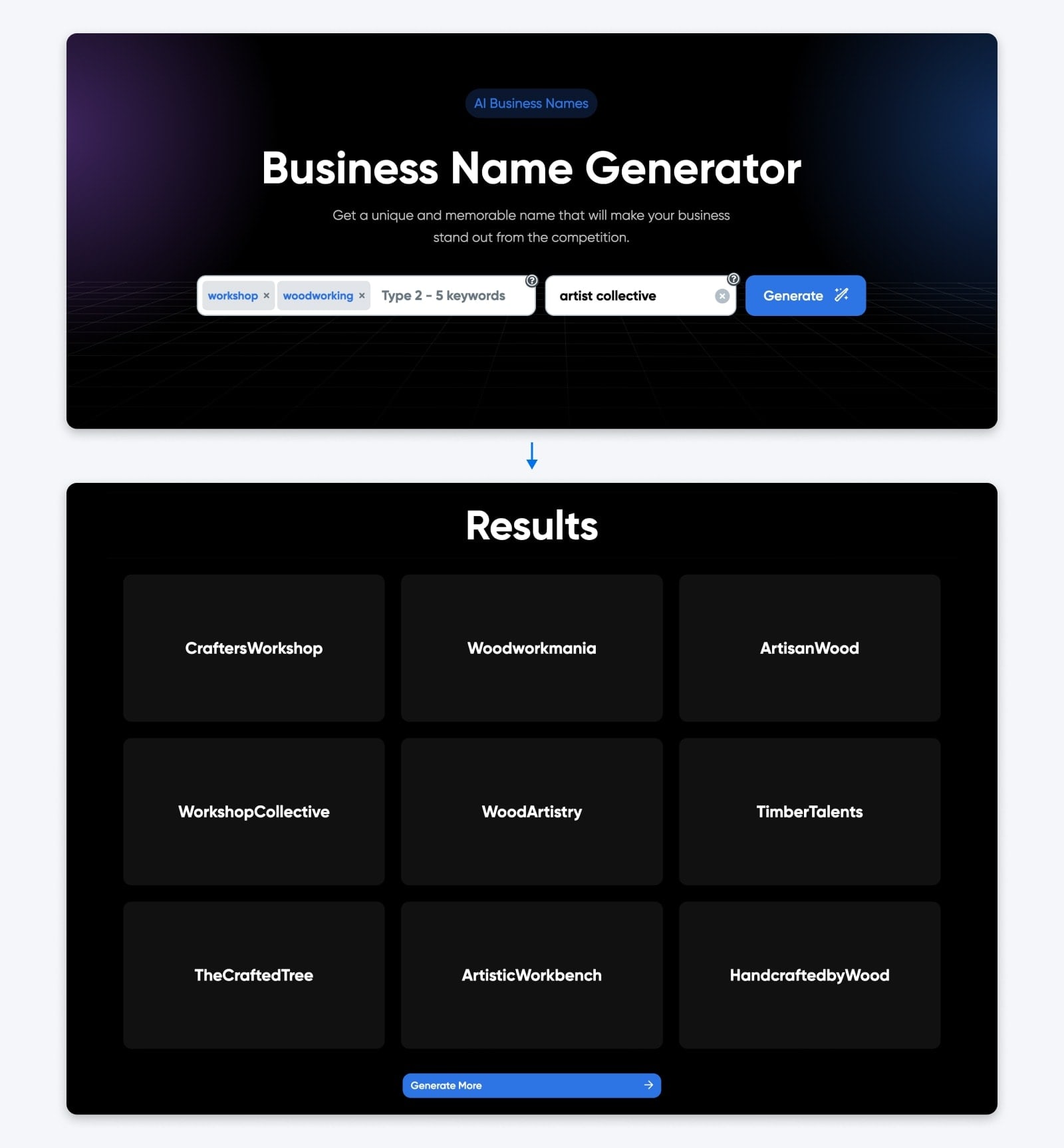 Once you've chosen a perfect business name, the rest of these tips will help you make sure you pick an equally perfect domain name for it.
2. Choose Your Top-Level Domain Extension Carefully
A Top-Level Domain (TLD) extension is the last part of your URL: the suffix that comes right after your website name. Some of the most popular TLDs are .com, .org, and .net.
Among all the TLDs, .com is probably the most popular choice. However, if the .com domain name you want is already taken, it's not the end of the world.
Other TLDs such as .xyz, .shop, .club, .online, .art, .inc, and even .party are becoming increasingly common. You can go with something relevant to your industry – like .biz or .shop if you're in e-commerce, or even .marketing or .technology if you want to be specific about what you offer. Country codes, or ccTLDs, are also popular. In recent years, more and more startups are using ccTLDs like .co.uk (England), .io (Indian Ocean), .ai (Anguilla), and .co (Colombia), for example.
If you're using our Business Name Generator to search for business names, you can click on any available name options to see a list of available domains and TLDs.
Ultimately, you'll want to choose a domain name extension that's cohesive with your website and signals credibility, so keep that in mind.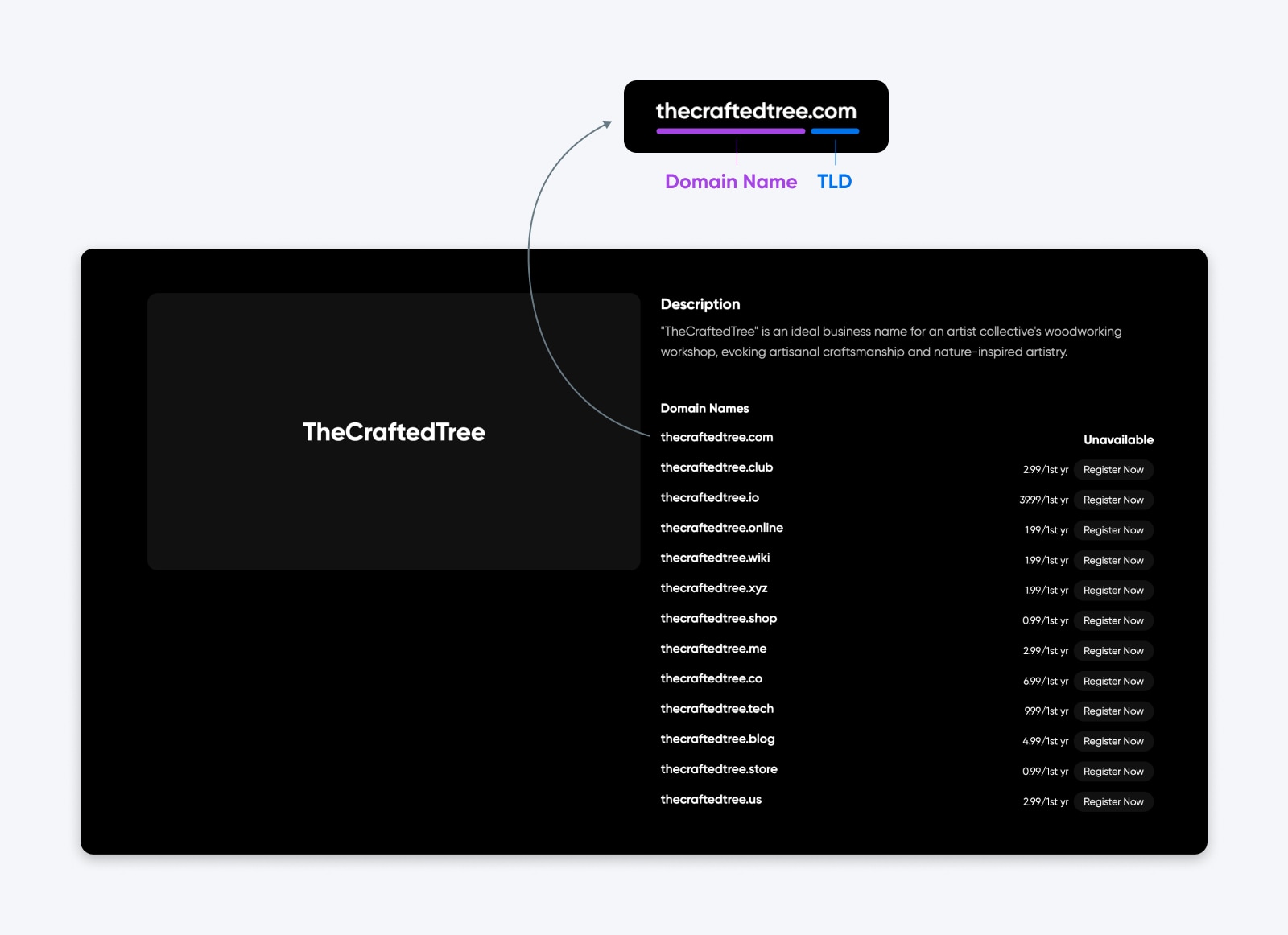 3. Incorporate Targeted Keywords
Want customers to be able to find your site via a Google search? Keywords aren't just for content. Search engines use your domain name to understand what your site is about and help determine its position in search rankings. That's why it's essential to try to include relevant keywords in your domain if you can.
The keywords you choose for your domain should be relevant to your website and targeted to your audience. If you're having trouble thinking of good ideas, Search Engine Optimization (SEO) tools can help. Semrush, Moz, and Ahrefs are powerful and popular options, and Google Keyword Planner is a free tool that lets you do some basic keyword research like explore keywords by search volume.
DreamHost Glossary
SEO
Search Engine Optimization (SEO) is the practice of improving a site's ranking in search results. Search results are aggregated based on a number of factors, including a site's relevance and quality. Optimizing your site for these factors can help boost your rankings.
Read More
In addition to choosing keywords that are relevant to your website, you can explore what the most trendy keywords are at any moment and try to find a matching keyword with your domain and your brand. One of the best resources for this is dotDB's top keywords, which are updated on a daily basis. Other options include using the 20 most popular keywords of all domains that have ever been registered; this will give you a general picture of which keyword is most ideal for a website.
Remember that a domain name doesn't give you a lot of space to work with (and the shorter your domain name is, the more SEO-friendly it will be), so only use keywords when they fit in naturally.
4. Make Sure Your Domain Is Easy To Pronounce And Spell
While you want your domain name to be original so it stands out, novelty isn't always a good thing. Modifying the spelling of a common word to snag the .com extension (or just to be more unique) can confuse your audience and make your site harder to find.
Word-of-mouth advertising is a powerful thing, but it only works when people can pronounce your brand name. A good domain name needs to be easily pronounceable because that makes it easier to remember, increasing the odds that people will visit and recommend your site among their personal, social, and business networks.
So, what's an easy way to make sure your domain is memorable and easy to pronounce? Use the four-letter pattern c-v-c-v (consonant-vowel-consonant-vowel) like Meta or c-c-v-c (consonant-consonant-vowel-consonant) like Snap. These patterns are simple to say and easy to remember.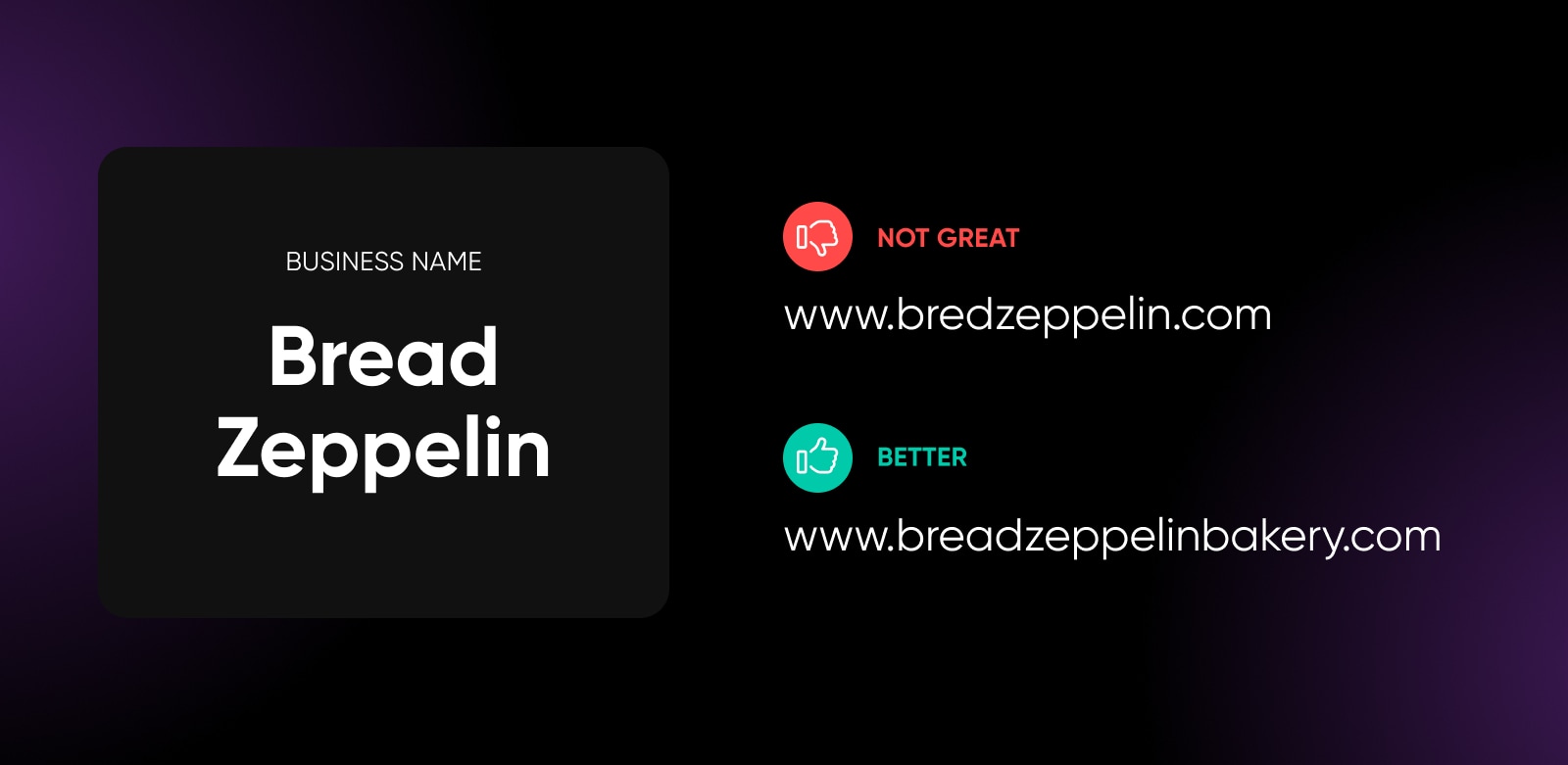 5. Avoid Hyphens, Abbreviations, And Doubled Letters
Using hyphens in a domain isn't always a no-go (it works for www.deutsche-bank.com, for example), but hyphens are tough to express verbally (do you say "dash" or "hyphen" out loud?). Additionally, they make your domain more difficult to type, which is why it's still a best practice to avoid them.
The same goes for abbreviations, which are also difficult to say out loud and can easily be mistyped or misspelled. Also, try to avoid anything that isn't a letter. This includes replacing letters with numbers, which makes the domain a lot easier for people to mistype.
While there are exceptions when you're brainstorming domain name ideas, it's best to avoid double letters — they're just asking for typos! Doubled letters are hard to read and even harder to type correctly. If mistakes happen often enough, you may end up with someone typosquatting and stealing your traffic.
6. Keep Your Domain Name Short
We've already alluded to this, but short domains work better for many reasons: they're easier to remember, faster to type, and better for SEO.
This is especially important as more and more people are browsing the internet on mobile devices. A short domain name means fewer opportunities for mobile users to get blindsided by maddening autocorrect.
This might mean you need to get creative with your company name. While it's ideal to use a brandable domain (a domain name that's the same as your company name, like Amazon.com for Amazon), you might need to shorten your domain to make it as user-friendly as possible. For example, if your company name is Eli's Tea Bar and Cake Shop, your domain could be shortened to elistea.com or even elis.tea.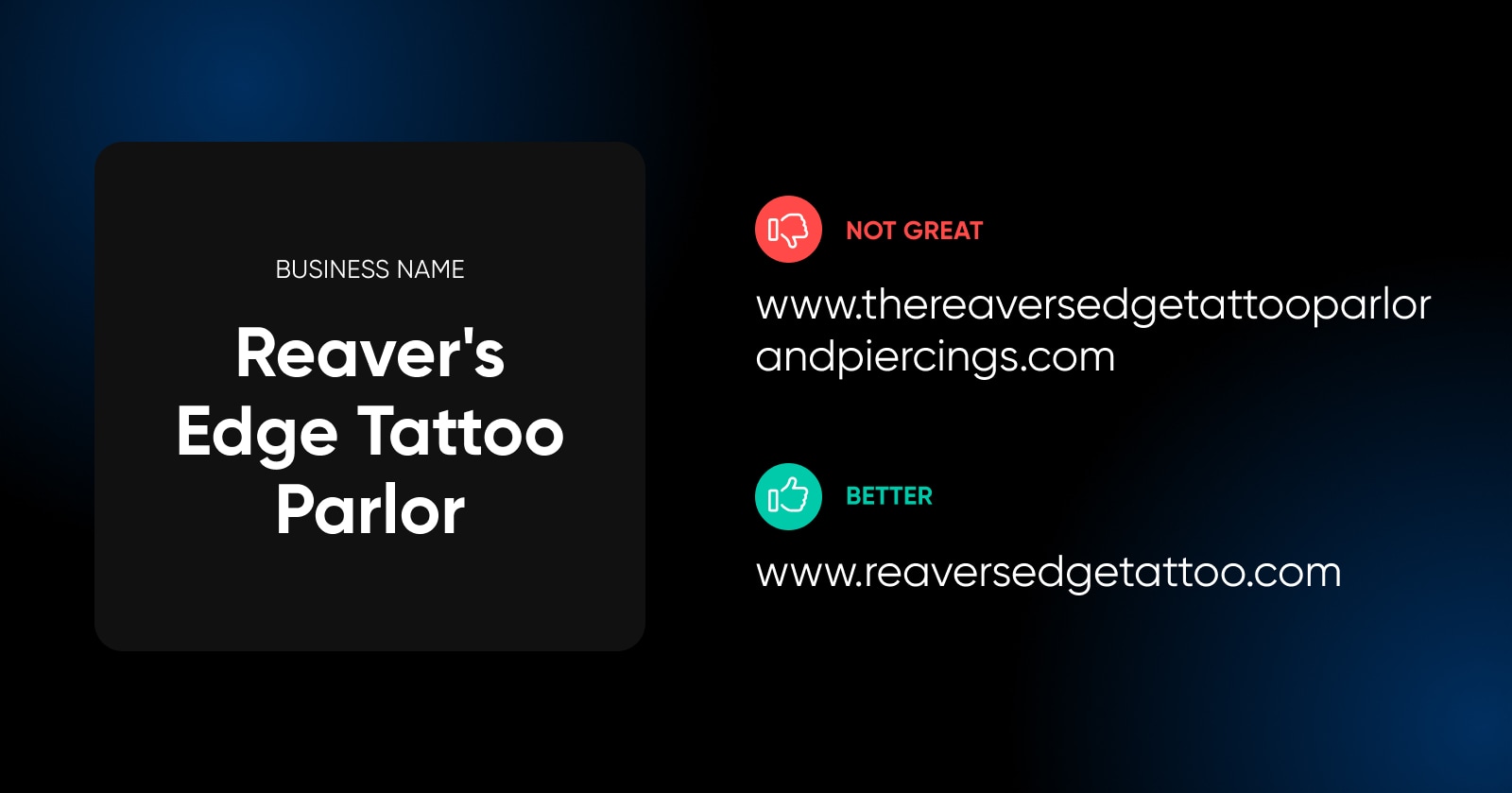 7. Pick A Domain Name That's Flexible
Your domain name is one area where you don't want to put yourself into a box. While you should be specific enough to attract an audience, you don't want to be so precise that there's no room for your website to grow.
For example, "shutter.photography" might be perfect for a photography blog. However, if you decide to write about other art forms in the future, you'll be stuck with an inaccurate domain name.
That's why it's a good idea to think about how your site or business may expand over time when choosing your domain. Make this decision with long-term vision, and you'll be less likely to limit yourself (and your business) in the future.
8. Check The Domain History
Once you've landed on a brilliant domain name, it's important to do a bit of homework before you purchase it. While some domains are completely fresh, it's possible that a domain you have your eye on had a previous owner.
It's a good idea to investigate the domain's history since activity on the site before you purchased it can affect your site's SEO. You also want to avoid purchasing a domain that hosted an unethical or illegal website in the past since that can hurt your business's reputation.
There are different tools you can use to check on your domain's past. Try Wayback Machine or Whoxy to start with.
9. Research Social Media Handles
Of course, when you have an online business presence, your domain name isn't the only thing that matters! In the digital age, you need social media, too. It's crucially important to consider social media when choosing your domain.
You'll want to have social media handles that are, ideally, the same as your domain (or at least very similar). So, while you're checking domain name availability, make sure to check social media sites to see if matching handles are available, too.
10. Don't Miss Out On A Deal
Whether you have a big corporation or a small business, you probably have a budget for your website. But if you're running a small business or you're self-employed, that budget might be pretty tight.
Domain name prices can vary by a lot, depending on many factors. Often, one of those factors can be how popular a desired domain name option is perceived to be. If your desired domain is considered "premium," it could cost hundreds of thousands of dollars!
DreamHost Glossary
Premium Domain
A premium domain has a short and memorable name and a popular extension. Many premium domains are already registered because of their high demand, and available options typically have high prices.
Read More
On the other hand, when you're new to building websites and registering a domain, sometimes you can luck out and find low introductory prices — scoring valuable domain names at deep discounts this way.
If you see a great deal for a good domain name, don't hesitate to act!
11. Protect Your Brand With Multiple Domains
Let's say you snag the perfect .com address. You're done, right? Well, not necessarily!
You may still want to consider purchasing other TLD variations and having them redirect to your site. You can even go a step further and purchase common misspellings of your domain name and redirect those, too. That way, you never miss out on traffic due to "user error."
If you decide to register multiple TLDs, you can always check how many similar domains with various extensions (TLDs) have been registered worldwide by using this tool. It will give you a hint that a selected domain is — or is not — popular and has been registered multiple times in other TLDs or ccTLDs.
You can apply this strategy to social media. Even if you don't think you'll use X (formerly known as Twitter), if the handle matching your domain is available, grab it. It might be good to have in the future, and by registering it yourself, you prevent anyone else from taking it.
12. Pick The Best Domain Registrar For Your Website
Once you've chosen your new domain name, there's just one step left: registering your domain. For this, you'll need to choose a registar, which is the company where you purchase your domain.
It's a good idea to shop around for a domain registrar since different companies offer different features at different price points. Here are a few things to look out for:
Domain transfers. Check the registrar's transfer policy. If it's complicated or expensive to transfer your domain, keep looking.
Pricing. Some companies offer lower prices for the first year and then increase them when it's time for renewal. You may even be locked into a multi-year contract.
Expiration policy. If you forget to renew the lease on your domain, someone else can take it from you. Therefore, look for a registrar that offers automatic renewals and a grace period so you don't risk losing your domain.
Domain privacy protection. As a website owner, you're required to add your personal information to a public database. Domain privacy protection hides your primary contact information to help keep your identity secure.
Subdomains. You don't have to register subdomains separately. However, you'll want to ensure that your registrar makes it easy to add subdomains to your site.
Domain forwarding/domain redirect.  Find a registrar that allows you to forward/redirect your recently purchased domain to an under-construction site or a social media handle if you're not yet ready to build a full website.
DreamHost Glossary
Subdomain
A subdomain is a second-level domain that is part of a larger domain. Subdomains can be used to create separate web elements within a single domain. For example, the website blog.example.com might be a subdomain of the example.com domain.
Read More
There are lots of registrars you can use. However, if you're considering using a hosting provider, you may want to look into whether they also offer domain registration. You may be able to get a good deal by registering your domain with the same company that hosts your site, which brings us to our last tip!
How To Get A Free Domain With Your Web Hosting
Some web hosts offer a free domain name when you sign up for a hosting plan. This is especially common if you use a website builder. They want to make the process as simple and streamlined as possible for you, so they allow you to purchase your domain and build your site at the same time.
If you want the power of WordPress plus managed hosting for your domain that optimizes the entire experience to help your business grow, you need our DreamPress service. DreamPress — managed WordPress hosting — plans make WordPress faster, more secure, and easier to use. To top it off, every one of our plans comes with a free domain name!
Or, if you already have a registered domain, we'll help you migrate it to WordPress for free. You also get built-in caching, one-click staging, bulletproof backups, and 24/7 support from our highly-trained WordPress pros.
A Strategic Approach To Choosing The Perfect Domain Name
Your domain name is your chance to leave a good first impression on visitors to your site. That's why a good domain name is essential if you want your website to stand out and succeed.
If you're ready to land the perfect domain name, remember these tips as you start your search.
Good luck!
Your Great Idea Starts with a Domain Name
Don't let someone else register your URL. Search DreamHost's 400+ TLDs to find the perfect fit for your website.