Features, Pricing & More – All That SaaS
Today, we are going to review RumbleTalk, a live chat and e-commerce support software for online businesses.
We all know that customer satisfaction is a huge factor in success, especially with e-commerce on the rise. Many businesses that are functional online like to add a live chat feature. Why? Because chat rooms make communication quick, easy, and it is effective.
Live chat plugins provide great customer service and allow the business owner to communicate with them in real-time and help them finish any friction. This is a great conversation driver and gives the customer a sense of satisfaction that their problems are being resolved on the fly.
We thought it would be good for us and our readers to compile a detailed RumbleTalk review as a chat plugin. RumbleTalk is a modern plugin, which is smartly designed to integrate a live chat room to any WordPress site, engaging many people.
We liked the fact that it can be used for: brand promotion, live events, panel discussions, academic institutions, online trading, live radio, fan clubs, blogs, connecting with customers, or just chatting with others.
There are more than 500,000 websites already using the RumbleTalk plugin. Go ahead and read our detailed RumbleTalk review on you can create a fully functional chat room on a website or blog.
RumbleTalk Review (2023) – Group Live Chat Software

1. Pricing
Subscription Name:FreeProfessionalEnterprisePriceFree and 5 participants are included.$ 25 per month for 50 participants. The price of the package increase with the number of participants. The maximum number of participants is 800.Customized plan for 800 participants.Best ForSmall communities, or for trial purposes.Groups, teams, communities, and online web eventsTo get a price estimate for an enterprise plan, contact the sales team.Features
Embed on your website.
Talk in small groups
Set paid access or donation to monetize your chat.
Enrich with YouTube videos and images from around the web.
Includes all premium features.
For one or several rooms with a large number of chatters.
Meant for communities, online web events, live broadcasts, online forex traders, stock traders, education institutes, religious institutes, fan clubs, and radio & TV shows.
Customization can be done by contacting the sales teamAdditional Features
Includes 5 participants (seats)
Unlimited messages
Unlimited 1 to 1 meeting
Online support
Custom chat design
+ Monetize
Share links & image links
Share YouTube & YouTube Live videos
Single sign-on
Custom website page
Secure socket layer (SSL) encryption
Mobile & web ready
All free features +
Create more rooms
Admin actions
Moderated chat
+ Video & audio
+Upload & share
+ Photos & images
REST API
Assign admins
InTEXT Keywords Share YouTube & YouTube Live videos
Single sign-on
Custom website page
Secure socket layer (SSL) encryption
Mobile & web ready
All professional features +
Unlimited participants
Unlimited rooms
Phone support
Unlimited cloud storage
Unlimited admins
Product roadmap discussions
Volume discount Share YouTube & YouTube Live videos
Single sign-on
Custom website page
Secure socket layer (SSL) encryption
Mobile & web ready
2. Features and Functionality
We decided to give a detailed RumbleTalk review of all of its features and functionality. So go ahead and have a read of what we thought of every feature.
Cloud-hosted chat platform for groups and web events
The RumbleTalk web chat software is great for those who want to customize their group chat platform with text, voice & video messages, and live video calls. They can Monetize, set up a Q&A chat mode, use Minisites, and have a great interface with a REST API.
 2.1. Hosted Group Chat Room
The RumbleTalk live chat software allows group chats, which are hosted on RumbleTalk servers. This is a great feature since it means the user does not have to install any software and nor do they have to worry about bandwidth server performance, and maintenance.
The RumbleTalk team has done your work for you.
 2.2. Public & Private Chat Options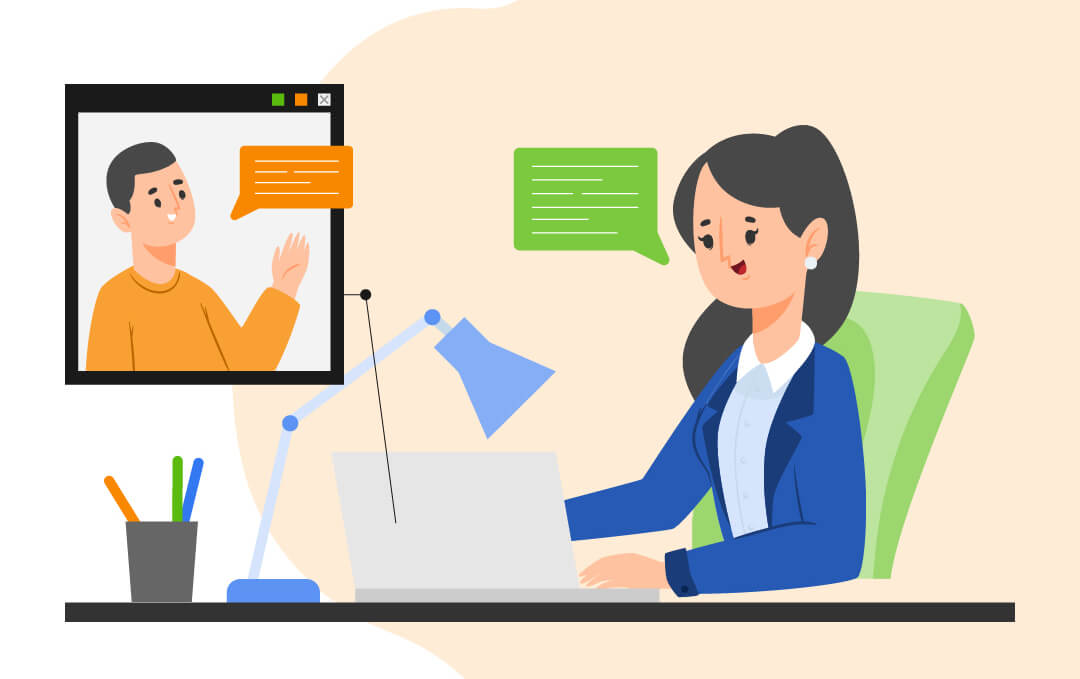 The RumbleTalk live chat software is great for those who need to communicate in group participants' discussions or have private discussions.
The chat software allows various chat settings. The social group chats can be open to the public, and there is a members-only chat that is restricted to only members, and there is also a one-on-on-chat option.
2.3. Creating Multiple Rooms
RumbleTalk's advanced admin panel is simple to understand and easy to use. The best part of the panel is that it helps the user manage all their rooms. The user can create one or several rooms, and manage them seamlessly.
The user can add various rooms to different areas of their site, to different websites (domains), and they can embed the same chat in numerous locations. Even if they don't have a website, they can share a direct group chat link with their group.
2.4. Paid Access – PayWall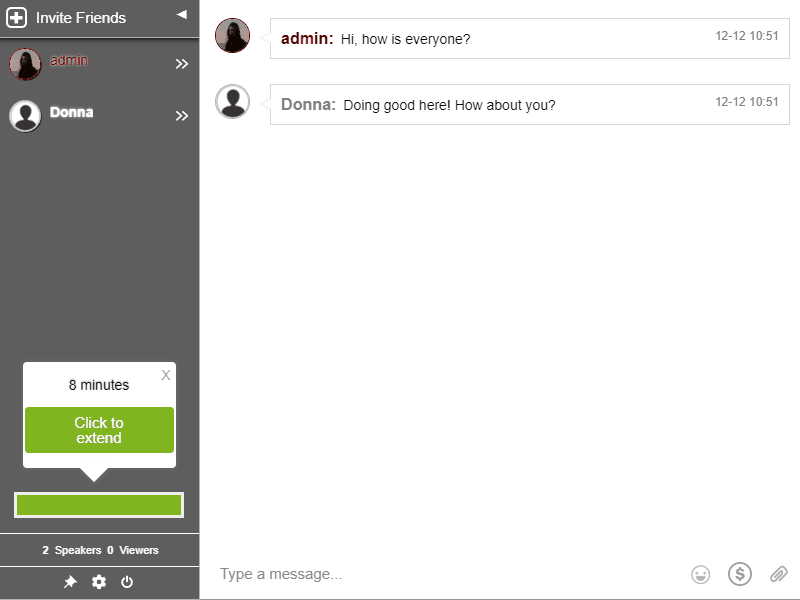 Users can also enable paid access to their chat, and they can charge users for entering a chat for a certain period or they can be charged a membership subscription. This allows them to increase their earnings with the help of the RumbleTalk chat Service.
This chat feature is called PayWall, and it works well with Paypal, which lets the audience log in with ease and pay up.
2.5. inText Service – Keywords
The RumbleTalk inText service highlights words, and it helps users push the chat in such a way that they can boost their earnings. What this feature does is that it allows specific words to be highlighted automatically and links them anywhere on the internet.
What this does is help the user push and direct their fan base and the audience to their sponsors and affiliated partners.
2.6. REST API
We felt that the RumbleTalk Web API or REST API is a great interface for questions and information that is queried. It enables the user to act on changes in the change. It can be used on queries that are ad-hoc and that are needed on the fly and helps with more complex logic.
2.7. Embed on Any Page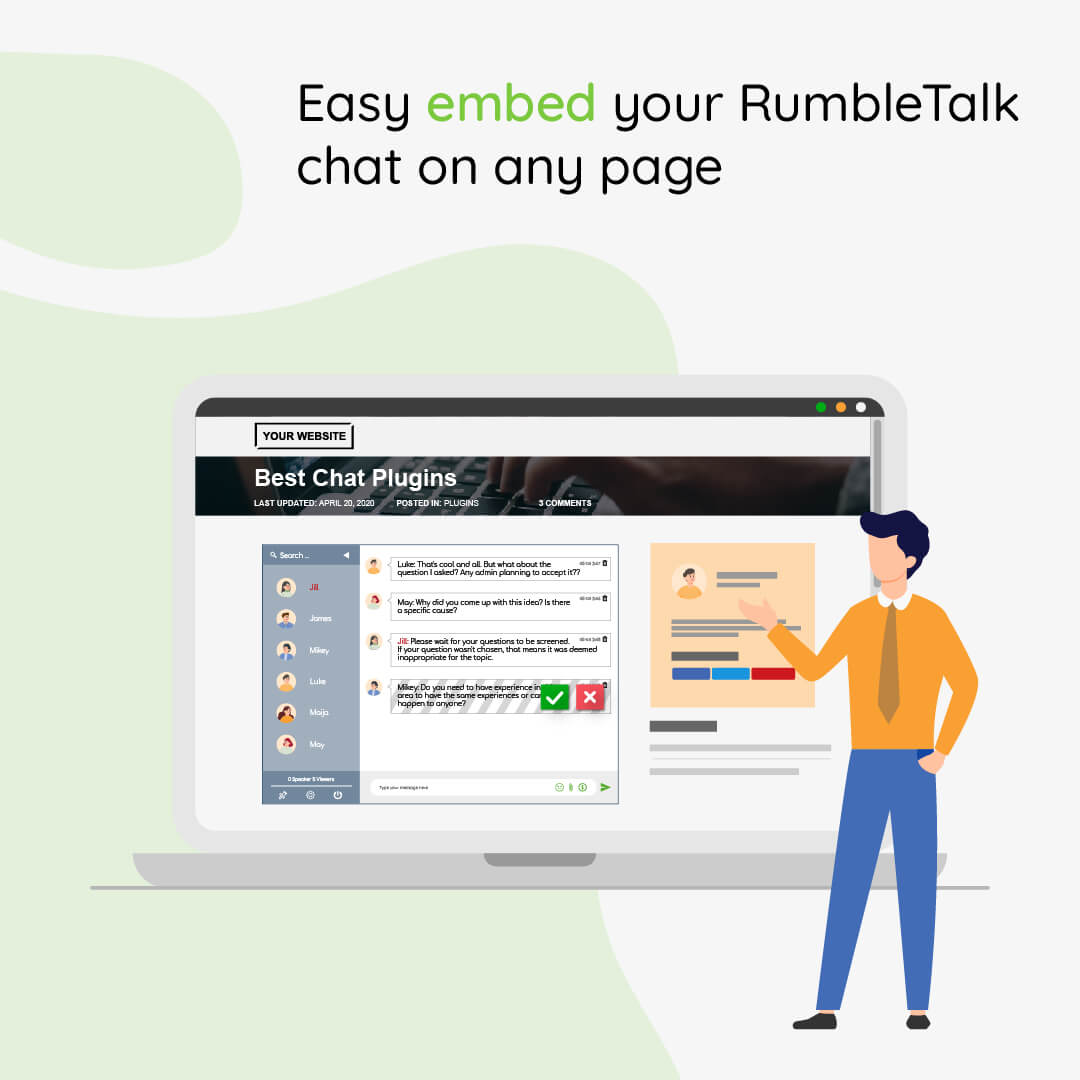 The RumbleTalk HTML5 group chat platform can easily be embedded on any page. We found it to be completely responsive and it seamlessly fit in which space we placed it.
The RumbleTalk team has designed the group chats to effortlessly and stunningly display on everything, such as PC, Mac, smartphones, and big screens and smart TVs. It has a functionality that allows it to be embedded as a floating icon in the lower right or left corner of the window.
2.8. Design Features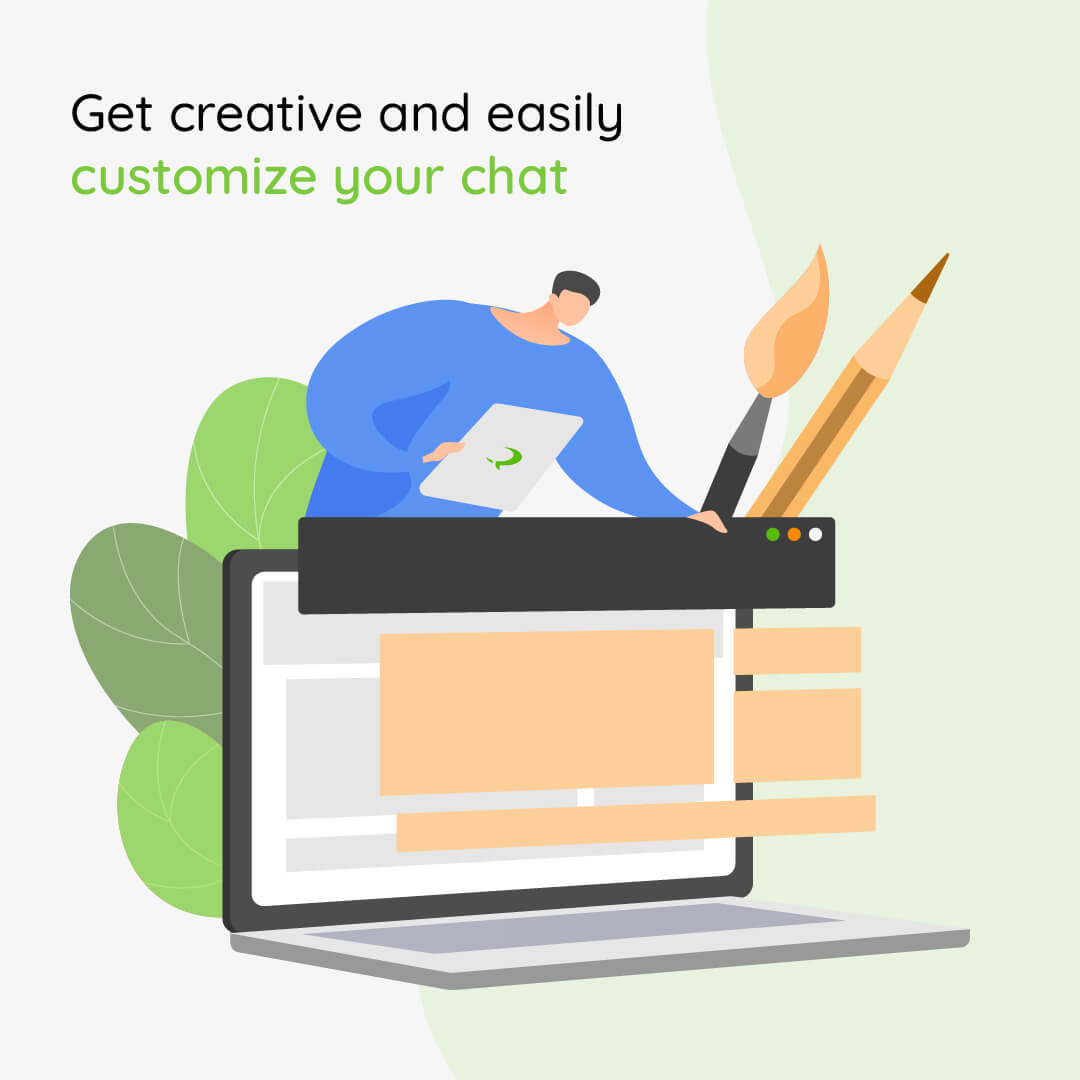 When it comes to design features, the RumbleTalk group chat is aesthetically very pleasing and it can fit in with any type of style. The admin panel allows the user to customize the design options, which means they can change the fonts and even backgrounds to their liking.
To assist the user, the RumbleTalk live chat software lets the user choose a variety of premade designs from a large library of premade themes. It's up to the user how they want to use the theme, as it is, or tweak the settings to capture the look they want.
2.9. Full CSS Capabilities
The RumbleTalk live chat software allows complete CSS customization. However, this feature is for advanced users and the customization is separately and for both web and mobile browsers.
The user can also choose their own custom notifications sounds for new messages, users, calls, and much more.
2.10. Synced Group Chat
We like the fact that the same group chat window can be positioned on many websites and pages, and it allows the conversation to automatically sync. The RumbleTalk web chat software has made this feature very helpful for the user.
This feature allows customers to browse the user's content and still be engaged with its online community.
2.11. Private Messages, Audio & Video Calls
There is also a feature with RumbleTalk group chat that lets the group members chat privately and all together as well. In private conversations, the participants can text, audio, or even video calls each other.
The RumbleTalk team has implemented the newest Google WebRTC technology version. This means the users do not have to install any software to make private audio or video calls. However, it does lack one feature and that is it does not allow a broadcast video from one to many.
2.11. Multimedia & Sharing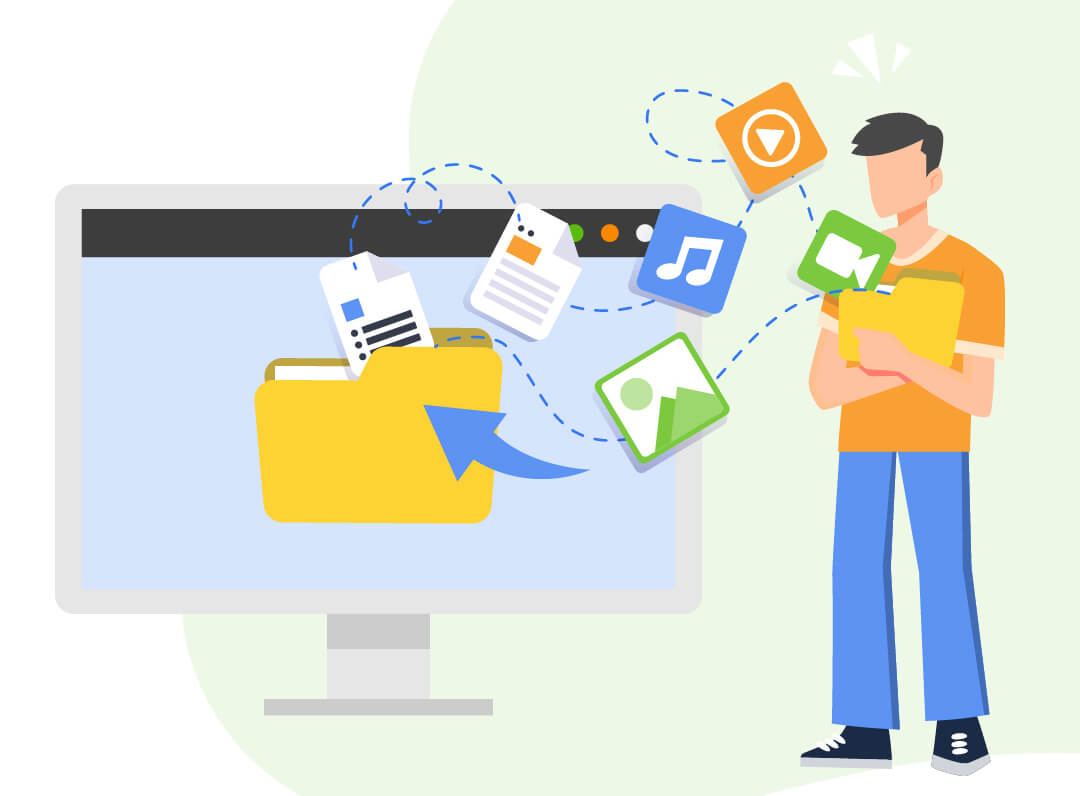 We were happy to see that the software lets its users enhance their conversations with the help of images, voice messages, and YouTube videos.
The added features are: integrated social sharing, YouTube and Vimeo sharing, YouTube life to stream, recorded video messages, recorded audio messages, image upload and sharing, file sharing, and custom/your emoticons.
2.12. Effective Moderation
There is effective moderation of group chats for administrators, with the help of numerous tools. This also means that the members can be disconnected without prior warning, and they can be banned based on their IP address so they cannot log in again.
The participating users can be ignored users, they can ignore one another's private or public chat messages.
2.13. User Profiles
Participating users can be created in the user's management or can log in using their social profiles (Twitter or Facebook). Their profile will be able to show if their user name is clicked on during the chat they are in conversation.
2.14. Smart & Secured
RumbleTalk has made sure they use top-notch security as well. They use SSL/TLS security to protect the conversations and the users' information.
If the user wants to archive the RumbleTalk chat history, they are in luck! The chat is automatically archived for three months. It is also easy for them to export their conversation history in the form of an HTML file.
The RumbleTalk online chat platform gave the offer of a moderated group chat that is free forever.  It also offers various paid plans for extra features and support.
3. User Experience
We thought it would be pragmatic to give our readers a detailed RumbleTalk review, which also gives all of you an idea of what we thought of the user experience.
3.1. Design
We loved the fact that the design of the RumbleTalk chat room could be customized to our liking. After you are done with the basic settings, the user can then personalize the chat room best to their requirements. It even has a plugin that offers a variety of themes, which also can be customized.
All the user has to do to design their chat room is, go to the plugin's admin section and then the advanced design option. This lets the person change each section's color and background to match the user's website color and design.
You could say it works like a live composer, which means as you change the color scheme of the chat window, it allows you to see the real-time preview of the changes that are made.
3.2. Mobile Apps
There is a mobile chat version, which has a camera and attached files option. This allows the user to take photos and upload files directly from the chat. Many settings are integrated into the mobile version. The user will be able to change the chat settings in the mobile chat version.
This is has been tested on Google Chrome and Safari on an Android device. All the changes that were made on the RumbleTalk web chat software also apply to the mobile version, which means that private chat has a better and more intuitive UI on the mobile.
Users can also save the chat on the mobile home screen and it will create a chat app on the phone. There is even a blocking option where users can block private messages. This is available as an advanced version on iOS and Android.
3.3. Integrations
RumbleTalk has chat integrations, add-ons, users' SDK, and group chat plugins. Embedding high-quality cloud-based group chat can be done seamlessly for a live event or even a webpage.
A chat platform can be embedded onto the user's site using integrations, add-ons, and chat plugins.
4. Customer Support
Below are some of the helpful customer support links and information you may need.  RumbleTalk's platform experts are here to help you and teach you how you can take advantage of the RumbleTalk chat platform.
They will help you instantly regarding the general use of your chat widget, minisite pages, your account, or tech support.
5. Security
Below are some of the security-related concerns that are important for every user.
RumbleTalk is GDPR and HIPAA Compliant.
SSL certificate is installed inside the app
Users can make local backups
Data export & data deletion options are available

No Google SSO is available

2-factor authentication is not available

Dedicated servers are not available

No on-premise installation is available
6. Customer Testimonials
Do you know what convinced us to try out the software and give a RumbleTalk Review? The customer testimonials we read when we asked around the industry about RumbleTalk. We thought we would share them with you!
The RumbleTalk online group chat platform is the fastest and easiest way to add a full-blown real-time chat room to your site. And our customers? They simply love RumbleTalk!! We have more than 180,000 customer-created chat rooms using RumbleTalk. –Avishai Abrahami, CEO & Co-founder, Wix
After the event, we received so many emails from attendees giving us rave reviews about the quality of our videos and the smoothness with which our group chat functioned. It was a great improvement to past solutions. –Rachel Morrill, SolarWinds
Feedback from the team was incredibly positive! Any fears they had – main worries were about lag time, feature failure, or inability to juggle Q&A – were quickly squashed once the event started. There was zero lag and the moderators were easily able to manage the Q&A after a quick training session that afternoon of the event. -Sherry Errera, Agora Financial
Conclusion
Overall, we were quite satisfied with the RumbleTalk live chat software. After giving a detailed RumbleTalk review you can see why. It happens to be one of the best live chat software in the industry.