Corporate Portal: Key Features & Benefits
Editor's note: Daria outlines the core features of a corporate portal and explains how it can help improve company-wide business processes. If you want to build a tailored collaboration platform for your organization, contact ScienceSoft for our custom web portal development services.
A corporate portal is a secure, centralized web platform that provides employees access to all the tools, resources, and information they need to do their jobs effectively. Serving as a single point of truth for the entire organization, a corporate portal helps streamline business workflows, maximize teamwork efficiency, and promote corporate culture.
Employee directory. A comprehensive organizational chart listing each employee's position, contact information, areas of expertise, and other essential details makes it easy to find the right person to contact for any work-related questions.
Document management. A corporate portal provides a way to create, store, edit, and securely share documents among multiple teams and users, keep track of changes, and ensure that everyone involved in a specific process receives instant update notifications.
Internal communication. A corporate portal can include various communication features such as message boards to discuss topics of common interest, polls to gather employee feedback, company and industry news feeds, recognition programs to acknowledge and reward employees for their achievements, and more.
Company calendar. A company calendar helps schedule and coordinate company events and activities, from all-hands meetings to business trips and corporate parties. It helps employees stay aware of upcoming events and better plan their time.
Internal search. With internal search customized by content category, department, topic, etc., employees can quickly find relevant information, including project documentation, policies, forms, and more — all in one place.
Employee self-service capabilities. A corporate portal allows employees to log their work hours, check payroll and benefits information, apply for a vacation, submit their documents online (e.g., a medical leave letter), book a meeting room, and more.
Improved productivity. A corporate portal optimizes and automates administrative workflows such as document and request submission, work schedule management, update notifications, and more. This minimizes confusion and saves employee time, allowing them to focus on their core responsibilities.
Improved communication. A corporate portal provides a central location for sharing knowledge, best practices, announcements, and updates, allowing employees to connect regardless of their location, team, or department.
Information security. A corporate portal provides a secure, organized, and fully controlled environment for storing sensitive business data and employee records. Robust information security mechanisms and access control based on job roles and responsibilities help minimize the risk of data leaks or other security accidents.
Corporate culture. By providing a platform with employee recognition, communication, and feedback tools, a corporate portal gives each employee a voice, helps facilitate peer recognition, and fosters a sense of belonging.
The broad range of document management, online collaboration, and employee recognition capabilities make corporate portals a powerful tool for improving team communication and maintaining high employee engagement. If you are looking to implement it for your company, contact ScienceSoft. Our web portal development team is ready to build a tailored corporate portal that will fit your unique business workflows and help improve employee productivity.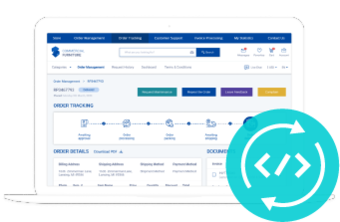 In web portal development since 2005, ScienceSoft's team will deliver a tailored portal solution fully in line with your business needs.