America's Slowest Websites on Mobile
In an era where digital immediacy is not just desired, but expected, website speed has become a pivotal factor regarding both user experience and customer satisfaction. As more businesses pivot towards a mobile-first approach, ensuring swift and seamless access to websites via mobile devices has become more crucial than ever. KnownHost embarked on an exploration, spotlighting the mobile web speeds of America's most popular websites, revealing a nuanced landscape of user wait times across various sectors.
In this study, the focal research points utilised crUX (Chrome User Experience Report) Origin Time to First Byte (TTFB), as opposed to leveraging the Page Speed Insights performance scores. This method ensures a site-wide analysis, focusing primarily on page speed and averting the incorporation of a summarized score that amalgamates various metrics, some of which may not be directly relevant to page loading speed.
The crUX Origin TTFB (referred to as response time in tables) provides a precise measurement of the time taken by the browser to receive the first byte of page content from the server, offering a direct metric that reflects user experience in terms of page load speed. Consequently, this approach intends to furnish a more authentic, unadulterated insight into the actual wait times experienced by users.
America's Slowest Websites Overall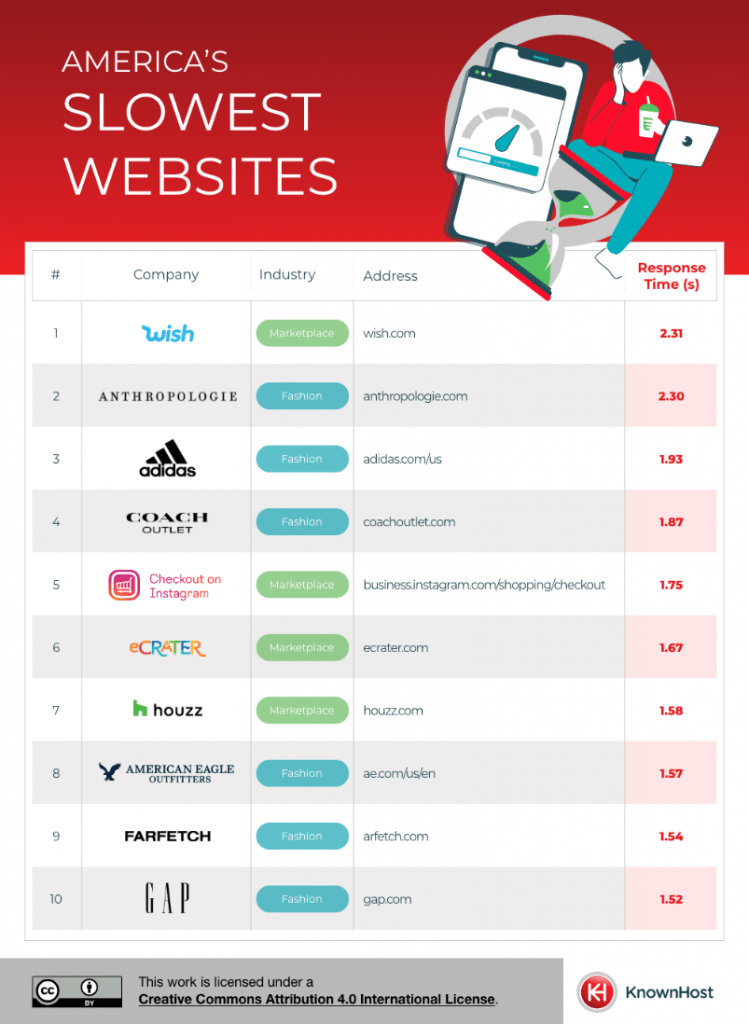 Our exploration into America's slowest websites presented a mix of industries, showcasing no sector is immune to the challenges of optimizing mobile web speed:
Wish (Marketplace) – 2.308s
As a powerhouse in the online marketplace sector, Wish's surprisingly slow response time reveals even giants in the e-commerce space face hurdles in optimizing mobile web performance.
Anthropologie (Fashion) – 2.301s
A prominent player in the fashion industry, Anthropologie's sluggish website may pose challenges in retaining the impatient online shopper.
adidas (Fashion) – 1.929s
A global sportswear brand with a massive online presence, adidas's position on this list underscores the pervasive challenge of mobile web optimization across diverse industries.
COACH Outlet (Fashion) – 1.869s
As an outlet of a renowned luxury fashion brand, COACH Outlet's less-than-optimal mobile web speed highlights a potential risk in losing luxury shoppers who expect swift online experiences.
Instagram Checkout (Marketplace) – 1.748s
Representing a new era of social commerce, Instagram Checkout's position suggests the new feature could be facilitating smoother social shopping experiences.
Rest of the top 10
ECRATER (1.674s), a global online marketplace, finds itself at the sixth spot, with Houzz close behind (7th), having achieved a response time of 1.58s.
American Eagle (8th), a brand synonymous with youthful and trendy apparel, underscores that fast fashion does not always translate to fast web speeds, similarly to 9th place FARFETCH.
Finally in 10th place, with a response time of 1.522s, GAP concludes our slowest overall websites on mobile.
The above findings spotlight a critical understanding that mobile web optimization is a universal challenge, transcending industries and company sizes. With varied industries like Marketplace and Fashion taking the top spots.
America's Slowest Fashion Sites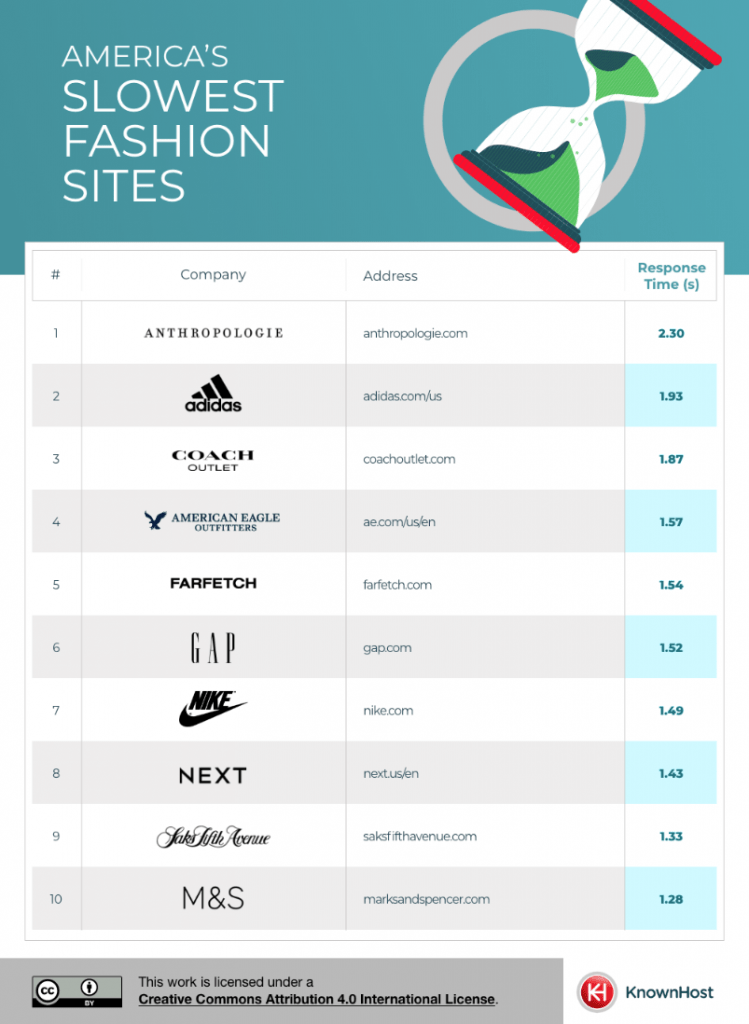 The world of fashion is synonymous with trends, style, and importantly, pace. With e-commerce booming, the speed of fashion websites on mobile devices becomes an integral aspect of the customer journey. Let's delve into the slowest fashion websites:
Anthropologie – 2.301s
Leading the pack, Anthropologie showcases that while it may be a hub for diverse and stylish offerings, they must focus on providing a swifter browsing experience to its mobile users.
adidas – 1.929s
Despite being a global athletic wear icon, adidas's less-than-ideal mobile website speed indicates a potential area of focus to further streamline the digital customer experience.
COACH Outlet – 1.869s
Finding itself in the top 3, COACH Outlet's mobile website speed may pose an additional challenge in ensuring that the luxury shopping experience is as seamless online as it is in-store.
American Eagle – 1.568s
Known for its trendy and youthful apparel, American Eagle's position here signals the importance of aligning web performance with the fast-paced lifestyle of its target demographic.
FARFETCH – 1.543s
Representing a platform for luxury fashion, FARFETCH's spot on this list underscores that the digital path to luxury shopping may have a few speed bumps that warrant attention.
Rounding Up the Rest of the Top 10:
The GAP (1.522s), a hallmark in the apparel industry, finds itself in the sixth spot, suggesting that even well-established retail brands face hurdles in mobile web optimization. Nike, a behemoth in sportswear, landing in the seventh position, indicates that providing a rapid online shopping experience remains a widespread challenge (1.486s).
Renowned for its trendy offerings, NEXT (8th) shows maintaining a balance between high-quality visuals and speedy webpage loading is a nuanced task. Closing out the top 10 you can find Saks Fifth Avenue in 9th with a response time of 1.329s and M&S in 10th scoring 1.277
The insights from the fashion industry emphasise the balance between providing rich, visual online experiences and maintaining optimal website speeds. It accentuates the necessity for fashion retailers to prioritize web performance to complement their aesthetic offerings and maintain a smooth, user-friendly online shopping experience.
America's Slowest Adult Sites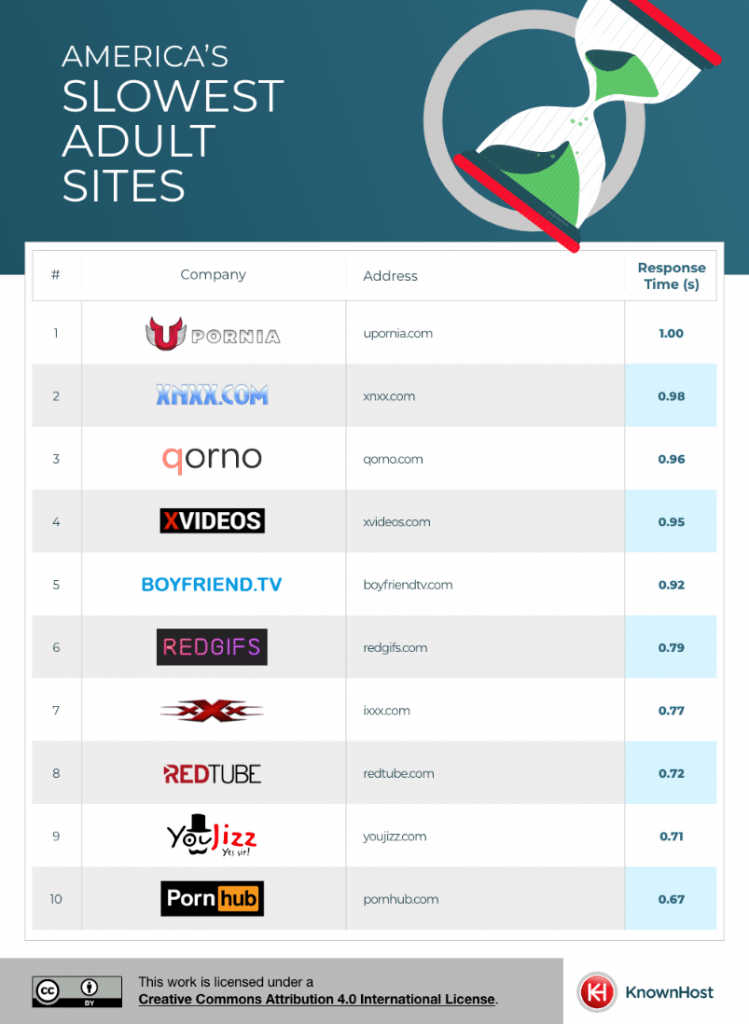 The adult industry relies heavily on mobile streaming, which demands rapid data transfer to ensure a seamless user experience. The following sites have yet to achieve this.
Upornia.com – 1.004s
Achieving the slowest response time among adult websites, Upornia presents the only score above the second mark.
XNXX.com – 0.977s
The well renowned XNXX.com falls just under the 1 second mark in second place.
Qorno.com – 0.955s
Qorno follows in 3rd spot, just 0.22s faster than XNXX.com.
XVIDEOS.COM – 0.949s
XVIDEOS.COM takes 4th place, being over 0.5s faster than the slowest adult website on mobile.
BoyFriendTv.com – 0.923s
Closing out the top 5, BoyFriendTv.com presents the last response time over 9 seconds.
Rest of the top 10
In 6th place, RedGIFs boasts a relatively fast response time of 0.786s, in comparison to those in the top 5. XXX Movies Tube follows in 7th place, proving slightly quicker (0.768s).
Redtube (8th) and Youjizz.com (9th) are closely placed separated by just 0.07s. The top 10 is finalized with industry leader Pornhub, whose response time is significantly quicker than any other adult site on this list (0.669s).
Fast response times are essential for maintaining the privacy and security of users who may wish to access such content discreetly. In this context, a speedy website can enhance user trust and loyalty, ultimately translating into higher traffic and revenue for adult websites, as presented with Pornhub.
America's Slowest News Sites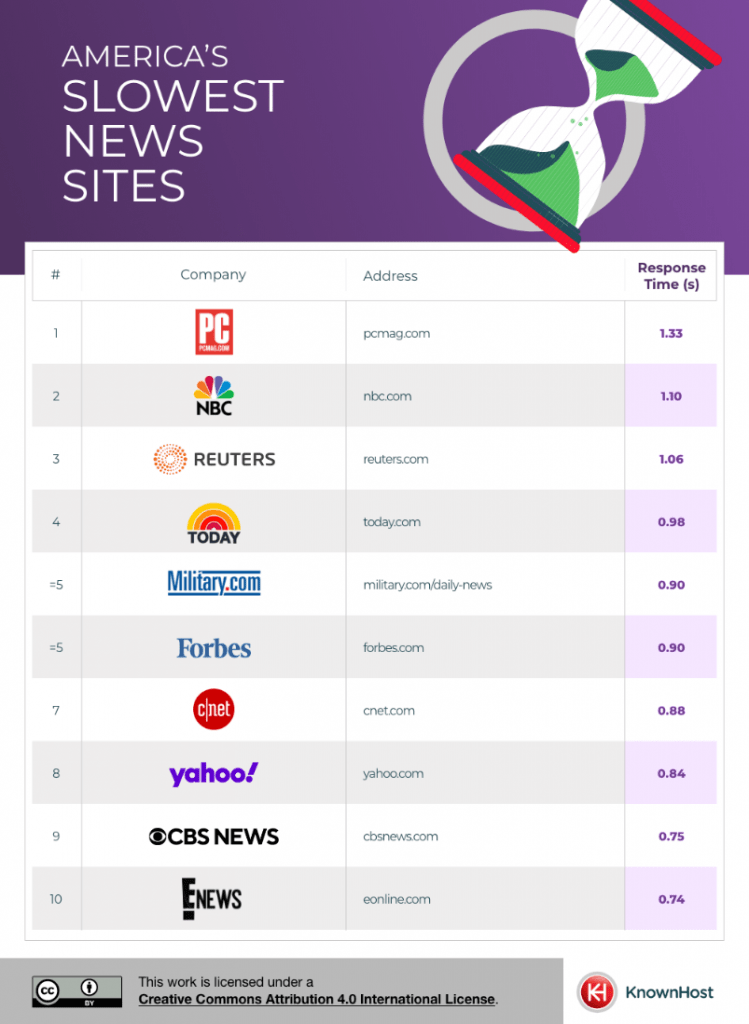 In a world that is constantly evolving, news websites serve as our gateway to global happenings, making their accessibility and speed pivotal in delivering timely information. Here you can find the top 10 slowest news sites on mobile:
PC Mag – 1.326s
Holding the title for the slowest mobile web speed in the news category, PC Mag's response time highlights a potential barrier in accessing swift tech news on the go.
NBC – 1.101s
As a major broadcasting network, NBC's slightly lagging mobile web speed points towards the necessity of ensuring rapid access to news and entertainment.
REUTERS – 1.057s
Renowned for its global coverage, REUTERS may find opportunities in further enhancing its mobile user experience through speed optimizations.
TODAY – 0.978s
TODAY's position in the top 5 underscores the importance of speed in keeping up with the fast-paced nature of daily news and lifestyle content.
Military.com – 0.902s
As a hub for military news, Military.com's mobile speed signifies a crucial aspect in ensuring that the armed forces community receives timely updates.
An overview of the rest
Despite being a powerhouse in business news, Forbes (6th) showcases the rapid dissemination of information online has its own set of digital speed challenges. Forbes are followed by CNET (7th), a leader in tech news.
In 8th, Yahoo scored a response time of 0.843s, recording a significantly slower score than 9th place CBS NEWS (0.751s). E! News closes out the top 10 with a slightly lower response time of 0.743s.
In the realm of news websites, where timely access to information is paramount, optimizing mobile web speed becomes not just a technical necessity but a journalistic one, ensuring that readers can stay updated on the go, without any delays.
America's Slowest Marketplace Sites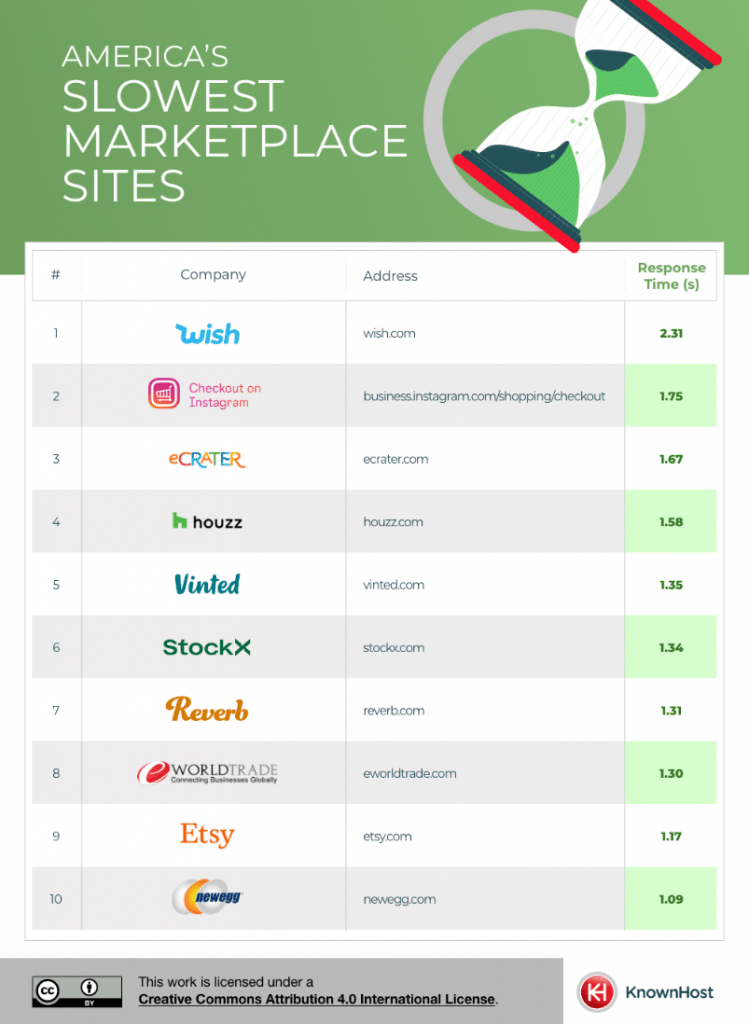 Online marketplaces serve as bustling digital bazaars, providing a platform where buyers and sellers converge to transact goods and services. The fluidity and speed of these platforms are fundamental in fostering a seamless trading environment. Let's explore the top 10 slowest marketplace websites on mobile:
Wish – 2.308s
Claiming the top spot, Wish's somewhat leisurely response time illustrates the challenges even prominent marketplaces face in maintaining optimum mobile web performance.
Instagram Checkout – 1.748s
A relatively new player in the digital marketplace arena, Instagram Checkout's speed reflects the intricate balance required between social networking and e-commerce functionalities.
eCRATER – 1.674s
eCRATER's position sheds light on the universality of mobile web speed challenges, irrespective of the platform's size or tenure in the digital space.
Houzz – 1.58s
Specializing in home décor and improvement, Houzz's mobile web speed underscores a potential hurdle in effortlessly navigating through its extensive catalogue of offerings.
Vinted – 1.347s
As a platform for pre-loved fashion items, Vinted's slightly delayed response time could potentially slow down the fast-moving cycle of buying and selling used garments.
The rest of the top 10
StockX (6th) recorded a response time of 1.344s, noticeably Reverb (7th) and eWorldtrade (8th) are separated by just 0.08s.
Etsy places 9th with a response time of 1.167s, though 10th place Newegg.com recorded a much faster response time of 1.088s.
In the world of online marketplaces, where numerous transactions occur every second, the essence of speed cannot be overstated. From seasoned platforms like Wish to emerging ones like Instagram Checkout, the need for speed optimization is evidently crucial across the board, ensuring that users can buy and sell with utmost ease and efficiency.
Methodology
Our methodology was straightforward yet rigorous, starting with the collection of popular US consumer websites from platforms like:
Thereafter, Google's Page Speed Insights Analyzer became our tool of choice to gauge the overall page speed, ranking the websites based on their crUX Origin Time to First Byte (s) scores. Our findings provide a detailed perspective on the mobile web performance landscape across multiple industries.