9 Best WordPress Job Board Plugins to Use in 2023
As the number of remote positions increases in the workforce, so too does the need for job boards to increase their appeal. As such there has never been a better time to create a job board in WordPress, and with the right plugin, it's not very hard.
A job board is simply a collection of job listings that appear in a single location on a site. Each entry includes key information such as the job title, description, pay rate, location, experience needed, and much more.
The listings can be for your own business or others.
When hosting listings for other companies, those companies often pay a small fee for that listing. The more popular your website, the higher that fee is. It can be extremely lucrative, especially right now as companies scramble to fill vacancies.
Today, I will share some of the best job board plugins for WordPress.
When it comes to building a job board plugin for WordPress, there is no better dev team than the actual creators of WordPress, Automattic. They make the best plugins like WooCommerce and Jetpack, so you better believe that WP Job Manager is awesome.
The plugin allows users to easily create listings for jobs using a simple set of entry fields that can be customized.
It is also possible to create an expiration date for the listing after a certain amount of time has passed. This is handy if you charge employers a monthly fee to host the listing. This way, once the allotted time has passed, the listing will be removed automatically.
In terms of usability, this tool is beginner friendly. Creating a job listing is as easy as going down a series of text fields. These simply ask you to enter key information such as experience needed, job descriptions, category, and other information.
Benefits of Using WP Job Manager:
Create alerts for users when new job listings go live
Includes a Resume Manager to accept resumes from job applicants
Accept payments for listings with WooCommerce support
Add listings anywhere on your website using simple shortcodes
Logged-in employers can make changes to their job listings at any time
If you're looking to create a job board with all of the bells and whistles, there is no better plugin than the WordPress Job Board Solution. This tool does everything that an employer needs while being easy to use by job seekers.
This tool can also help you save time by providing a variety of pre-made pages that are ready for use.
Creating a business out of a job board means you are going to need a way to create memberships and accept payments from the employer seeking to list jobs. This plugin utilizes WooCommerce to do just that in an intuitive way.
In terms of usability, the plugin is quite simple. Employers can create listings that contain any kind of data, and accept applicants' resumes.
It is also possible for the employer and job seeker to communicate through private messages.
Benefits of Using WordPress Job Board Solution:
Job seekers can locate similar or related jobs to what they are currently looking for
Employer view allows them to see the number of applicants that are applying
Users can create viewable profiles that bother employers and job seekers can browse
Easily reject and delete job applicants that do not meet your criteria
Make adjustments to listings at any time
Simple Job Board is another excellent free job board plugin for WordPress. It utilizes simple shortcodes so that you can place listings on any post or page, which makes it a great choice for beginners looking to build their first site.
Perhaps one of its best features would be the large number of languages that this plugin has available with over 10 options to pick from.
Living up to the "Simple" in its name, this plugin makes it easy to create job listings. You can create a listing using a regular post format, which includes all of the blocks you normally use.
This gives you a lot of customization potential.
At the same time, you can construct application forms that consist of simple entry fields. For example, you can require applicants to include their name, email address, phone number, and even create more open-ended entries such as additional information.
Benefits of Using Simple Job Board:
Includes a variety of paid add-ons for key features such as payment gateways
Allow job seekers to use the advanced search functionality to zero in on jobs with specific criteria
Includes a dedicated mobile app for Android and iOS
Gain access to email notification templates through premium add-ons
Download multiple resumes at once with bulk options
If you are looking for a simple job board plugin for WordPress, look no further than WP Job Openings. It has all of the tools you'll need to build a job board in WordPress for free and it has a lot of styling options.
For example, you can choose between different job board layouts to make finding listing more appealing.
Creating job listings is simple and allows employers to add any kind of content. They can also customize the application process by determining what fields are present.
There is even an upload option or job seekers to include resumes and cover letters.
Perhaps one of its more useful features would be the simple analytics it provides. You'll gain access to an applications analytics chart that shows you how many applications are submitted on a monthly basis. This is a great way to monitor interest in positions.
Benefits of Using WP Job Openings:
Gain access to a paid add-on Form Builder pack to expand application functionality
Add expiration dates to job listings to avoid out-of-date listings
Receive email notifications when applications are submitted
Includes email notification templates to save time
Create custom job lists with shortcodes by category or job type
ApplyOnline is another popular job board plugin for WordPress featuring a drag-and-drop application form builder. It focuses on providing an easy-to-use interface that is perfect for non-tech-savvy users.
Not only is creating your job listing simple but displaying them is a cinch as it just requires a single shortcode.
The shortcode can be placed anywhere to give you more options. Job applicants will have no issue providing all of the necessary documents such as resumes, cover letters, and such because there is no limit on the number of file submissions you can request.
The plugin also features several premium add-ons. For instance, there is an add-on that allows employers to receive submitted applications, resumes, and cover letters via email as soon as they are submitted to ensure quick responses.
Benefits of Using ApplyOnline:
Receive applications and other submitted documents in your Dropbox account
You'll be able to leave notes on applications to keep track of applicants
All submitted information is available via PDF
Restrict who can use this plugin with User Role control
Protect your applications from spam with CAPTCHA support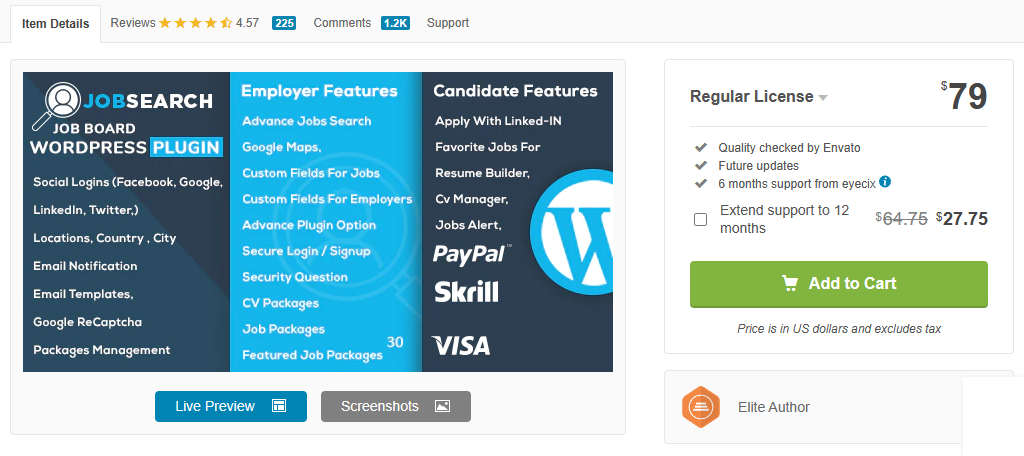 When it comes to amazing job board plugins for WordPress, the premium JobSearch WP Job Board WordPress Plugin is among the best. It has a host of features including some unique entries that none of the others on this list include.
A job listing is only useful when it reaches a wide audience, and this plugin takes that to the next level with social media.
That's right, this plugin allows users on Facebook and LinkedIn to apply to job listings on this board. As you can imagine, this significantly opens up the reach of job listings on your board, which makes it more attractive for companies to pay for.
When it comes to accepting payments, you'll have the plethora of payment gateways that WooCommerce supports at your disposal. And yes, you have a ton of design options included that are all easy to use, so it's a great choice for beginners.
Benefits of Using JobSearch WP Job Board WordPress Plugin:
Translate your applications to any language for international recruitment
Includes a great selection of pre-made pages and templates
Give job seekers access to a Resume Builder
Show job suggestions for similar jobs based on what users are searching for
Allow users to log in to your website by using their social media accounts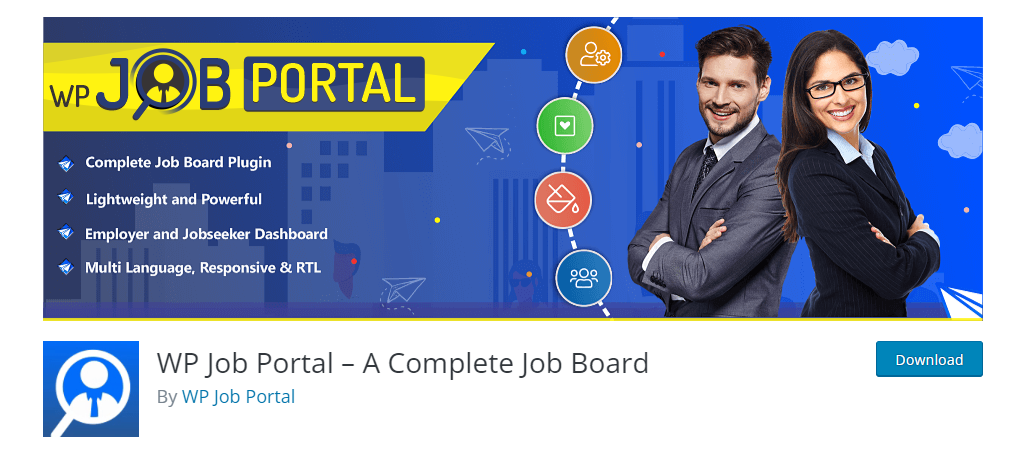 Hiring workers for your company is crucial to success, which is why your website needs a job portal. And when it comes to building the best one, WP Job Portal is the best choice due to its large list of features.
The entire process is made easy by utilizing simple shortcodes to place your job listings on any post or page.
When it comes to building job listings, you have a ton of options with no type of content off the table. As a job seeker, there are a lot of options that help you filter the job posts to help you find the right kind of job.
Job seekers can submit resumes and cover letters without issue, save job listings so they can apply later, and with an add-on, can even fill out applications without having to create an account. This removes a barrier of entry to help get more applicants.
Benefits of Using WP Job Portal:
Includes over 30 pre-made fields for job applications
Display the job location via Google Maps
Responsive layout ensures that job applications can be viewed and completed on mobile devices
Ensure that only the site admin can create or edit job listings
Save time shifting through resumes with the Resume Parsing feature
Job boards are crucial for connecting employers with talented job seekers, and the JobBoardWP plugin can help you do just that. It utilizes a simple design to make it easier to manage job listings on your website.
Overall, this makes it one of the best tools for beginners to use. While the tool may be simple, it still has all of the features you need.
The plugin generates a post job page, where users can submit jobs to display via a job submission form. From here, you can have the jobs get displayed automatically, or go through a manual review process (highly recommended).
It's worth noting that you can require payment details in the job submission form. Jobs can be listed by the type, category, or date they were added. You can also display tags like Full-time, Part-time, Internship, and more.
Benefits of Using JobBoardWP:
Add expirations dates for job listings to avoid showing off jobs no longer available
Includes 6 blocks for the Gutenberg editor
The job dashboard page allows users to see their submitted applications
The plugin was built with Google search in mind (job listings appear in Google search results)
Easily display if a position is one-site or remote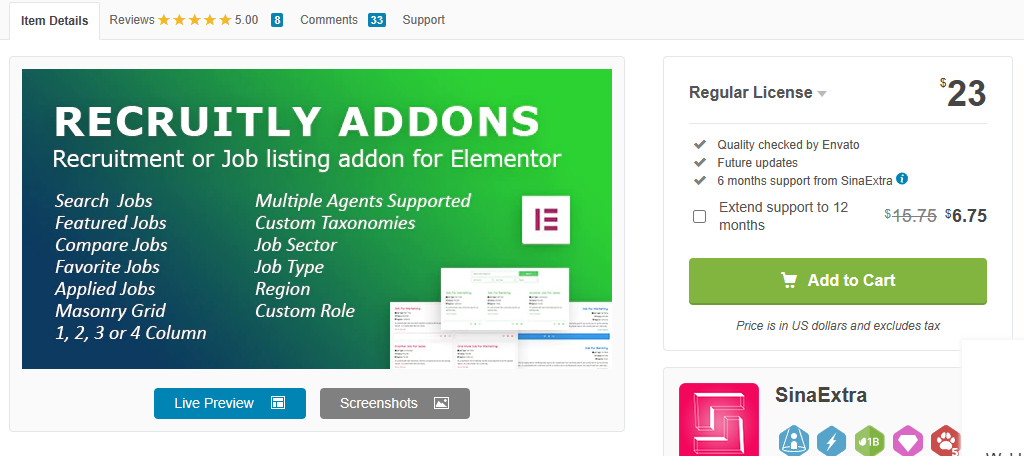 When building a website in WordPress, there's a good chance you used the Elementor Page Builder to add the finishing touches. It is a robust tool that can help you build any kind of website, and it actually has an addon for job listings.
Recruitly Addons gives you access to 8 unique widgets that you can use to build a job listings page.
These widgets are in addition to the full toolset available in Elementor, thus you'll have far more creative options compared to any other entry on this list.
One of the blocks included is a custom form builder you can use for application submissions.
Recruitly Addons uses a visual form builder that allows you to create your own custom fields, thus it works in any situation. You can also add custom filters such as regions, in the event a business has several branches offering the same position.
Benefits of Using Recruitly Addons:
Applicants have access to a robust search feature to find the jobs they are looking for
Display popular job sectors on your board (banking, IT, graphic design, etc.)
Display the most popular areas jobs are located (by town, state, or even country)
Gain access to incredible support that can help you troubleshoot any issues with the plugin
Assign the user role of Agent to give companies the ability to create their own job listings
Build Your Influence Through Social Media
A job board is only effective if job seekers know that companies post their new listings on them. Thus, you need to get the word out. And in 2023, there is no better way than through the power of social media.
Many of the entries on this list have social media integration because these tools understand the importance of it. Reaching thousands of users through a single tweet is extremely effective at telling job seekers new listings are available.
The more traffic your website receives, the higher the commission you can charge employers, as it significantly increases the chances that a position will be filled quickly when there are more applicants.
When it comes to jobs and professional careers in general, there is no platform as important as LinkedIn.
LinkedIn is a social network built to show off someone's career and connect individuals in the same industry together. As you can imagine, LinkedIn is one of the first profiles a job applicant updates when hunting for a new job.
Thus, you should really try to make a splash when it comes to this platform.
Start Building With the Best Job Board Plugin in WordPress
WordPress has a great selection of plugins to choose from when it comes to creating a job board, which can make finding the right one for the job challenging. Any of the entries on this list are great choices and contain the essential feature your website will need.
Keep in mind that it can take a long time for a job board to gain a following, thus you might want to consider including other content on your website. For example, building a blog that helps job seekers (your main audience) find jobs is a great idea.
Did we miss your favorite job board plugin in WordPress? Let us know in the comment section.