5 Best Practices to Boost Customer Loyalty for SaaS
Loyalty is hard to come by in an increasingly competitive SaaS market.
Imagine you spend months catering to a customer's every whim.
Then 2 weeks later, you lose that customer because a competitor introduced that highly-coveted, custom-engineered Hubspot integration. It's a harsh example, but it's inspired by true events.
Customer Loyalty – The Goal of Any SaaS CSM
Customer loyalty is always the goal for any customer success manager. Once you've got it, a whole world of possibilities opens up to you:
Increased upsells and cross-sells because

the probability of a successful sale to an existing customer

is between 60% and 70%.
More word-of-mouth marketing, since your client base will sing you praises and SaaS people hang in the same circles
A referral program, the natural first step once cross-sells start coming in, to reward referrals and emphasize the level of appreciation you have for your clients
Brand ambassadors are the measurable end-goal of customer loyalty. Ambassadorship can be official, with perks, or ceremonial, but it always leads to more business opportunities, including but not limited to case studies, testimonials, and other promo materials such as video testimonials.

These video materials can be created using video editing software or an online video editor.
With that in mind, let's discuss the top best practices you should consider adopting in order to boost customer loyalty for your SaaS business.
1. Reward Loyalty & Say Thank You
The first step beyond retention and towards loyalty is saying thank you. Taking the time out of your busy day to reach out and say a kind word is underrated. Pairing that same thank you message with a valuable reward, can double the efficiency of your efforts.
Consider rewarding loyal customers with things like:
a simple discount of 5% to 25% of the subscription price
a free trial period for referrals to encourage customers to bring in leads
a thoughtful, research-based gift basket that includes a treat for their pets, for example 
a cross-promotional effort spearheaded by your marketing department, basically offering free marketing while you show off your strongest supporters
There are plenty more ideas for thanking customers to check out, but the gist of it remains: be thoughtful, be respectful, and offer something that holds at least some value beyond a simple thank you (though, if financially tied down, a simple thank you will still go a long way).
2. Automate Customer Lifecycles and Optimize Them
Of course, loyalty doesn't mean you need to reach out manually all the time. You can take the smart route and automate your customer success workflow to:
Set messages that go out whenever customers reach certain milestones in their journey with your product
Send video tutorials tailored to specific onboarding stages
Deliver support videos designed around frequent product issues and questions
Periodically send feedback requests and surveys 
Set notifications for moments when you need to personally reach out:

To personally thank them for something
To intervene before a friction point becomes a reason for churn
To anticipate support requests and attempt to solve issues before they're brought to your customer support team
To attempt to resolve a situation when  support requests exceed a certain limit

Follow-up messages to check in for all of the above scenarios
Of course, the level and depth of the flows you design largely depends on the typical lifecycles of your client base. Yet some form of automation is recommended for any SaaS that cares about delivering consistent customer experiences. However, since 72% of customers today only  interact with personalized messages, make sure to customize those messages or risk looking like a robot, not a person.
Source: https://giphy.com/gifs/thegoodplace-season-2-nbc-3ohs7Yw7tA7JwHppF6
3. Onboard Like the Your Whole Customer Base Is Watching
Onboarding isn't the first stage in a customer's journey, as some will have you believe. The journey starts with the first touchpoint, yet onboarding definitely is the stage with the most influence on the entire account lifecycle, including the loyalty stage. When it comes to the retail industry, sometimes getting away with Amazon suspension or offering free shipping can help increase loyalty. However, this may not be the case for SaaS businessesAs such, you need to give it special attention.
Ensure proper handoffs between your sales and customer success teams, make sure both know each-other's KPIs and work together to smoothen the path to your client's success
Use product tour software to guide new users through the product. This could save time and create a more useful experience for clients than traditional product onboarding calls.
Promote a close relationship. Alternatively, you can prioritize onboarding calls to give your clients that coveted 1-on-1 personal experience. This means finding a CS rep with good conversational skills and high emotional intelligence to nudge fresh clients towards loyalty.
Be there. While handholding can become annoying and should only happen for certain customers, the simple act of being there on the other side of a webchat or via Slack will make the world of difference when your new users encounter issues.
Onboarding can fail for many reasons, and some say good, self-serve products don't even need onboarding that much. Whether you call it onboarding or user adoption, the bottom line is you need to make it very easy for your new users to learn the product, or else you're going to lose them due to high churn risk way before they become loyal.
"The journey starts with the first touchpoint, yet onboarding definitely is the stage with the most influence on the entire account lifecycle, including the loyalty stage," as said by Tyler Quiel, CEO of Giggster.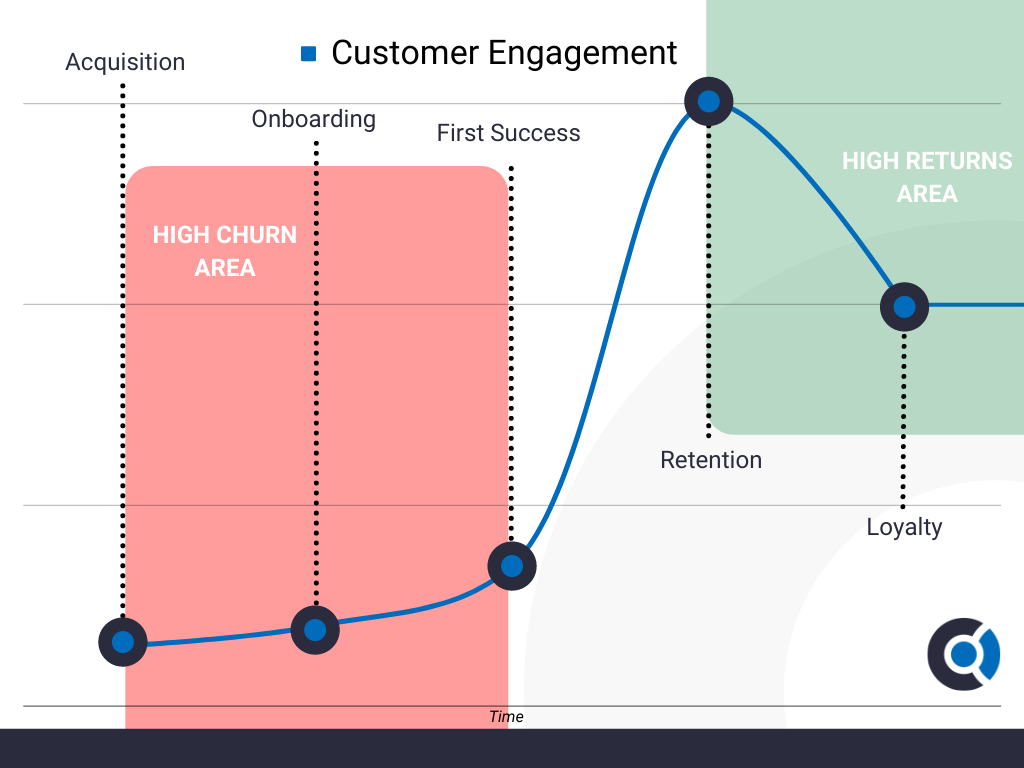 Design adapted from this graph showing customer engagement over time
4. Tailor Your Level of Service To Your Customer's Needs
Different customers have wildly different engagement needs based on anything from the type of SaaS you're offering to the typical time their point of contact picks up their kids from school. Anything can be a factor when you're dealing with people.
For customers to be loyal, they need to receive an unrivaled customer experience. 70% of customers leave due to poor service. Will you be the one who turns them into brand ambassadors? Here are a few ways to optimize and personalize the level of service:
Find the level of support needed
Customer representatives will typically tell you outright what level of service they expect. That estimate is a good starting point on which to build.
Determine the best support channel
Clients will reach out to you on various channels. Pick the top two and set all your manual and automated communications to go out on those channels. While you're at it, you can make a note to ask them if you assumed correctly – 9 out of 10 times they'll appreciate that you remembered these details and will be happy to correct you if necessary.
Don't always trust what the customers say
Some customers are often overzealous about the level of support they say they require. Oftentimes they require way more handholding – and that's fine. However, CSMs should be on the lookout for signs of friction and "go with their gut" to change the level of service they provide.
5. Implement an Offboarding Focused on Listening & Learning
You might be thinking about offboarding like this: a process that gives you a chance to keep customers from churning. Wrong. While it can provide a pathway for lost customers to find their way back to you, the main goals of onboarding should be listening and learning.
Listening to Churned Customers
Depending on the type of SaaS you're running, these insights may vary, but nonetheless churned customers typically spend quite a while deciding to switch. Migrations take time and are almost never easy, so it's not a process any team takes on lightly. Through the offboarding process, you're listening for the real reasons people leave, be that through a simple survey, a message on Slack, or an offboarding call.
Learning from Churned Customers
Sometimes, offboarding calls can force you to make wild, split-second decisions that can become the norm. That can mean anything from making UX adjustments to your software, to offering 6 months off, to assisting those customers with custom development. The possibilities are endless, yet the mantra behind them should always be: what can I learn from this to make other customers more loyal.
Optimize for Loyalty with Customer Success
As I've said at the top of the article, generating loyalty is a difficult task for SaaS nowadays. 
When I started my career, I wanted to prevent SaaS owners from losing money they put into product development. That meant launching a platform for customer success and improving products based on CS data to enable that success.
Today, it's no longer enough. Businesses also need to stand out from the crowd and provide their customers with the tools, support, and resources needed for their success. That's the true measure of loyalty in SaaS, and as long as you do it, your customers will stay with you for many years to come.