21 Free Business Themes for WordPress for 2023
WordPress is one of the most popular ways to build a business website, and it all starts with a theme. Starting any business website can be expensive, making it no surprise that many businesses seek out free business themes to lower their costs.
There are thousands of WordPress themes, making it challenging to identify the best one for your needs. Ensuring that it's also free only makes the process harder. Luckily, there is no shortage of great themes that meet these criteria.
Here are the top 21 free WordPress themes to build a business website in 2023.
Why You Should Consider Free Business Themes
While there are plenty of WordPress themes to choose from, many people worry that these free options may not be as reliable as the paid ones. Luckily, this is not the case.
All WordPress themes go through a review process by WordPress.org. They are tested for security and things like standardized code, quality HTML and CSS, and required WordPress features.
This ultimately ensures that any up-to-date theme you find in the WordPress theme directory is ready for use. With an emphasis on the "up-to-date" part, a theme that has not received updates in over a year is typically a security risk and should be avoided.
Some free themes act as limited versions of their premium counterparts, while others are just completely free with no paid version. In either case, the advantage of using them is clear; they can help save you money.
Now, generally speaking, premium themes are not exactly expensive. Most will simply run you around $50 to $70, which isn't going to break the bank for most businesses. Yet, every dollar saved can make a difference.
If you are just testing the waters, free themes are definitely the way to go as you can just upgrade to a premium theme later on.
Hands down, Astra is the most popular theme in WordPress, and for good reason. It is a highly customizable theme that provides a variety of free WordPress business templates that you can use to get started.
Astra is also extremely lightweight, meaning you'll get faster loading times on whatever you build, while integrated schema.org code ensures better search engine optimization. This helps any website rank higher on Google and other search engines.
While the basic design features are top-notch, you can take this theme to the next level by installing a page builder plugin. This gives you far more design options to choose from and it helps simplify the process by introducing drag-and-drop page builders.
Benefits of Using Astra
Advanced layout settings give you full control over your pages
Choose from a nearly unlimited number of colors and typographies
choose from several header and footer layouts
Perform live editing to see the changes you make in real-time
This theme offers a variety of accessibility options to help anyone use or view it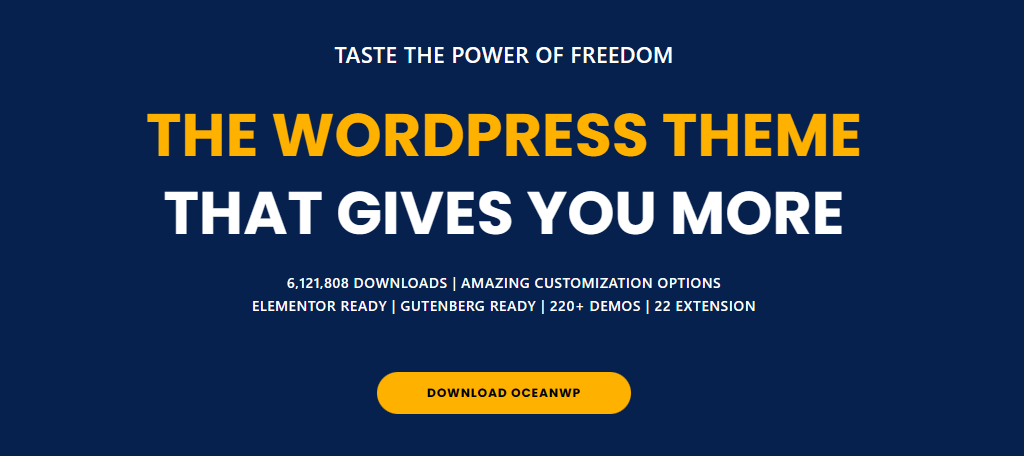 OceanWP has all the features needed to build any business website, including business blogs, eCommerce sites, and portfolios. It also has a small selection of free templates you can use to jumpstart your website design.
OceanWP includes native online store support as well as WooCommerce integration. Although it is suitable for all types of sites, it is most popular for online stores due to its built-in features.
Perhaps one of its strongest aspects would be its global site controls. With them, you can change site elements like colors, typography, and more on a sitewide level. This can help you make large-scale changes in just a few clicks.
Benefits of Using OceanWP
Compatible with most major page-builder plugins
Easily place social media icons in your top bar section
Choose from three different mobile menus
Create a multi-step checkout system to help simplify the process
Easily style product pages to get the maximum effect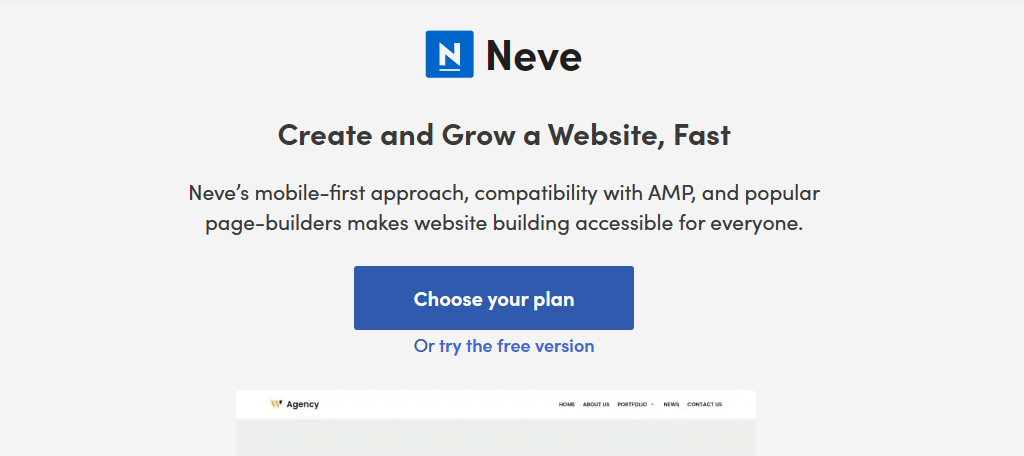 With so many people relying on mobile devices to view websites, having a site that loads fast on mobile is an absolute must. The Neve theme is one of few free WordPress themes for a business that prioritizes mobile website speed.
It's compatible with WordPress accelerated mobile paged (AMP) and has built-in SEO-friendly features. Neve is also for every type of business site. You'll find templates for everything from video-heavy layouts and online stores to a simple online presence.
In terms of design, you can customize just about everything, and global color and typography options help make the process as quick as possible. And you can choose from several major page-builder plugins for even more options.
Benefits of Using Neve
Utilizes a minimalist design that lets your business services shine
Lightweight designs ensure nearly perfect page speed scores
Gain access to video tutorials to help you get started
Build mega menus to fit all of your business services in one location
White label support for better business branding
The Customizr theme is another great choice for mobile-focused websites. This theme features lazy load and mobile page optimization, increasing site loading speed and improving your site's overall user experience.
In fact, the design is so good, your customers may actually think that the website is a dedicated phone app. In terms of design, you can create beautiful grid layouts, utilize full-width sliders, and much more.
It's also WooCommerce compatible, making it perfect for online stores. It even includes a header shopping cart to help customers check items out faster. Product pages are stunning thanks to an excellent grid layout.
Benefits of Using Customizr
Includes front-page room for featured content
Easily customize your header and footer areas to fit any content
Create stunning blogs to explain your business or share details on new products or services
Excellent performance across most page score tools
Easy to install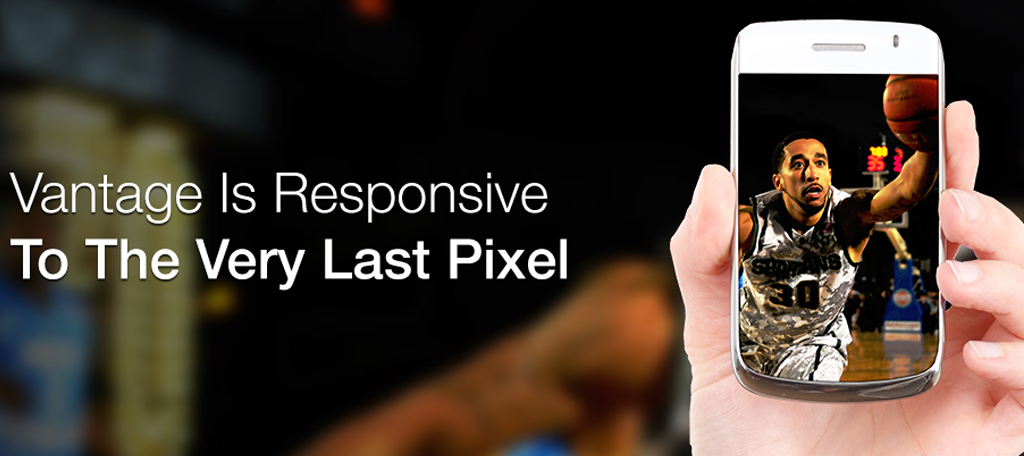 Vantage is an all-around good choice if you're looking for a completely free website theme. This WordPress theme is made by SiteOrigin, developers of the SiteOrigin Page builder, and CSS editor plugins.
It's also integrated with WooCommerce, has thousands of icons, and is fully responsive. In terms of design, you can choose between a full-width site or a boxed site design and easily change site elements like colors and font.
Of course, the strongest aspect of this theme was that it was built around the SiteOrigin page builder. As such, you'll have an incredible selection of widgets you can use to build pages in an intuitive manner, which makes it a great choice for beginners.
Benefits of Using Vantage
Gain access to powerful widgets like Testimonials, Grid Layouts, and more
Easily add your own custom CSS with the CSS editor
Utilize support forums for free to get help with theme-related issues
Choose from hundreds of Google Fonts
Includes a Contact Us page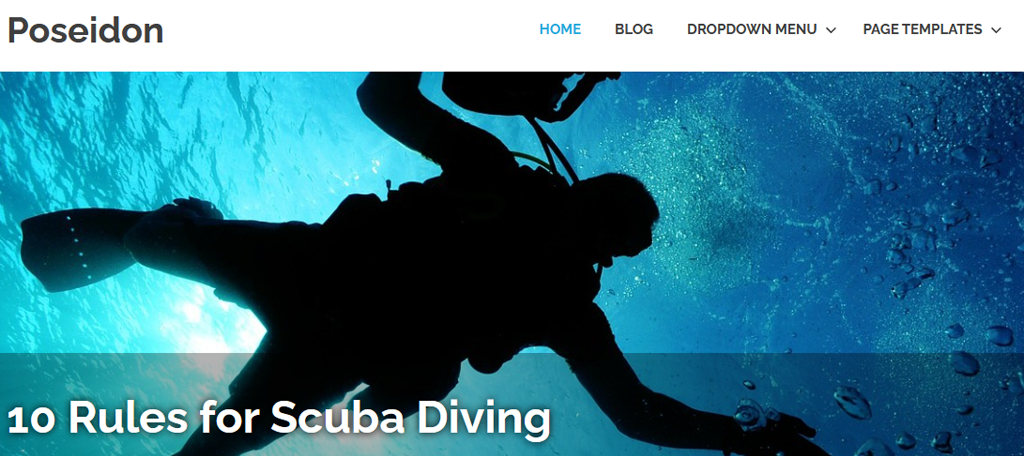 The minimalistic Poseidon theme is everything you need to build a business website. It includes a full-screen image slideshow and clean typography for basic business websites. Although Poseidon seems basic, it doesn't skimp on the good stuff.
The theme has a responsive design, fast loading times, and is search engine optimized. This theme really shines for businesses looking to share company news with customers. Or just about anything that has to do with business-level blogging.
One of the best parts of this theme would be the sidebar area. In it, you can easily display your recent or most popular posts, or alternatively, make your biggest announcements. They will be viewable on any post or page throughout the website.
Benefits of using Poseidon
Supports threaded comments
This theme is translation ready with RTL support
Supports between one and three-column blog designs
Receive fast and free email support
This theme delivers fast-loading pages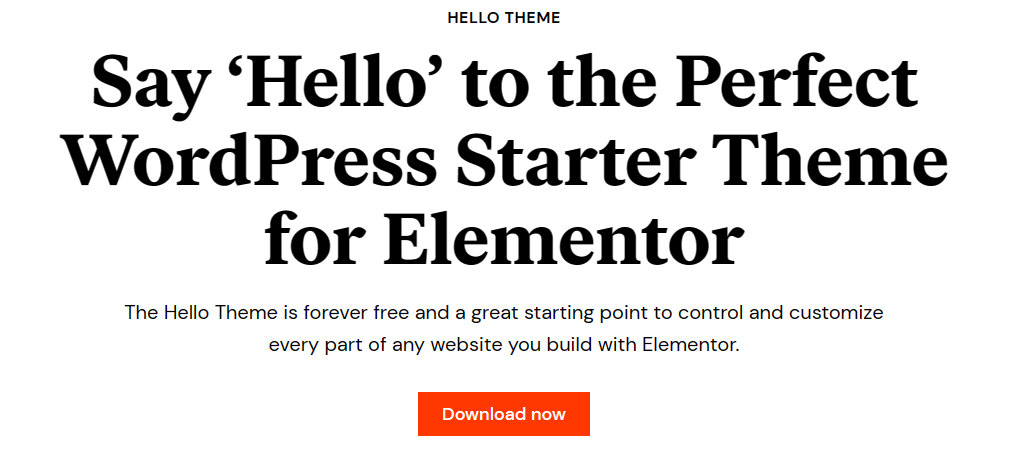 If you're looking for a great free website theme to go with the Elementor page-builder plugin, look no further than Hello Elementor. It is the official theme of the wildly popular page builder and is completely free to use.
When it comes to WordPress templates, free business site-building options are often difficult to use, mostly due to compatibility. Hello Elementor removes any compatibility issues making designing with Elementor a breeze.
Easily its strongest attribute would be the huge library of free WordPress templates that are suited for business websites. They have over a hundred to choose from, so there really is something for everyone.
Benefits of Using Hello Elementor
Includes elements that are well suited for building online stores with WooCommerce
Lightweight design ensures fast loading times
Build custom header and footer areas from scratch
Intuitive design tools ensure that this is beginner friendly
Excellent responsive design ensures that content looks great on any device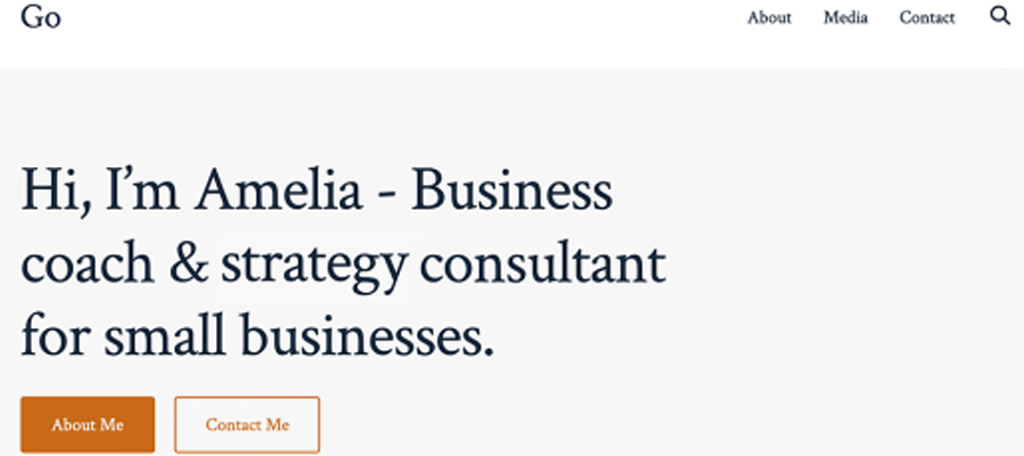 When the goal is simple and free, the Go theme delivers. The customizable theme is designed for the Gutenberg WordPress editor and works well with the CoBlocks plugin for additional options. Built-in options make it easy to adjust the color schemes of your site.
Go has five 'template' styles that you can further customize with the WordPress Customizer. You can use it to create various websites but you should have some WordPress development expertise.
It's also worth mentioning that not only is it compatible with CoBlocks, but both of these integrate nicely with WooCommerce. Thus, you can easily build an excellent eCommerce storefront with this theme with the right tools installed.
Benefits of Using Go
Choose from multiple design styles to better match your brand
Available in 27 different languages with RTL support
Choose from multiple header and footer designs
Create a menu to display social links to improve shareability
Responsive design ensures the theme functions on any device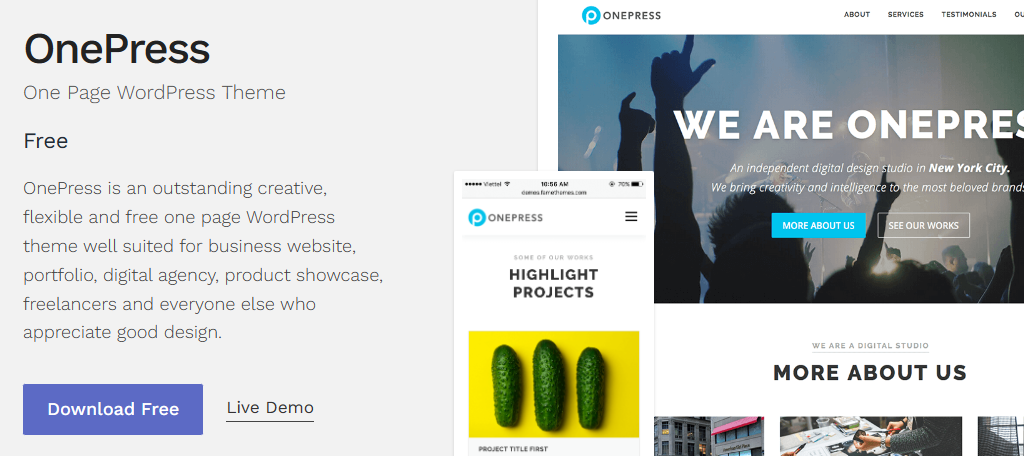 One-page websites can be surprisingly challenging to make, however, OnePress makes them easier to build. The OnePress theme features custom content blocks, parallax scrolling, and page speed optimization.
Customize the theme further with the built-in customizer and custom theme widgets. It also has a variety of demo content that you can install in a single click. This can be used to give your website design the jumpstart it needs.
If your business regularly deals with international customers, you can rest easy that this theme is translation ready. This will ensure that your content is readable in the home language of the reader, which can significantly boost sales.
Benefits of Using OnePress
Excellent responsive design ensures that visitors can access your site from any device
Includes access to detailed tutorials to help you get started
Easily change your site colors through advanced theme customization menus
Gain access to custom content blocks to easily show off your content
Browser compatibility ensures it works across all web browsers
Although you could use Sydney for any business website, it is among the most popular free themes when it comes to eCommerce. Thanks to Elementor page builder integration and support for over 600 Google fonts, Sydney is excellent for creating custom sites.
Custom online stores aren't the only thing this WordPress theme excels at. Additionally, its parallax background functionality makes it easy to build immersive sites that grab visitors' attention and keeps them engaged.
It also includes a great selection of pre-built sections that you can use to build unique pages that match your website's branding with a few simple tweaks. And with support for most major page-builder plugins, you'll have no shortage of design options.
Benefits of Using Sydney
Create unique sidebars for specific pages
Lightweight design ensures that your pages load fast
Choose from several page layouts that can give you more room for certain areas like the footer
Easily change fonts on a site-wide level
Choose from a variety of pre-set color pallets, or create your own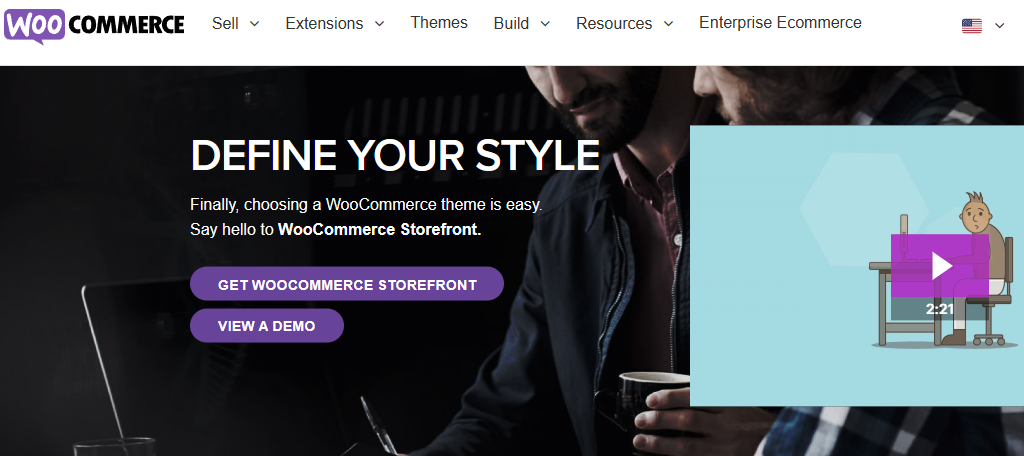 Storefront is one of the few free business themes built for eCommerce. It was designed by the creators of WooCommerce, so naturally, it comes loaded with WooCommerce functionality.
It also features multiple responsive layout options and color customization.
This WordPress theme has everything you need to build a fully functional online presence. However, you can add to your free theme with Storefront extensions.
These add-ons provide additional functionality to the theme, but the free options are limited.
In terms of design, the basic format is quite minimalistic as it aims for storefront products to take the limelight and entice customers. And as you expect, it utilizes a grid layout for product pages with options on what to display next to products.
Benefits of Using Storefront
Includes several accessibility options to improve the experience
Responsive design ensures that it looks great no matter what device visitors are on
Updated regularly alongside WordPress and WooCommerce
Easily customize the theme to match your brand colors
Excellent SEO design helps your store rank higher
Lightweight and customizable, GeneratePress is one of the best free business themes for building an eCommerce site in WordPress. This theme addresses one of the biggest problems that websites face today, loading time.
GeneratePress makes it easy to build a fast-loading site with included WordPress caching plugins. It's also compatible with most major page-builder plugins, thus you have a ton of options when it comes to site customization.
If your website needs multilingual support and a great user experience, GeneratePress is one of your best free options. It supports 25 languages and follows WCAG 2.0 accessibility standards.
Benefits of Using GeneratePress
Utilizes 9 widget areas to construct your website
Choose from over 60 color controls to better match your brand colors
Choose if drop-down menus appear with a click or just by hovering over them
Gain access to five unique sidebar layouts
Excellent responsive design ensures your site looks great on any device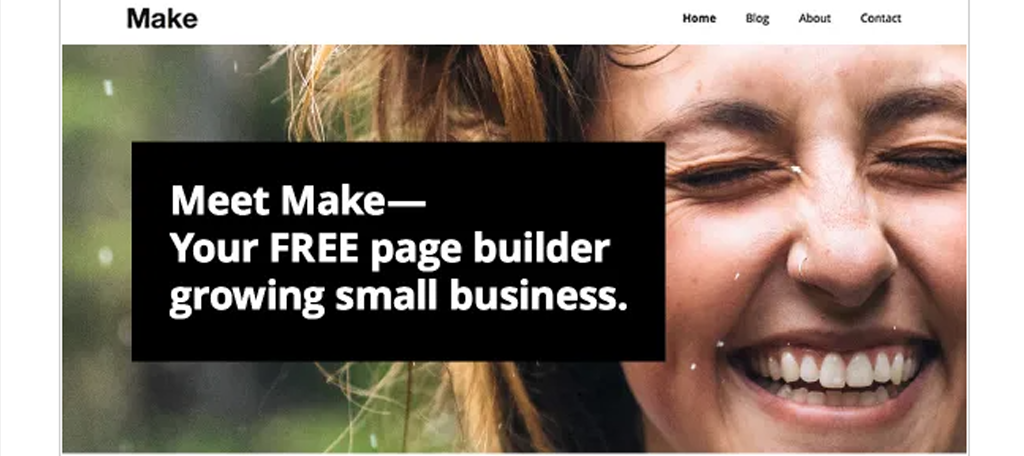 Make is one of the easiest eCommerce themes to use on WordPress. Whether you are making a traditional online store or plan to sell digital downloads, its built-in drag-and-drop builder simplifies the website-building process.
Now, while Make is technically a theme, it's honestly more of a page builder. It focuses on delivering customization options in an easy-to-use fashion through its original drag-and-drop capabilities.
As such, this theme is incredibly robust in terms of design options, but more importantly, it is extremely easy to use. This makes it a great choice for building your first business site. And no matter what you build, you can rest easy knowing it is naturally responsive.
Benefits of Using Make
Compatible with most major plugins like WooCommerce, Jetpack, Gravity Forms, and more
Provides detailed documentation to help you learn the ins and outs of the theme
Utilizes a grid layout to display products
Utilizes threaded comments to help clean up the comment section
Create clean code that doesn't slow down your website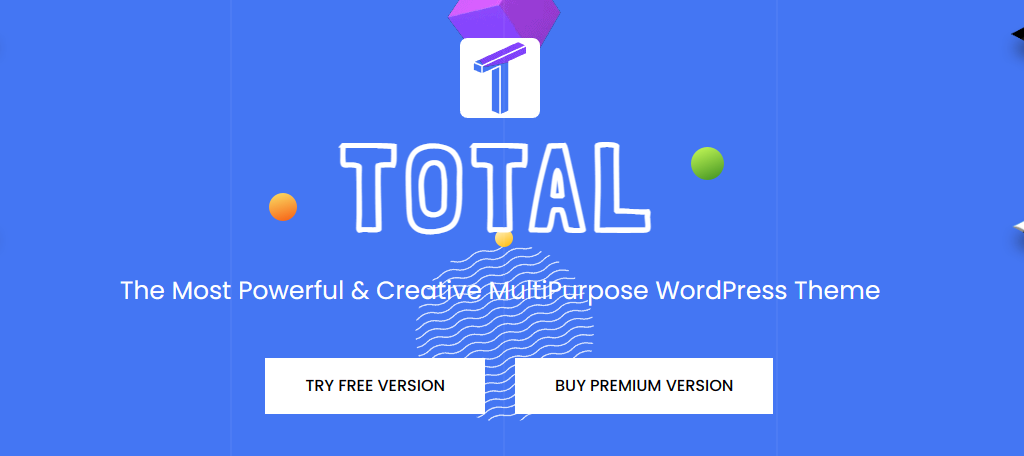 Total is exactly what it sounds like; the total package. Its free version includes WooCommerce integration, which is why it's one of the strongest options for building an eCommerce site in WordPress.
Total supports both multi-page and one-page websites. It also features parallax support and has built-in SEO optimization. In terms of design, you have a lot of options, with many coming from the demo content.
Total offers three demo sites that can be imported in a single click. Each can be customized to meet your needs.
It's also worth noting you can do a lot more than just eCommerce. You can create blogs and even a full portfolio section to show off your company's projects.
Benefits of Using Total
Supports all major page-builder plugins
This theme is fully translatable
Choose from 10 header styles to better match your brand
Easily create mega menus to fit all of your services or product categories
Includes a maintenance mode for when your site is down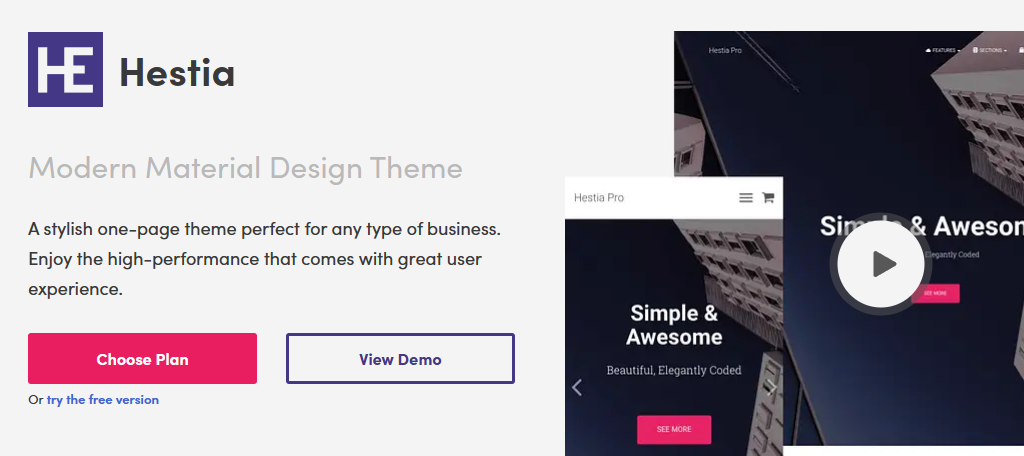 Hestia is another all-around WordPress theme with great support for eCommerce sites. It includes built-in WooCommerce support, so building a stunning online store with this theme is no problem at all.
Hestia is compatible with many page builders, including Elementor and Beaver Builder. It shines as a responsive, one-page website builder, which is becoming a popular trend among small business sites.
One of its most impressive aspects would definitely be the sleek mobile design. This theme looks great on any device thanks to its responsive nature and that is incredibly important for any business. After all, a bad mobile view could cost you a client.
Benefits of Using Hestia
Includes access to a flat parallax slider
Easily embed Google Maps to help customers find your location
Utilize a live customizer to view changes in real-time
This theme is translation ready with WPML and RTL support
Easily create beautiful photo galleries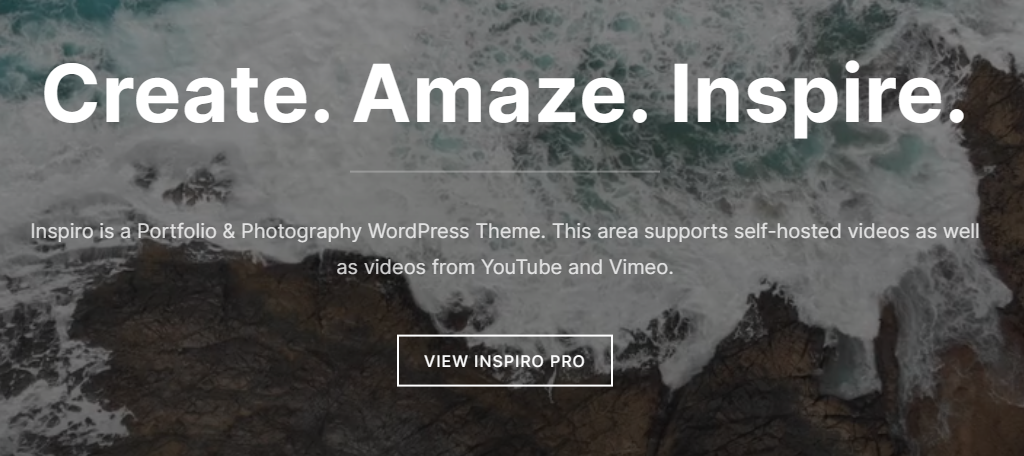 Effective photography and video-heavy sites can be challenging to build due to large file sizes. Inspiro addresses that problem by prioritizing speed with built-in Vimeo and YouTube support. And yes, it is mobile-friendly.
Inspiro's full-page background video capabilities are impressive; however, the theme includes other non-video-related features such as WooCommerce and Google Fonts integration.
This theme is perfect for any business looking to show off its past project as it is perfectly suited for portfolio display. This makes it a strong choice for web graphics, artists, or even construction.
Benefits of Using Inspiro
All fonts are locally hosted to ensure fast load times
Enable videos to play when a visitor hovers over them
Install all demo content in a single click
Utilize the live customizer to change color and font options in real time
fully compatible with the Elementor page builder for more design options
When you really want to show off your work, a full-screen slideshow is the best way to do it. Modern is your completely free WordPress template for doing just that. This includes customization options, responsive design, and a heavy focus on readability.
Modern is ideal for creating portfolio-style websites for any industry. In terms of design, this theme utilizes a grid layout that is perfect for displaying projects. You can also separate entries into categories to help visitors find what they are looking for.
And you can take its design to the next level when you combine it with a page builder plugin.
It also features multilingual support to help you reach customers regardless of any language barriers. If your business is looking to create a portfolio, Modern is a great choice.
Benefits of Using Modern
Includes several accessibility options to improve user experience
Easily create post slideshows on your front page
Add functionality by installing the Jetpack plugin
Use the demo content as the base of your website with just a single click
Add pagination to the portfolio to limit the number of projects a visitor sees at once
Hitchcock is a photo-friendly free WordPress theme that is perfect for any image-heavy website. In addition to being retina-ready, this theme also supports single-column posts for undistracted views of your images.
Hitchcock features gallery post format, so images truly stand out, and Jetpack Infinite scroll functionality to keep users engaged.
However, Hitchcock is an open-source WordPress theme with limited support.
It's worth mentioning that you can easily place social media icons on any page or post. This can help make your images and projects more shareable, which can, in turn, get you more customers interested in your services.
Benefits of Using Hitchcock
Supports both Gutenberg and the Classic editors
Create sticky posts to help get the visitor's attention
Utilize threaded comments to improve your comment section
Easily insert your logo for better branding
Add image slideshows at the top of your posts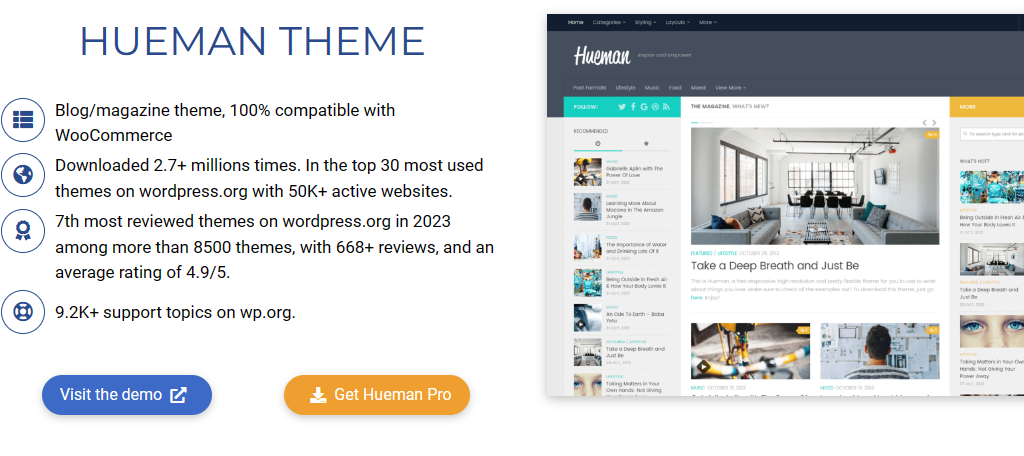 Blogs are meant to be read and the Hueman theme makes that easier. This popular WordPress theme includes the Sharre social sharing plugin. It makes it easy to include branded widgets on your website without slowing site loading times and negatively impacting SEO.
Social sharing is not the only widget to choose from, however. Hueman also has unlimited widget areas and an addon plugin to further extend your customization options with accent colors and more.
This theme is well suited for a business blog. If you need to share updates about your company, its projects, products, or services, then the Hueman them is the perfect choice with excellent design options.
Benefits of Using Hueman
Choose between one and three-column designs
Enable sidebars to appear on both sides of the screen
Customize your footer widget to have up to four columns
Supports all popular post formats like text, image, video, and more
Choose from over 370 social icons
Hemingway was known for his writing, and appropriately, the Hemingway theme is well-loved for blogs. The completely free theme supports video, quote, standard, and aside-style posts in the classic two-column design.
Your posts aren't the only thing that will stand out with this theme. Hemingway also offers a full-width header image section and parallax scrolling. The result is a better user experience focusing on the content you are trying to share.
With all of this, the Hemingway theme is a great choice for building a blog for your business. With its SEO-friendly design, you can position your business to reach new customers. And you can even install WooCommerce to sell products.
Benefits of Using Hemingway
Easily change the accent color or remove it entirely
Responsive design ensures that the website looks good on any screen size
Supports all major post formats from text to video
Full-width header allows you to display beautiful images the way they were meant to be
Utilizes the parallax scrolling effect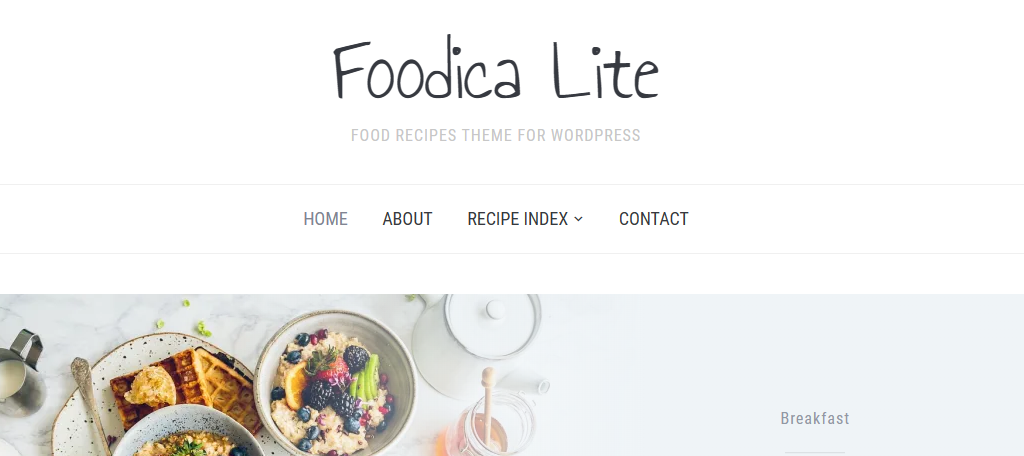 When it comes to free themes that are perfect for a food business, look no further than Foodica. This theme is designed specifically for food blogs but can be modified to fit most needs.
In addition to its responsive layout, the theme includes a featured slider to display posts on the front page and custom widget support.
When it comes to sharing your best recipes with users, you can do so in a step-by-step fashion and even create stylish recipe cards. This is a great way to highlight some of your signature dishes that may appear in a cookbook.
Of course, this isn't just for blogs. You can integrate with WooCommerce to set up online orders for your culinary delights. As such, restaurants, bakeries, and other eateries will find this theme to be perfect.
Benefits of Using Foodica
Recipe index template helps you share recipes in minutes
All fonts are locally hosted to maximize site performance
Use a grid layout to show off dish pictures to entice customers
Includes a featured slider for post content
Responsive design ensures the website is accessible from any device
Get Started With Free Business Themes Today
As you can see, there are a lot of awesome free WordPress themes for your business to choose from. Some themes are better suited for certain niches than others. However, with the right knowledge, you can customize any theme to match your needs.
Luckily, even free themes provide business website templates that you can use to get a head start. These can save you hours of design time and give your website a professional touch.
The hardest part is getting started, so don't waste another moment and try one of these free business themes today.