12 Best WordPress Table Plugins to Use for Your Content
Displaying content of any kind can be challenging if you do not use the right approach. One of the most popular methods of displaying content is tables. While you can build a table in WordPress with a block, using plugins is more effective.
These plugins come with a variety of customization options and are typically easier to configure than the standard table block WordPress offers. Many even offer compatibility with tools like Microsoft Excel or Google Sheets.
This allows you to create tables outside of WordPress and import them into your pages or posts in just a few clicks. Due to their popularity, there are a lot of table plugins to choose from in WordPress, so let's get right into it.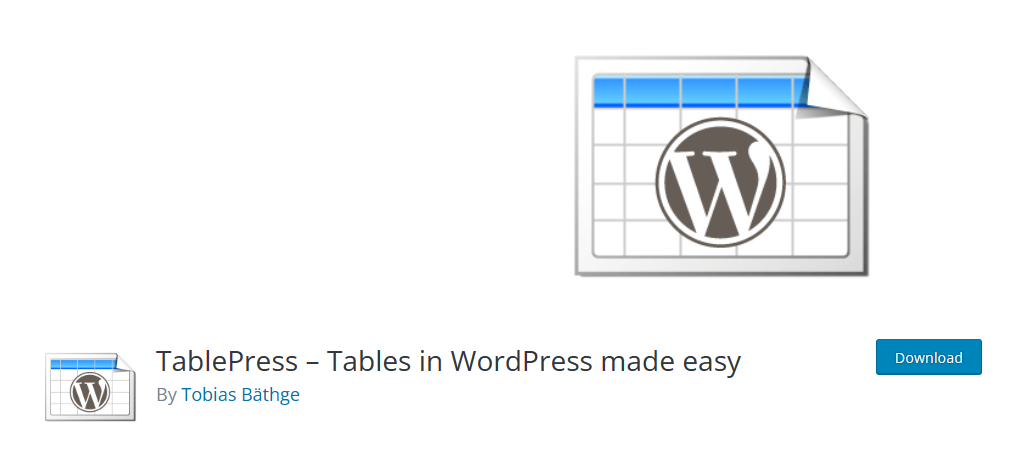 When it comes to building tables in WordPress, TablePress is one of the most popular options with over 800,000 active installs. It excels at building any kind of table with a visual builder that you can edit in real-time.
That's right, if you need to add a row or column, don't fret, you can do so at any time with just a single click.
Building the tables is not done within Gutenberg but within the plugin itself. You'll select the number of rows and columns you want to build and then you can begin adding data. You'll also have a variety of table editing options.
For example, you can duplicate a row or column, or even merge them if need be. When it comes to actually displaying the tables, you'll just need to place the shortcode the plugin generates. This means you can place them in posts, pages, and widget areas.
Benefits of Using TablePress:
Import and export your tables to Excel and other CSV files
Include pagination for your bigger tables
Style your tables with custom CSS to match the rest of your site
Add images into your table (great for comparison tables with checkmarks and X's)
Create math formulas like Excel in your tables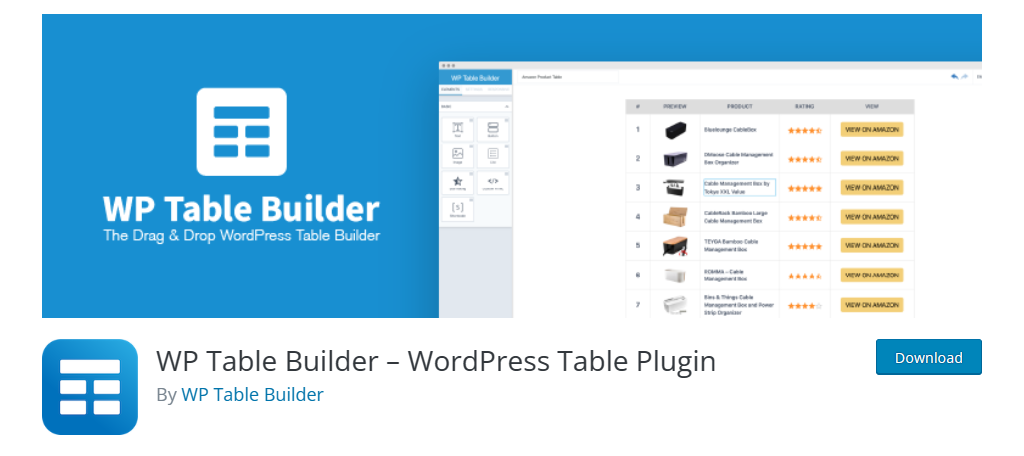 Many people think of tables as being an arrangement of numbers in rows and columns, but that's really just one example of them. What if I told you that you could also create tables for your eCommerce products as well as anything else you'll need?
Well, you can, and the WP Table Builder plugin can help you do this with its drag-and-drop table builder.
You'll start by selecting how big you want your table to be and then you can start dragging elements into the desired sections.
For example, let's say you are building a product table for the best cameras your store offers. You would want to include the position, name, image, rating, and a link to buy it. Thus, you would want to select the appropriate elements like text, image, rating, and button.
Once the element is added, you just need to fill it out.
Benefits of Using WP Table Builder:
Import and export tables to CSV files
Choose to make your tables responsive with the flip of a switch
Create gradient tables (tables where the row switch colors to help readability)
Place tables anywhere by placing a shortcode in the desired location
Add a table background to spice up your design
When it comes to building tables, most people turn to Microsoft Excel because it's where they learned to build them in the first place. What if I told you that you can get a similar experience in WordPress with the right plugin?
Well, you can and the plugin you need to get it is wpDataTables. It's a fantastic, free table creator that is very similar to Excel.
It features a toolbar that is strikingly similar to Excel in both the tool it provides and the aesthetic it uses. You can use it to build any kind of table with elements like text, images, star ratings, and more. You can also change the colors of any column or row.
Now I did say it was a free table creator, but it's worth noting that there is a premium version that lifts the restrictions of the free version. For example, you will be able to build an unlimited number of tables that can be any size.
Both of these aspects are limited in the free version.
Benefits of Using wpDataTables:
Integrates with popular plugins like Formidable Forms through add-ons
Includes Undo and Redo buttons
Update a table from the source file itself
Goes beyond just creating tables, you can also create charts like Pie charts, line graphs, and more
Add your own custom CSS to style your tables to match the rest of your site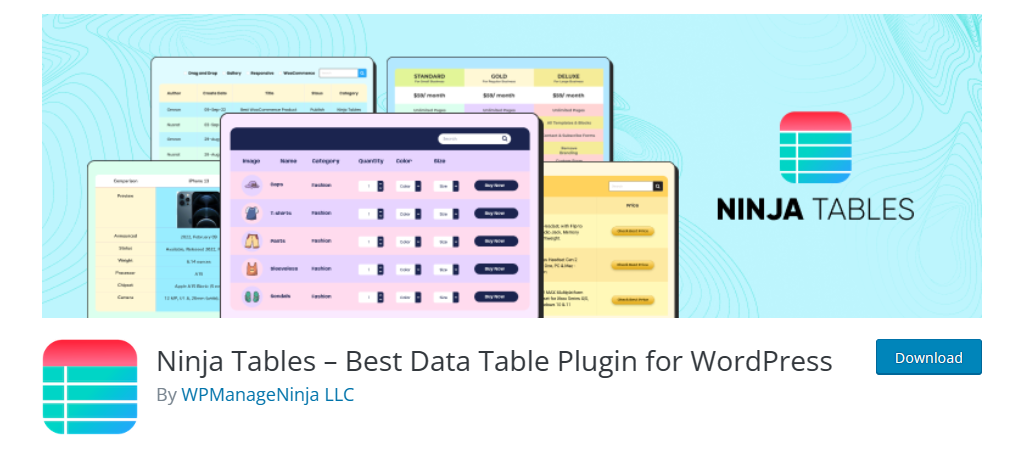 Ninja Tables is another one of the most popular table plugins in WordPress because it is free, easy to use, and feature-rich, which is a pretty powerful combo, to say the least. And naturally, it integrates with other Ninja tools for WordPress.
This includes Ninja Charts, which gives you a lot of other options to use the same data and display it in new exciting ways.
Building tables is quite easy with this tool. As is standard, you'll choose how big the table is and then begin adding elements to it. You can add text, images, star ratings, math formulas, and more to your tables, which makes the possibilities endless.
Speaking of endless possibilities, let's talk table design. Ninja Tables really brings design options with over 100 free options to choose from, and even more, if you purchase the premium version.
It's a robust tool that can help you make stylish tables in minutes.
Benefits of Using Nija Tables:
Integrates with Fluent Forms to ensure your tables are usable in forms
Gain access to WooCommerce integration with the Pro version to construct product tables
Export and Import tables from Excel and Google Sheets
All of the tables are naturally responsive
Split or merge tables as needed
League Table is our first premium-only option on this list, but don't let that keep you from using this tool. It offers a robust list of features that makes it one of the best table plugins for WordPress for building any kind of table.
This includes standard tables, product tables, and its real bread and butter, sports tables.
Have you ever gone to a website to see the results of last night's baseball games? Probably, and this is the plugin that allows you to build them for any sport. It even has templates that allow you to add the team icons to your rows or columns.
To help users find what they are looking for, the tables are actually interactable in terms of searchability. It is possible to sort the tables based on certain criteria if they are created with it in mind.
For instance, sort a table by price from highest to lowest.
Benefits of Using League Table:
Supports mathematical formulas in your tables, which makes it great for sports betting
Copy rows and columns from Excel or Google Sheets into your table
All tables are responsive by design
Supports translation plugins to make your tables accessible in more languages
Gain access to a support team that can help you troubleshoot problems with the plugin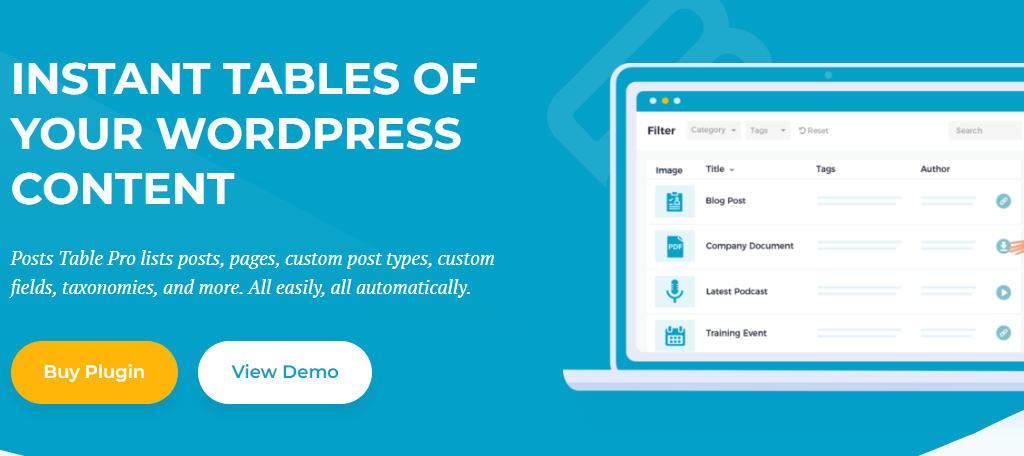 Posts Tables Pros is easily one of the best table plugins for WordPress thanks to its long list of features. One of the standouts is the ability to import data and instantly create tables for it.
As you can imagine, it saves a lot of time.
Perhaps even more important would be that it is compatible with all forms of media like text, images, video, and even audio files.
Now you may be hesitant about adding this much media content to a table for fear of it slowing down your pages. But fear not; this plugin has a solution. It implements Lazy loading to ensure that media-rich tables don't use too many resources when loading.
When building larger tables, you can add search functionality for users to help them find what they are looking for. For example, you could allow users to sort for entries that contain certain media types like PDFs or audio files.
Benefits of Using Posts Table Pro:
Turn tables into media libraries for users to find certain types of content
Tables are easy to build and naturally responsive
Tables can automatically update if changes are made to the source files
Restrict access to tables based on user roles
Includes a great setup guide that contains a step-by-step guide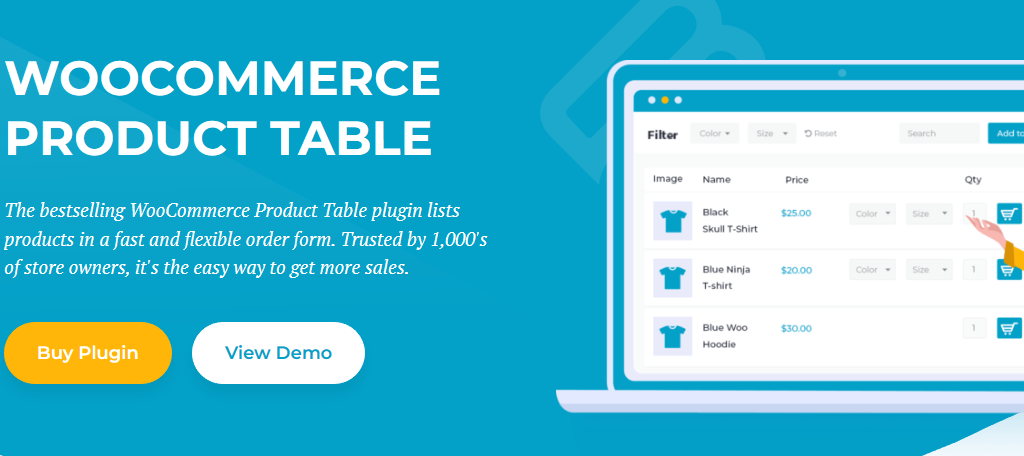 One of the most popular uses for tables in WordPress is to create product tables. These are tables that list the products you are selling and can come in a variety of forms such as product comparisons or lists for certain categories.
The WooCommerce Product Table plugin is a plugin made specifically for this purpose.
As you might expect from the name, it was built for WooCommerce specifically and allows you to add an "Add to Cart" button to any table. This helps customers add the product immediately instead of having to go to the product page to do it.
One of the best aspects of this plugin is the search and filter options provided to users. If you create a large list of products like shoes, customers may want to filter them by brand, size, price, and other factors. That's exactly what they can do with this plugin.
Benefits of Using WooCommerce Product Table:
Add tables to WordPress with a shortcode or by using a Gutenberg block
Supports creating lists of hundreds or thousands of products
Add products by using their SKU
Intuitive design ensures users of any skill level can build tables in minutes
Display images using a lightbox instead of loading an additional page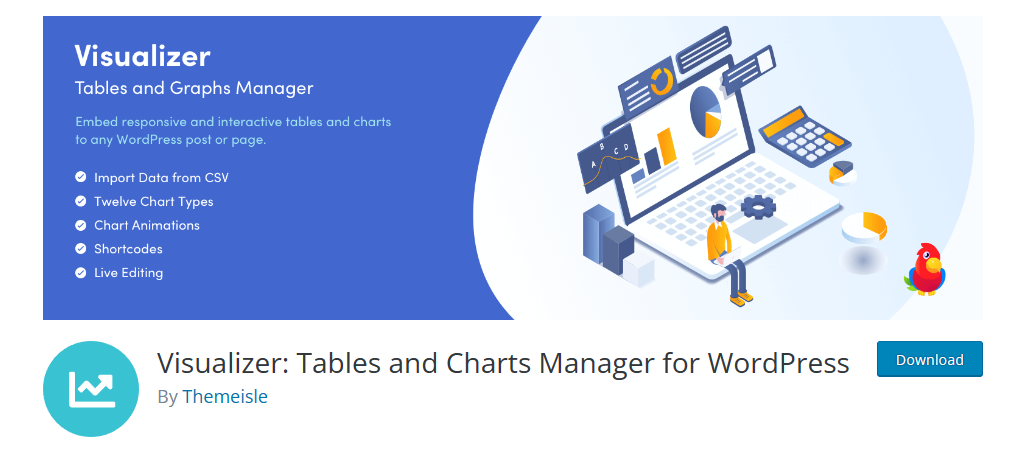 Visualizer is another one of the best table-building plugins for WordPress and even has advanced chart options to display that information in other visually appealing ways such as pie charts, line charts, and much more.
If this sounds like a lot, it is. And the best part is that this plugin is free to use with more advanced features available in the paid plan.
In total, the plugin offers 15 different chart types that are powered by Google's Visualization API. The end result means that anything created with this plugin is naturally responsive and works in any web browser.
When it comes to strictly creating tables, this plugin allows you to choose from multiple styles, add pagination, utilize search and filter options, and much more.
When it comes to placing the tables, just use the Gutenberg block and put it in the desired location.
Benefits of Using Visualizer:
Input your data and see it come alive in any of the chart options
Import data from Excel and other spreadsheet applications
Display multiple tables or charts in a single block
Create keys for your tables and charts
Clone any table or chart so you can tweak it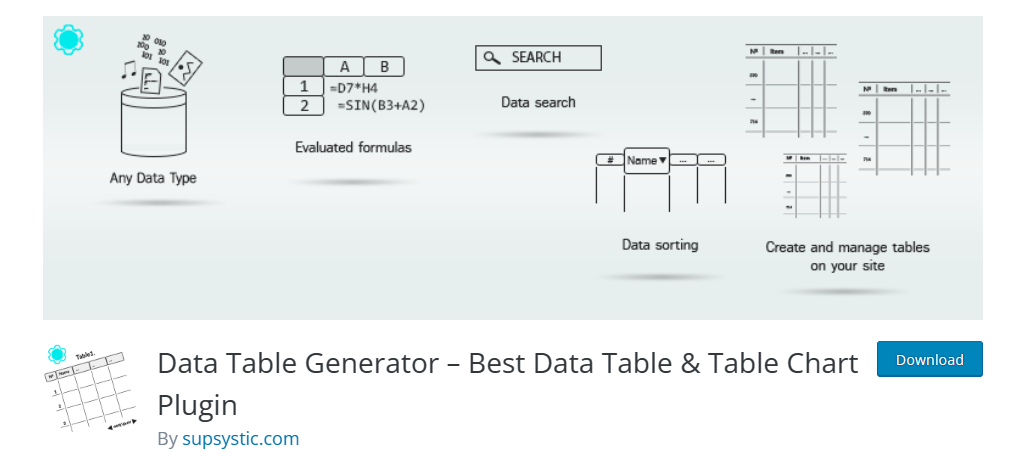 When it comes to building tables in WordPress or any platform, most developers look for options similar to Microsoft Excel. This is because most are familiar with the toolset, and there are many plugins that try to emulate it.
One such is the Data Table Generator. This plugin creates beautiful tables in the same fashion as Excel in WordPress.
The tables are quite detailed with a variety of familiar features such as cell merging or splitting. Most importantly, you can create math formulas within your tables to quickly make calculations in the same way as Excel.
Of course, pure tables are just half of what this plugin brings to WordPress. You can also use the same data you input to create other types of charts and graphs. And yes, you can import your data from Excel or Google Sheets.
Benefits of Using Data Table Generator:
Create WooCommerce product tables with the Pro version
Offers multiple translations to ensure wider accessibility
Tables are naturally responsive to ensure they are readable on any screen size
Allow users to add multiple items to their cart from a table
Display multiple charts in a single block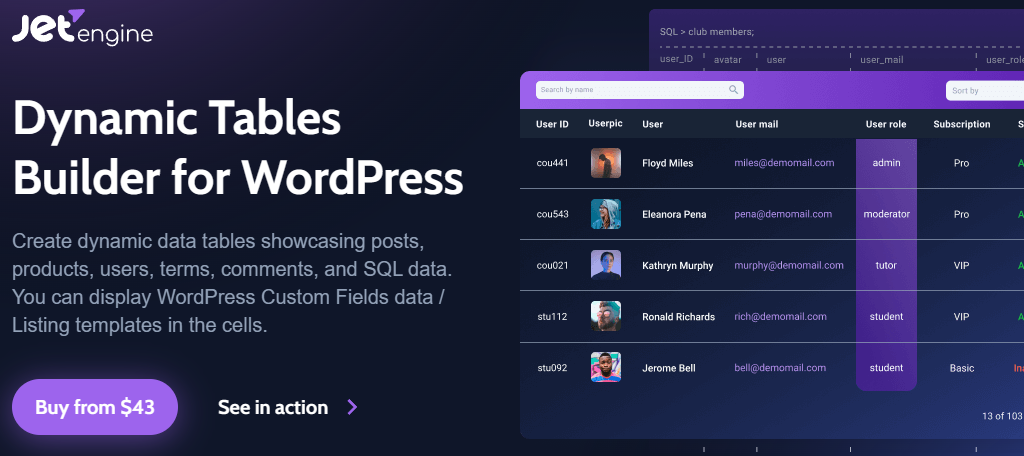 When it comes to the best table plugins for WordPress, few can match the JetEngine Table Builder plugin. It is a user-friendly tool that helps users build tables of any size in just a few clicks at any skill level.
This tool actually has a unique approach in that it creates custom post types for the data and displays them on the front end as tables.
What does this actually mean? Well, most of the plugins on this list would have you manually decide how big the table is by selecting the number of rows and columns. Instead, this one does that for you based on the number of entries in that custom post type.
This also has another unique advantage. The data can be reused in other tables without having to input the information again.
For example, you might be creating a comparison table for your service and others. Instead of inputting your own info over and over again, it's already there.
Benefits of Using JetEngine Table Builder:
Create tables that include media files like a podcast table with the audio files included
Enable horizontal scrolling on larger tables
Customize the design of the tables including the height and width of cells
Add tables to your sidebar with a dynamic table widget
This plugin can also be used to create popular charts and graphs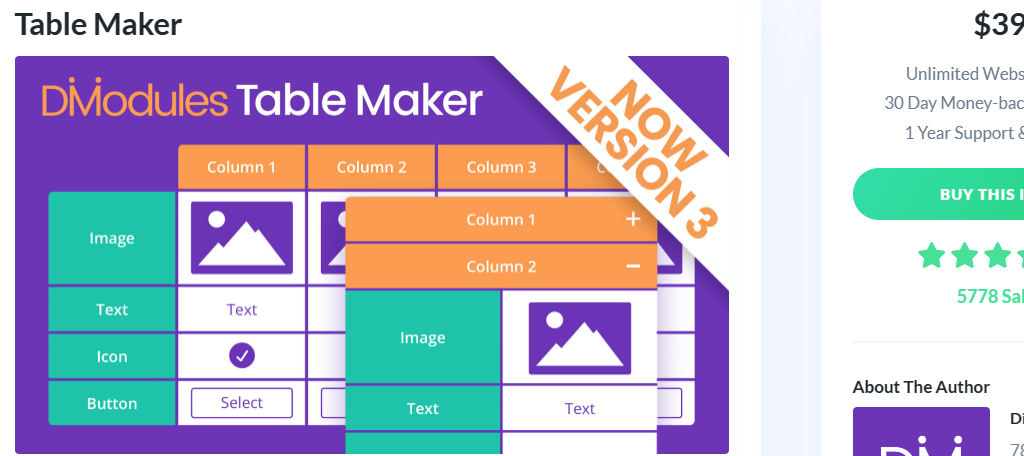 The Table Maker plugin is another powerful addition to this list. It is available through the Divi marketplace and has some pretty unique features that make it one of the best table plugins for WordPress.
And that's because it can put anything into a table like text, images, buttons, and much more.
Perhaps the most unique part of this plugin is the ability to create collapsible tables. While tables are great for displaying a lot of information in a small area, sometimes you may need multiple tables too, which can eat up free space.
This plugin solves that by allowing users to collapse the tables to fit multiple, which makes it ideal in areas with limited space such as a one-page website or a sidebar area.
The tables can be fully customized to match your website's style even when they are collapsed.
Benefits of Using Table Maker:
Choose from multiple header layouts to allow users to collapse the tables
Easily create an edit tables by adding or removing rows and columns
Choose to hide or display the top left and right corners of your table
Supports horizontal scrolling for larger tables that don't fit the width of a page
Includes a great selection of icons like green checkmarks and red X's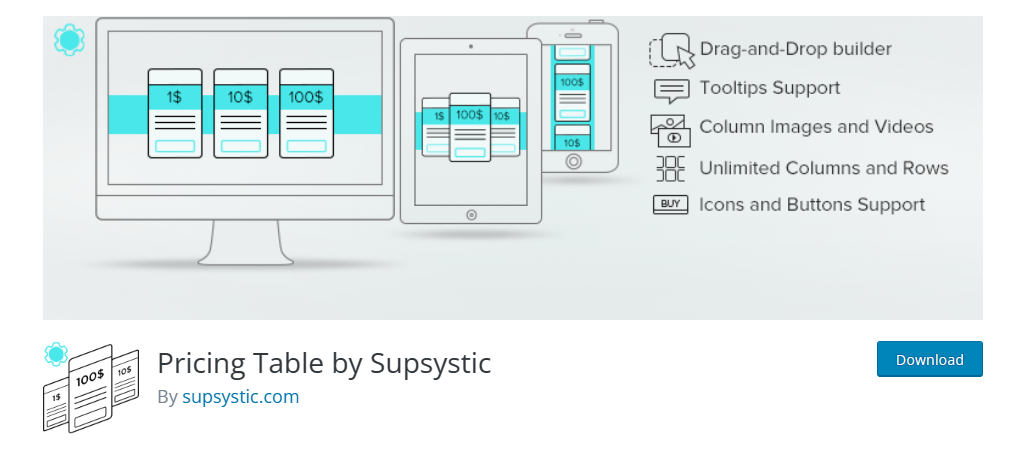 Closing out this list of the best table plugins for WordPress is Pricing Table by Supsystic. As the name implies, it specializes in creating tables for your business's services and products.
It is very common for businesses to offer multiple plans with small differences between each one, which can be easily displayed in a table.
This plugin utilizes a drag-and-drop builder to allow users to build pricing tables with creative freedom. As such, you can easily customize the colors, layout, and size of every table. And don't worry, they are naturally responsive.
It supports all types of media like text, images, and videos. You can even add "Buy Now" buttons to your tables to help increase sales.
There is also a great selection of icons you can include in your tables like red X's when a feature is absent in a lower-tiered plan.
Benefits of Using Pricing Table by Supsytic:
Includes both horizontal and vertical table options
Create comparison tables to see how your product stacks up against the competition
Choose from a huge selection of fonts to better suit your brand
Place prices at the top and bottom of tables if they get too long to ensure the price is always visible
Intuitive design makes it perfect for beginners
Avoid Overusing Tables in WordPress
One of the biggest mistakes beginners often make is relying too heavily on tables. It is true that tables are a great way of displaying information to users, which can cause some users to think that they are the best way to do it.
Let me make it clear; tables are the best way of displaying a lot of data in a small space but shouldn't be used for small amounts of data.
Creating multiple tables that just consist of a single row or column is generally seen as a bad design choice. This is especially true when your post content is full of small tables. It not only interrupts the flow of the post but diminishes the impact of the table.
So, how many tables are too many tables?
Well, that largely depends on the size of the post. A large blog post can handle having multiple tables, but a shorter post should only have one table at most. These are not absolute rules but do avoid overusage.
Is the Tables Block Really That Bad?
I mentioned that WordPress does provide a tool to make tables in the form of the Table Block. This raises the question of if you really need a table plugin, to begin with.
Truthfully, the Table block is pretty solid. When you select it, you'll be prompted to select the number of rows and columns you want to add. You can add rows or columns to it at any time in a similar fashion to using Excel.
You also have the option of adding a caption at the bottom. The tool isn't anything fancy, but it does get the job done.
For simple tables, the block is more than enough. However, for more sophisticated tables like price or feature comparisons, a plugin is the better choice. Or, if you want to import an Excel file.
Build Content With WordPress Tables Today
As you can see, WordPress has an impressive selection of plugins that specialize in tables. Tables are extremely effective and display data and information in a small space while keeping it easy to understand.
Pricing and comparison tables are proven sales tactics that can help sway a potential customer into making a purchase. Even if you are not selling products, being able to create tables of upcoming release dates, events, or just basic information can be a huge hit with fans.
Any of the plugins on this list will be a great addition to your website.
Why are you looking for from table plugins in WordPress? Do you think the Table block is a good option?