11 Best WordPress Themes for Lawyers and Firms in 2024
Legal professionals face unique challenges when it comes to online marketing. And finding the right theme in WordPress for a lawyer can make or break a law firm's online presence.
Standing out in an increasingly saturated online marketplace is more than just about expertise and reputation. It's about how well your website showcases your practice. A generic, outdated, or poorly designed site can deter potential clients, give competitors an edge, and even tarnish your professional image.
For lawyers and firms, a blend of credibility, professionalism, and accessibility to instill trust among potential clients is important. Furthermore, with the ever-evolving legal landscape, it's imperative to have a site that's both modern and adaptable so that you're not left behind.
Your online presence is crucial, especially for younger clients. In this article, we'll highlight the best WordPress themes used by legal professionals worldwide to improve your websites and help you stand out online.
Our Picks for the Best Lawyer Themes for WordPress
What are the key attributes that define an excellent WordPress theme for a lawyer? Let's explore the essential components that can transform your law firm's website into a trustworthy online portfolio. 
Professional Design: A great lawyer theme should have a clean, professional design that reflects the importance and trustworthiness of law practice.
Legal-Focused Features: It should have features that are useful for lawyers, like places for attorney profiles, practice areas, case studies, and client reviews.
Contact and Appointment Forms: For client communication, it's important to have contact forms and appointment scheduling tools that are easy to use.
Mobile Responsiveness: It must be fully responsive to ensure that the website looks and functions well on all devices, including smartphones and tablets.
SEO-Friendly: The theme should be built with SEO best practices in mind, making it easier for the website to rank well on search engines.
Customization Options: Lawyers often have unique needs when it comes to branding and content. A good theme should let you change things about it, like the color scheme and layout.
With these features in mind, here are some of the best lawyer themes for WordPress that you can choose from.
1. Attorney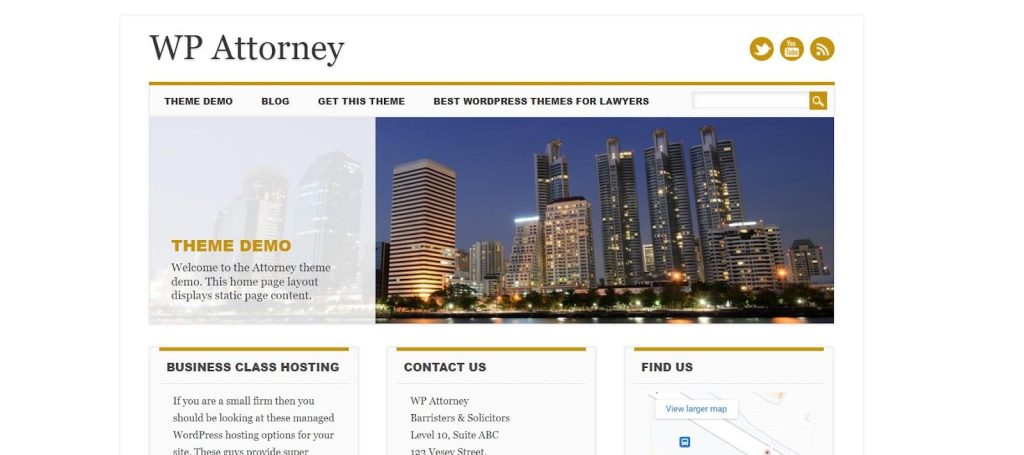 In the fast-paced world of law, your time is valuable and every moment matters. This is where the Attorney WordPress theme comes in. This law theme for WordPress is free, easy to set up, and requires minimal maintenance.
Designed with legal professionals in mind, the Attorney theme features an elegant and responsive design that's visually appealing. Its sleek, user-friendly interface draws in visitors.
The beauty of this plugin lies in its adaptability. While it caters to legal needs, it smoothly transitions into the corporate world, providing a professional appearance that suits various businesses. 
It also provides a variety of homepage templates, so you can choose the one that best works with the content on your page. With its post slider and straightforward static pages, this theme offers options for both dynamic and static engagement.
Lastly, by changing the theme's colors to match your brand and adding your logo, you can make your website stand out. A name like Attorney suits legal professionals well, making it one of the best WordPress themes for lawyers.
Benefits of Attorney
Menus can be customized to suit your needs
Supports RTL languages
This theme is translation-ready
A sticky post is available for your content
Has Post formats to further customize your site
Drawbacks of Attorney:
The design may feel a little basic to those looking for extravagance
The last update was on December 2021
2. Divi Law Firm
The Divi Law Firm theme for WordPress is known for being professional and stylish. It's made especially for legal firms to give your business a reliable and respectable appearance.
One great thing about this theme is that it gives you free access to original photos and graphics. This saves time and money and makes sure that your website has unique visuals that your clients will like.
Divi Law Firm has a layout pack to match the needs and image of legal practices, making it easy to create a professional website. The Contact Us block, which is on the front page and is simple to access by your client, is a standout feature.
The theme also has a unique design element. It shifts layout sections to show different color blocks, making the website look creative and sophisticated. It's easy to customize even if you're not a technical expert, so you can focus more on your law practice instead of website design.
Benefits of Divi Law Firm
Has a dedicated section for Blogs
Social media icons on the pages are up-to-date
Features a page just for case studies
Has a specific sign-up area for newsletters
Has an uncluttered "About Us" page that provides an overview of your firm
Drawbacks of Divi Law Firm
Requires some WordPress experience to fully utilize Divi
Some icons on the page may seem unnecessary for many users
3. Astra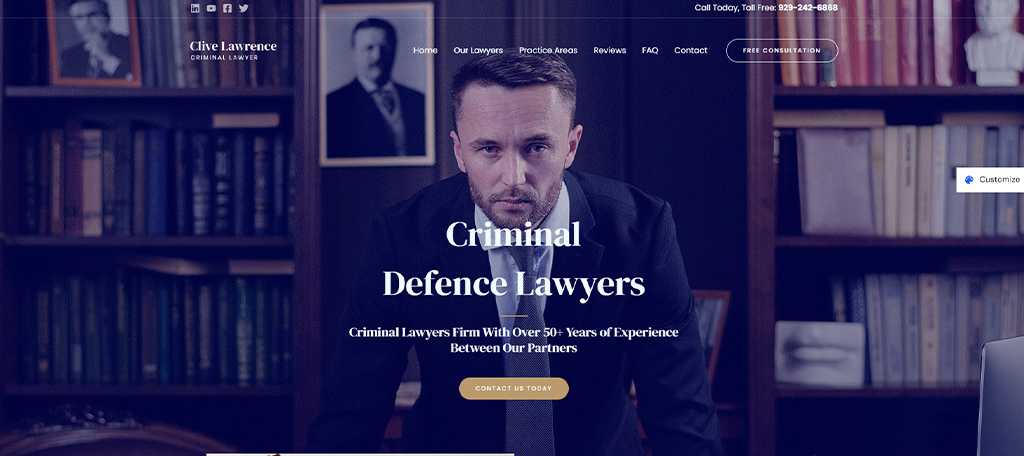 Astra is a top choice if you're looking for a law-centered WordPress theme that's free. It easily works with WooCommerce and lets you customize your website to fit your brand perfectly. 
The templates Astra offers for law firms are designed to be simple, making it easy to create and launch your legal website. These templates do more than just adjust to different devices; they also help your site perform well on search engines.
Now, let's talk about what Astra offers for different types of lawyers. If you're a criminal lawyer looking for a professional website, Astra's Criminal Lawyer template is perfect. It captures your expertise in its design.
For those in injury and accident law, Astra provides an impressive template that boldly displays your knowledge and experience. Family lawyers can choose a modern and business-focused template that suits their practice perfectly. 
And if you're a law firm aiming to show authority and credibility, Astra's Law Firm template, with its corporate web design, is the ideal choice. It's professional and sets the tone for your firm's online presence.
Benefits of Astra
Fully customizable and can be changed to fit any lawyer's need
Include reviews from clients to build trust and credibility
Showcase your areas of practice and your team
The template includes CTA buttons such as free consultation
The design is classy and elegant and fits what a lawyer's website needs
Drawbacks of Astra
Can be confusing to beginner WordPress users
To use its best features, you need to buy the Pro add-on
4. Lawyers
We are now in an era where smartphones are mostly utilized, so your website must work well on mobile devices. The Lawyers theme puts these worries to rest.
This theme has a wide range of features to offer. It has everything you need for your law firm's website such as practice areas, case studies, team profiles, and contact pages that are easy to use. 
Even for websites, variety is important. The Lawyers theme has an amazing 14 different homepage options, one of which is an interesting video homepage. This means that you can choose a style that fits your brand and services perfectly and makes a strong impression.
But that's not all. Customization is a few clicks away with the Lawyers theme. It gives you the freedom to adjust your website's appearance with five custom header options and five footer options. You can also customize practice areas, case studies, team pages, and contact sections using its built-in panel.
Benefits of Lawyers
Compatible with major plugins like WooCommerce, Polylang, Events Calendar, etc.
Ready-made header and footer variations
Offers professional support
Show off your team and their social media sites
Use dedicated pages to show off your specialties
Drawbacks of Lawyers
It takes time for some plugins to get an update
Some customers find it has too many predefined elements
5. Justicia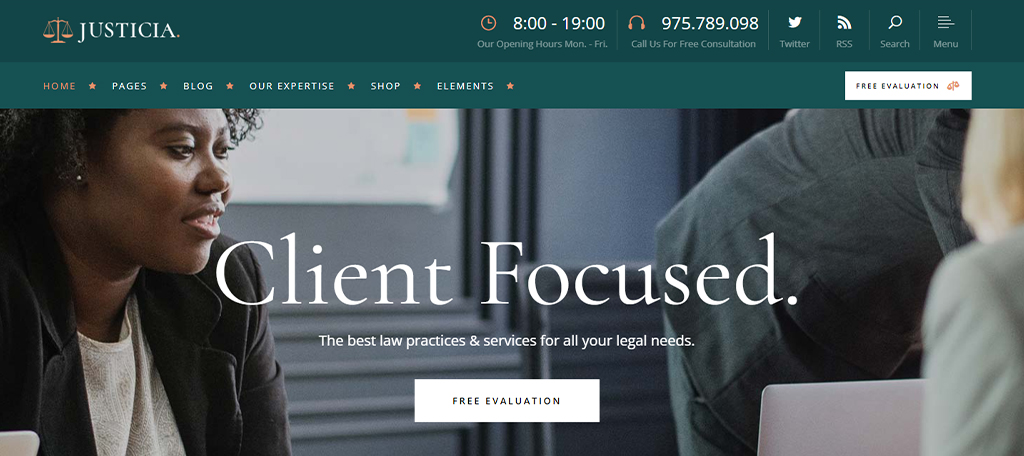 Finding the best WordPress theme for lawyers can be tough, but Justicia makes it easier. It helps manage your site content easily, which is crucial for busy lawyers. You get intuitive tools and a smooth blogging experience, saving time for your legal work.
Justicia is a prime pick for its versatility. It offers nine homepage options and full customization so you can tailor your website to your liking effortlessly.
If you want a strong online presence, this theme is more than just looks. It's loaded with elements perfect for legal representation. Show off your law office, introduce your lawyers, or spotlight your legal services.
Using WordPress themes can be tricky, especially for beginners. Justicia changes that as it's made for easy use, whether you're tech-savvy or new to WordPress.
Benefits of Justicia
The theme has an extensive admin interface
It is responsive and retina-ready
Includes a mega menu
Has custom post formats like gallery, link, quote, video, and audio for your blog
Offers translation to different languages
Drawbacks of Justicia
The theme's images on the demo site are not included
6. Lawyers & Attorney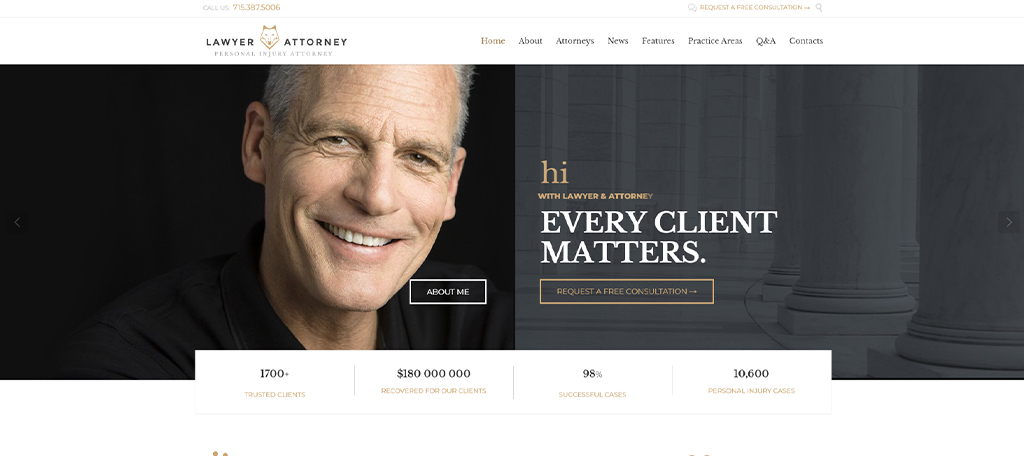 The Lawyer & Attorney WordPress Theme by Vamtam is a powerful tool that was made especially for legal professionals. With this theme, your website will always follow legal regulations and ethical standards, giving you peace of mind and a professional image online.
This theme includes features like opening hours, a free consultation form, practice areas, case results, Q&A, and team member pages.
With its sleek design, it helps lawyers and firms build trust and credibility with clients. Every part of the design is chosen to look professional, making sure your online presence matches your legal expertise.
Nowadays, keeping your website up to date is crucial, and this theme does just that. It comes with ongoing support and updates from the theme developer, so your website can adapt quickly to changes in the digital world.
Lastly, this theme is versatile and lets you customize it for different legal and financial services. Whether you're a legal adviser, attorney, or advocate, you can make your website fit your needs. It's easy to use for both beginners and advanced developers.
Benefits of Lawyer
Has a drag-and-drop page builder
It has 400 fonts you can use to change any text on your website
Pages and posts with custom sidebars for better layout structure
The theme is translation-ready 
There are ten different portfolio layouts to choose from
Drawbacks of Lawyer
Does not offer a free version
7. Lawyer Base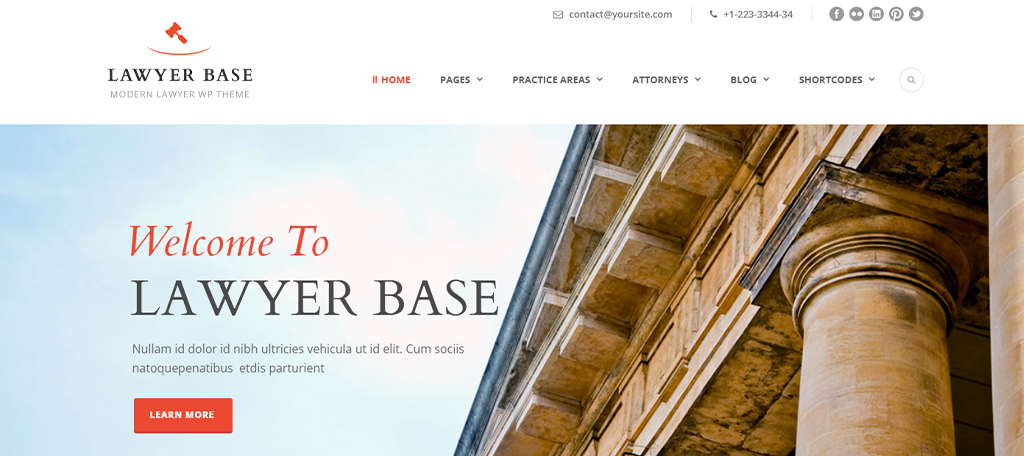 Lawyer Base is one of the best law firm themes for some very good reasons. One of the main things that makes it special is its strong commitment to providing top-notch support. They also give you access to a dedicated support website. 
Lawyer Base is designed to work well for a wide range of legal professionals and services, including law firms, advisors, legal officers, barristers, and consultancy services. It's flexible, so whether you're a solo lawyer or part of a big firm, this theme can fit your needs.
To reach a large audience, Lawyer Base has a responsive design on different devices like computers, tablets, and phones. This is super important because people use all kinds of devices to access websites these days.
For lawyers, trust is a big deal when you're online, and Lawyer Base helps with that. They have a feature called Attorney Profiles that makes it easy to create detailed profiles of your lawyers. This lets law firms show off their team of legal experts so potential clients can get to know them. 
Finally, being able to sell things online is really useful. Lawyer Base works smoothly with the popular WooCommerce plugin. With this, law firms can sell legal resources, books, or other items right from their websites.
Benefits of Lawyer Base
Has a link to social media in the header
The size of the sidebar can be changed
Includes a Mega menu
Has a code that is optimized and SEO-friendly
There are four types of blog styles: column, medium, full, and masonry
Drawbacks of Lawyer Base
Some plugins may be incompatible
8. Libero
When you're dealing with legal matters, your website must be easy for both lawyers and clients to navigate. A complicated website can drive potential clients away. With the Libero theme, lawyers can help their clients without any trouble.
The Libero theme takes the complexity out of building a WordPress website for a lawyer. Even if you're not a tech expert, you can use this theme to create an impressive and functional law page. It's designed to make it easy for you.
Additionally, you get the tools and templates to make professional and engaging landing pages with this theme. These pages help you attract potential clients and show what your law practice is all about.
Inside Libero, you'll find lots of elements and designs made just for lawyers and law firms. This theme has many options and lets you customize your website to match your style and brand.
Benefits of Libero
Has an extensive admin interface
Fullscreen option for sections with parallax effects
Has Google Maps which makes it easy to find where your business is
You can add background videos
Sidebars can be customized
Drawbacks of Libero
Does not have the rights to use the images in this theme
9. Attorna
Created with smaller law firms and solo practitioners in mind, Attorna not only offers top-notch quality but also ensures that every dollar you invest provides exceptional value.
One remarkable feature of this theme is its inclusion of valuable plugins like Revolution Slider and LightGallery. These additions not only enhance your website's functions but also make it visually appealing, offering your visitors a dynamic and engaging experience.
With Attorna's ready-made pages designed for practice areas and case studies, you can save valuable time and effort. Showcase your expertise and successful cases in just a few clicks, and leave a lasting impression on your clients.
Additionally, its drag-and-drop page builder simplifies customization. This offers features like background wrapper options and customizable skin colors to give your website a personal touch.
While it works exceptionally well for legal-related websites, it's just as effective for general corporate needs. This flexibility makes it a suitable choice for various businesses.
Benefits of Attorna
Has 22 layouts for the header with control over the logo and navigation spaces
Easily create sidebars and assign them to specific pages or posts
Create a custom skin color to use in the page builder wrapper
You can put your custom javascript easily
Theme options, widgets, and custom page templates can be imported and exported
Drawbacks of Attorna
The widget editor may have some minor errors when using it
10. Factum
One size rarely fits all for website designing, and the Factum lawyer WordPress theme is a shining example of tailor-made excellence. 
First, this theme offers easy header and footer customization. With a user-friendly interface, you can effortlessly personalize the color schemes, layouts, fonts, and logos of your website's header and footer. And the best part is you see real-time previews of these changes.
Factum also integrates smoothly with WordPress blocks and the exclusive GutenBee custom block collection. You can create visually compelling and professional pages without breaking a sweat. It caters to all levels of technical expertise, making it accessible to everyone.
Furthermore, Factum is fast-loading. This is crucial for an excellent user experience and improved SEO rankings.
Lastly, this theme offers seamless WooCommerce integration, transforming your website into a fully functional online store in just a few simple clicks.
Benefits of Factum
Seamless integration with Elementor
You can create your own color scheme
Has a lifetime usage for all plans
Features many Google fonts that you can use to change your theme
Offers excellent customer support for all plans
Drawbacks of Factum
Social media icons need to be updated
11. Lawyer Zone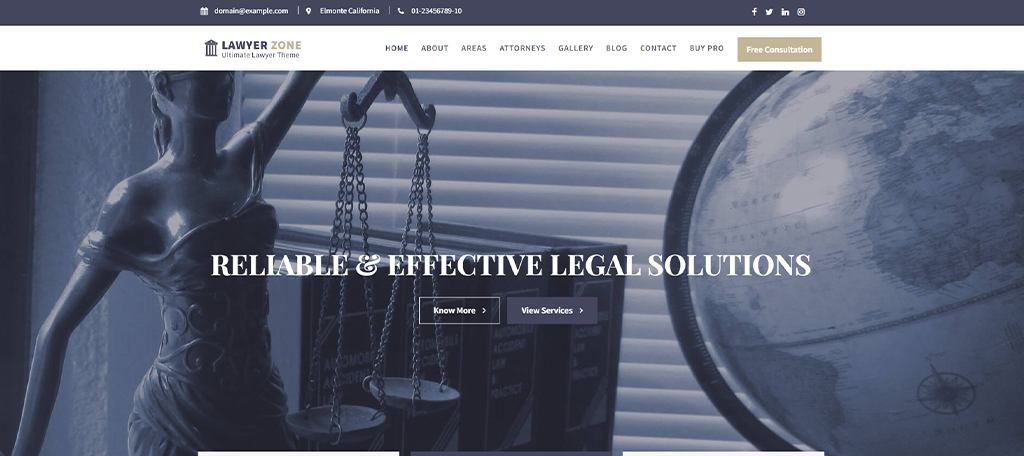 For small law firms and solo lawyers who are just starting out, Lawyer Zone is your best pick as a WordPress theme. It not only gives your website a high-quality design but also keeps your wallet happy because it comes with a free version.
This free WordPress theme for lawyer websites is a jack-of-all-trades. Need a layout for your business, school, or even medical practice? It can do it all. Aside from the legal field, this theme is a versatile option for many different types of website niches.
Lawyer Zone also comes with lots of ways to customize your site. For instance, you can add widgets, use page builders, and create cool sliders. Moreover, you're free to change your logo, set up custom sidebars, and connect with social media. 
Plus, it's ready for translation, lets you choose category colors, and works well with different web browsers.
What's really great about Lawyer Zone is that it's easy to use. Even if you're not a coding wizard, you can make changes and design your site just the way you want it.
Benefits of Lawyer Zone
There are nine custom widgets available in this theme
Includes a live customizer tool
You can use an unlimited number of sliders on your site
Woocommerce integration
Can add popular social media links to your site
Drawbacks of Lawyer Zone
Its free version offers very basic features. To maximize the theme's usage, you need to upgrade to a pro version
FAQs About WordPress Themes for Lawyers
Why is it essential for lawyers to choose a specialized WordPress theme?
Choosing a specialized WordPress theme is crucial for lawyers because it tailors to the unique needs of the legal profession. These themes provide features like case study showcases, appointment bookings, and client testimonials, optimizing user experience and building trust with potential clients.
Can these themes handle appointment scheduling for clients?
Many of the WordPress themes designed for law firms do come with integrated features and are compatible with appointment scheduling plugins. These plugins allow you to set up a convenient system for clients to book appointments with your legal team.
How can you determine if a lawyer WordPress theme is optimized for SEO?
To find out if a lawyer WordPress theme is SEO-friendly, check to see if it is responsive, has clean code, loads pages quickly, works with SEO plugins, supports structured data (schema markup), has cross-browser support, customizable header tags, breadcrumb navigation, image optimization, and XML sitemap compatibility.
Do these themes support multi-language websites for international clients?
Many WordPress themes designed for law firms offer support for creating multi-language websites to cater to international clients. You can achieve this by using plugins like WPML (WordPress Multilingual Plugin) or Polylang that seamlessly integrate with these themes.
How do these themes integrate with social media accounts?
Themes for lawyers typically offer seamless integration with social media through social media icons, social sharing buttons, and integration with social media plugins. These help you connect with your audience and build a strong online presence.
What legal-specific content templates do lawyer themes have?
Themes for lawyers often include a variety of legal-specific content, such as practice areas, attorney profiles, case studies, client testimonials, legal blogs, and contact forms.
Why should I showcase legal awards and recognitions on my website?
Showcasing your legal awards builds your credibility and proves your expertise. It makes you stand out from others in the same field and gives visual proof of your success. Additionally, putting up awards on your website can make it more trustworthy. This may also help your search engine rankings, which makes it easier for people looking for legal services online to find you.
Choose The Right Lawyer WordPress Theme For Your Website
Choosing the best WordPress theme for your lawyer-focused website is an important step in building a strong online presence for your legal practice. 
These themes have the right mix of professionalism, functionality, and customization. Therefore, you can make a website that not only does a good job of representing your business but also gives users a great experience.
So, start today to build a compelling online presence. Choose your WordPress theme wisely, and you'll set yourself up for success in the legal field.