11 Best WordPress Directory Plugins to Use in 2023
When traveling to a new area, many people take the time to look up a directory of local businesses or hot spots that they can visit. Building a directory website can be very profitable if done right and there are a lot of plugins that can help in WordPress.
In some cases, you might run a business with multiple locations. If this is the case, building a dedicated directory for just your business is also a great option. This helps customers find the nearest location of your business.
Of course, not all directories are for visitors. Some businesses have internal directories for their employees. For example, showing off job openings at other store locations, or tracking which locations have certain equipment.
Today I will share the best directory plugins to use in WordPress.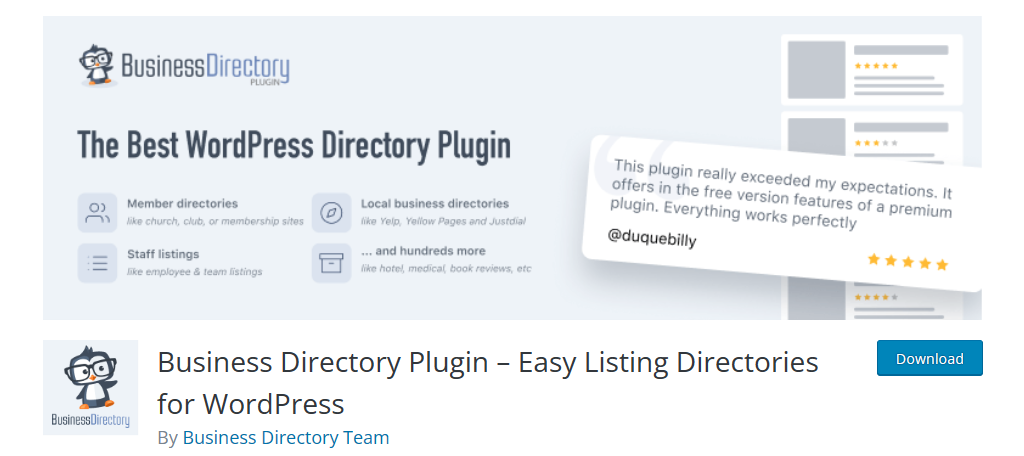 If you are looking to create the next Yelp directory, then look no further than the Business Directory Plugin. This tool allows you to create a full directory for businesses in which you can add images, reviews, price ranges, and more details.
To get some of the more exciting features like reviews, you will need to purchase the appropriate add-on.
You can list businesses in a variety of ways. For example, you can list them by categories like plumbers, electricians, grocery, restaurants, and so on. You can also create subcategories like BBQ, Steakhouse, Mexican, and others for restaurants.
This helps make the directory more accessible to average users just looking for a specific niche. If you're looking to make a profit, this plugin has you covered by providing the ability to offer advertisements to businesses so they can pay to be higher in the search results.
Benefits of Using Business Directory Plugin:
Allow businesses to post more images if they subscribe to higher tiers
Utilizes reCAPTCHA to block spam entries
Create multilingual directories with WPML support
Integration options for Google Maps to help visitors find the location
Compatible with major SEO plugins like Yoast SEO, Rank Math, and more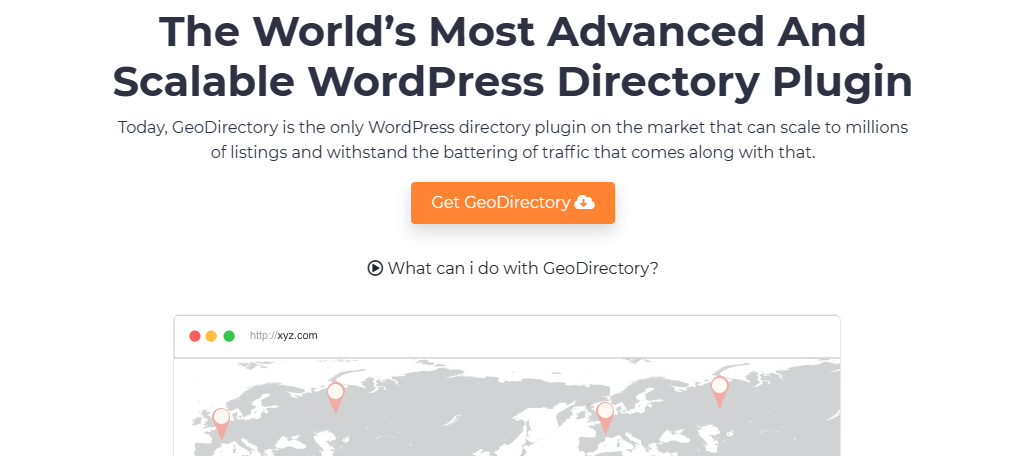 The world is a big place and that can make traveling very fun. But it also can be very stressful because you always want to go to the best spots and try all of the local cuisine and activities you can. As a travel agency, you can help your customers find those spots.
The GeoDirectory plugin allows you to set up directories for locations around the globe which makes it a perfect choice for travelers.
For example, let's say you help set up trips to Hawaii. Well, you could provide a detailed tourist directory with the best restaurants, the best beaches, landmarks, and so on to visit on the trip. And you can base that information on reviews from other tourists.
You can also offer advertising plans for businesses that help promote their businesses on your directory. They will simply have to fill out the submission form that you create. Overall, it's a powerful tool for setting up directories for international locations.
Benefits of Using GeoLocations:
Compatible with major page builders like Elementor and Beaver Builder
Create a submission form using a drag-and-drop editor to move field entries
Create widgetized maps that help travelers find their destination
The search functionality includes autocomplete to help users save time
Allow users to book a reservation at a restaurant or hotel directly through the directory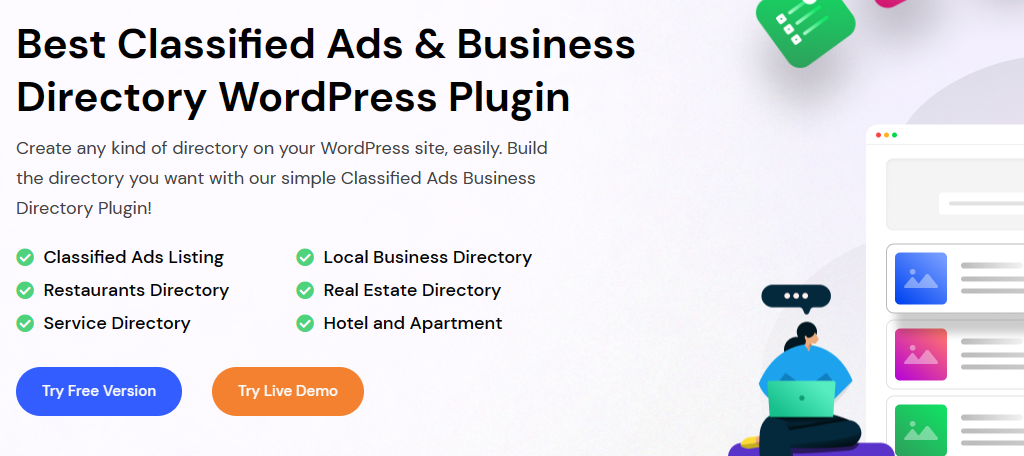 Directories come in all kinds of sizes and niches. There are directories for businesses, restaurants, landmarks, job listings, and much more. The Classified Listings Pro plugin allows you to create any kind of directory with a powerful toolset.
Most importantly, it helps you make your directory profitable by offering a variety of monetization options.
For example, you can create a featured business slot that promotes that business in certain search conditions like plumber, restaurant, and more. Users can also pay to bump up their position in the search results to appear more organically.
When it comes to building the directory, it is rather easy. Simply create the signup form and businesses can enter their information into the directory including the images they want to display. Overall, it's a great choice for anyone looking to monetize the directory.
Benefits of Using Classified Listings Pro
Robust search filters allow users to search by category, radius, and other filters
Accept payments from a variety of payment gateways like PayPal, Stripe, and more
Create subscription plans that businesses can sign up for to receive high placements regularly
Includes dedicated widgets for Elementor Page Builder
Allows users to leave likes and reviews on businesses in your directory
4. Sabai Directory
Regardless of if you are trying to build a local directory or one on a global scale, the Sabai Directory can help you do it. It has a powerful toolkit that allows you to build a great directory that users and businesses will enjoy using.
It has all of the staples you would expect from a directory plugin like user ratings and reviews, Google Maps, and much more.
Users will even have the ability to bookmark businesses they are interested in. This helps the user connect with that business at a later time or remember where they ordered that awesome food from last time.
When it comes to monetizing, Sabai Directory has you covered. You can accept one-time payments for bump-ups or offer subscriptions to businesses to maintain a specific position as long as they subscribe.
Benefits of Using Sabai Directory:
Accepts popular payment gateways like PayPal and Stripe
Includes access to 11 unique widgets for WordPress
Flag businesses, reviews, and comments that violate your directory rules
Integrate with BuddyPress to allow users to share their favorite businesses with friends
Allow users to rate different criteria like the quality of the food, service they received, cleanliness, etc.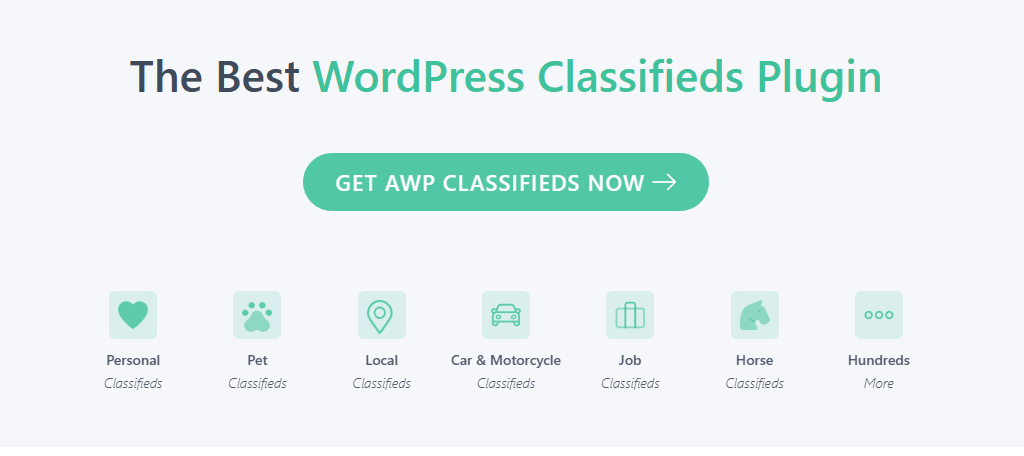 Classifieds are a pretty broad topic, and while they generally refer to job listings, they can pretty much be for anything. For example, looking for a new pet? There are often pet listings in the classifieds.
No matter what your goal for the classifieds is on your site, the AWP Classifieds plugin can help you build it.
This plugin comes from the same makers of the Formidable Forms plugin and puts a big focus on ease of use. It definitely succeeds because it is quite easy to build your directories with the tools it provides. And that doesn't just mean for developers.
Even users can benefit from how easy this plugin makes the system. For instance, if someone wants to post a classified on your site, all they would need to do is provide an email address and verify it. This prevents spam posts but also ensures that it is easy to post on.
Benefits of Using AWP Classified:
This plugin is translation ready with native support for 5 languages
Include images in your classified ads to help convey what is being advertised (great for pets)
Fill out the directory quickly by importing CSV files with all of the data
Gain access to a dedicated support team that can help you solve problems with the plugin
Fully responsive design ensures users can view the content on any screen size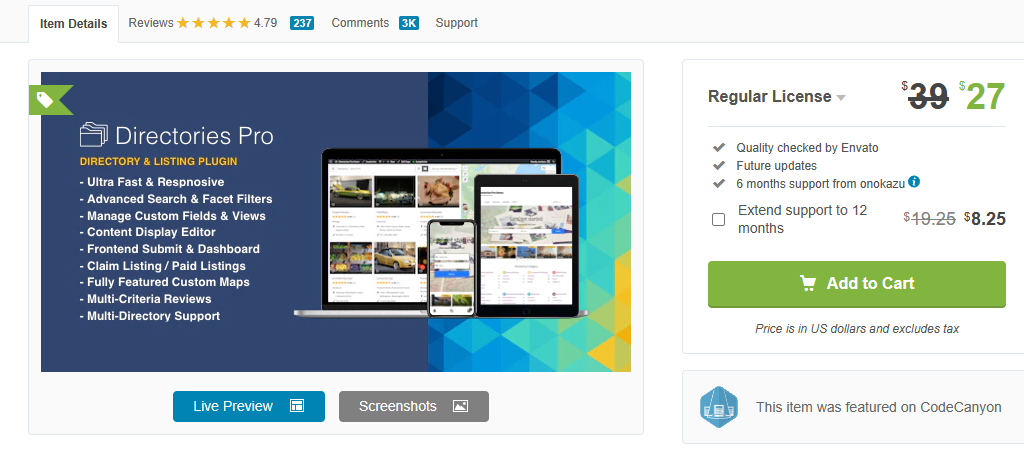 Directories Pro is actually an upgraded version of Sabai Directories that we previously covered. It is a highly polished directory plugin that can make any kind of directory with a huge selection of features at your disposal.
Developers are able to build an unlimited number of directories and users get the benefit of using search filters to find anything.
When it comes to monetization, you can rest easy as this plugin integrates with WooCommerce. You can accept payments through WooCommerce and choose from a variety of payment models to better suit your site.
Being able to find what you are searching for is extremely important, which is why a big focus is put on properly identifying each directory with a tag, category, or custom taxonomy. You even have the ability to exclude certain directories from taxonomies.
Benefits of Using Directory Pro:
This plugin is translation ready with multiple integration options like WPML and PolyLang
Choose from multiple templates for user reviews with star rating systems
Prevent spam submissions with reCAPTCHAv2
Integrates with BuddyPress to make it easier to share directories with friends and family
Supports map support like Google Maps, OpenStreetMaps, and more
So far, a lot of the directory plugins on this list have been premium tools and as most people know, one of the best parts of WordPress is that there are always free options to choose from. In this case, the Advanced Classifieds & Directory Pro plugin is one of those free options.
However, don't let that trick you into thinking that it isn't a great choice, because it definitely is.
When it comes to building directories, you have access to an unlimited number of fields. This gives businesses the freedom to create their own fields for job applicants, services their store offers, business hours, and anything else you can think of.
Perhaps one of its strongest features is the ability to support multimedia (images and videos) in directories. With this, a business can add more unique content like showcasing images of their most popular dish, or a video showing off an escape room.
Benefits of Using Advanced Classifieds & Directory Pro:
Includes a search widget to help users find what they are looking for
Create featured listings that businesses can pay for to be front and center in your directory
Accept payments from PayPal and Stripe (Pro feature)
Send out email notifications when a post goes live
Allow users to renew listings without having to make any edits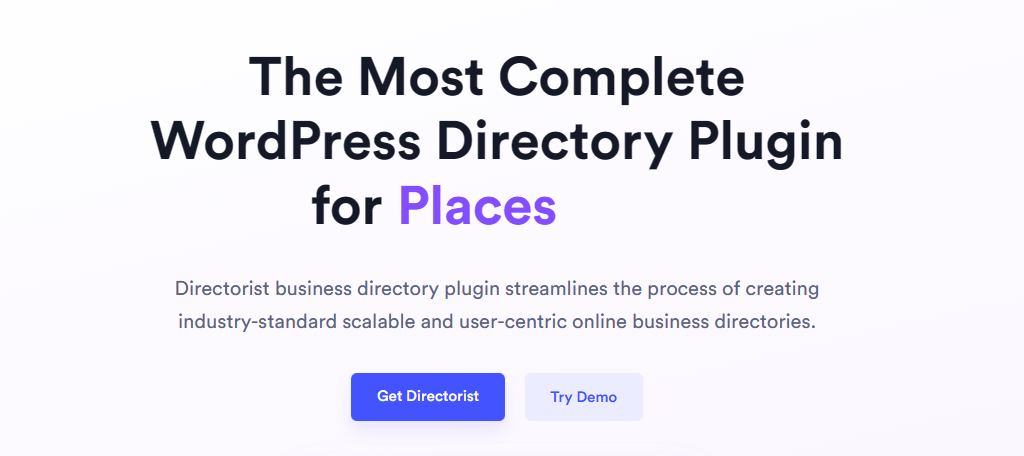 There are directories for just about everything, which is why the best directory plugins in WordPress are designed to be robust. Directorist is a great example of this and allows you to build any kind of directory.
It works great for businesses, restaurants, hotels, events, classifieds, and anything else you can think of.
Most importantly, it is very easy to build with. This is accomplished with a drag-and-drop directory builder, which is perfect for beginners looking to build their first directory. Yet it is also robust enough to please seasoned web developers alike.
In terms of monetizing your creation, this plugin has you covered. Some of the main ways you can do this are through paid listings, featured listings, subscription models, and more. Overall, Directorist has everything you'll need to succeed.
Benefits of Using Directorist:
Users can search for listings that appear in a specific radius (great for restaurants)
Allow users to book reservations or appointments directly from the listing
Integrates with major page builders like Elementor
Includes a long list of extensions you can use to add more features and tools
Protect your directory against spam bots with Google reCAPTCHA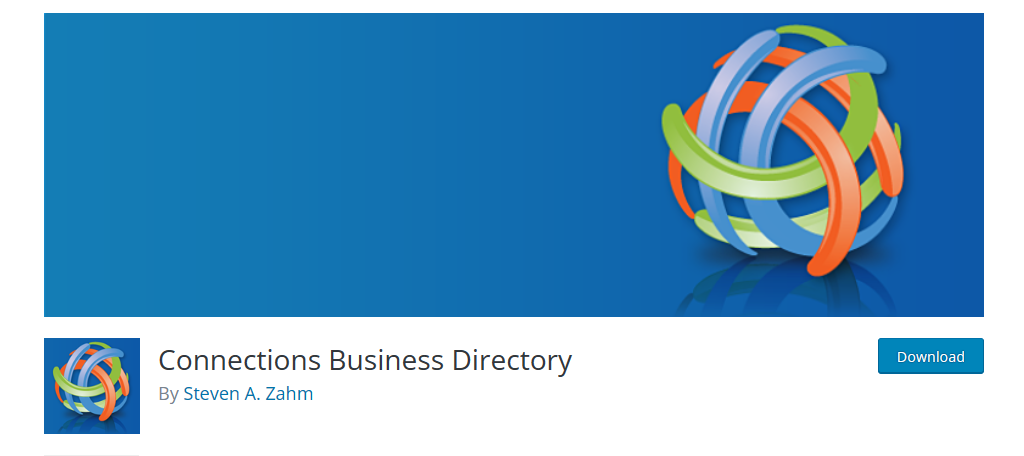 Connections Business Directory might just be the best listing plugin for WordPress. It's easy to use, full of features, and completely free, which is a pretty powerful combination. That said, you can purchase premium extensions to add more features.
When it comes to the base design, there is not much to say. It creates a list of businesses with their details. It's basic, to say the least.
That said, it can integrate with popular page builders like Elementor to help you add more flair to your listings. You can also take advantage of Gutenberg blocks like the Carousel block for businesses to add images like restaurant dishes.
One way you can speed up creating a listing is by putting the information into a CSV file and importing it into the directory. This is much faster when you are planning on adding businesses in bulk like when you are starting out.
Benefits of Using Connections Business Directory:
Create repeatable fields that you can use for specific business types
Show nearby businesses based on the user's current location
Control which listings are viewable for users depending if they are logged in or not
Also includes templates for you to build a staff directory
Open development on GitHub
We've covered a lot of directory plugins that focus on showcasing businesses, but what about ones for businesses to show off their staff both internally and externally? The Name Directory sets out to do just that by focusing on creating a directory of people.
This is very useful for businesses to create a list of their employees that includes information like their position, contact info, and more.
You may also sometimes want to show off your staff to users. For example, perhaps you run a restaurant and want to show off your head chef and where they trained. This can be an effective marketing strategy if done correctly.
In other cases, it's simply for showing users the managers of a business. This can be very handy information to know in some cases. Overall, the plugin is a bit simpler than others on the list, but it is very good at what it was designed for.
Benefits of Using Name Directory:
Use the default WordPress search functionality to search the directory
Easily embed your directory on any post or page in WordPress
Not many settings to configure, which makes creating a directory quick and easy
Include a Read More button to prevent descriptions from taking up too much space
Choose how many columns the directory should display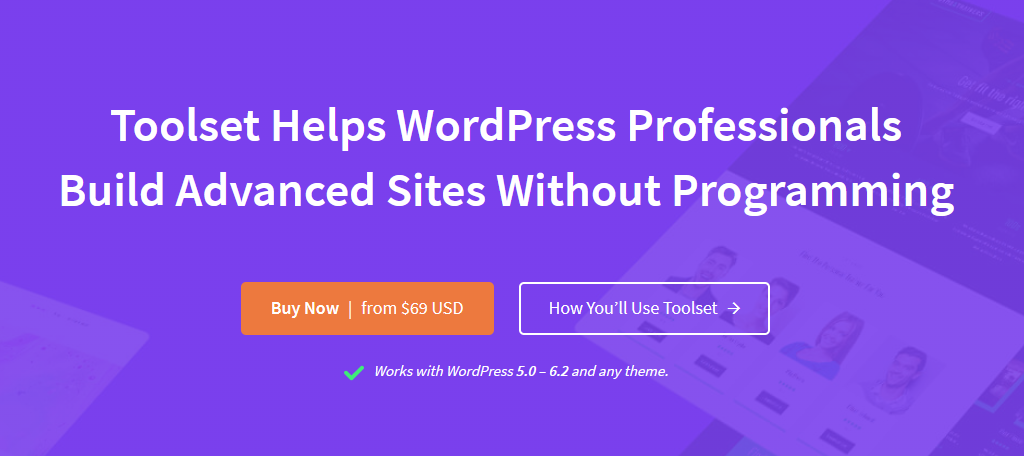 Closing out this list of the best directory plugins in WordPress is Toolset. This premium plugin is actually not specifically designed for directories, instead, it concentrates on allowing users to build advanced websites without having to write code.
With this said, it is still one of the best directory plugins for WordPress and with it, you can build anything.
So how does it actually work? Toolset provides a simple interface where users can choose from a library of templates that can be used to construct the framework or layout of their site. Users then just need to tweak these by using the built-in settings.
Overall, it is quite easy to use, which makes it a strong choice for beginners. Of course, you don't have to use the templates. You can build your own with this plugin's tools and utilize the feature within to add certain types of content.
Benefits of Using Toolset:
Choose from a variety of custom grid layouts
Include Google and Azure maps to help visitors find a location
This plugin supports translations with WPML integration
Supports popular page builders like Divi
Create membership levels with exclusive content for each one
Allow Visitors to Leave Reviews for Businesses
One of the main reasons platforms like Yelp are so popular is that users can leave reviews. Reviews give your platform two key advantages that keep users coming back for more, which is why most directory plugins in WordPress include them
The first is that reviews are extremely helpful in determining if going to a certain restaurant is worth your time. Let's face it, most cities have hundreds of restaurants to choose from, thus it can be hard to find a good one.
Of course, a single review isn't enough. Sometimes a restaurant has an off night, but when you have several hundred reviews that all say the same thing, it paints a very clear picture of the experience you will have.
The second main advantage is that some users feel important when leaving a review and come back to leave more.
This might sound a bit cringe, but it really is the truth. When you have the power to influence other decisions, most people jump at the opportunity to do so. Regardless of if it is just a restaurant recommendation, which movie to see, or where to get the best deal.
With all of this said, there are some disadvantages to user reviews. For example, it can negatively impact your monetization when a featured restaurant gets review bombed. But overall, the good far outweighs the bad.
Don't Over-Monetize Your Directory
As you can see, many entries on this list provide tools that help you make money with your directory. While this is the ultimate goal of most websites, it's important to not go overboard because a directory also relies on its users.
You see, directories go hand in hand with reviews. Anyone can find a list of businesses and that gives them some information, but what really makes a directory popular is the user content. Or, in other words, the rating from other users.
Allowing bad businesses to post at the top of the list can end up going against the users.
For example, let's say a business paid to be featured on your directory. That's great you get money, and they get the advertisement they paid for. However, what if that business was full of horrible reviews and only had a 1-star rating?
This wouldn't be a good look for your directory. And users would be able to figure out that you are just promoting a business because they threw money at you. This could drive users away from using your directory altogether.
It's a complicated issue, and directories address it in different ways.
Be mindful when bumping up ranking and advertising bad businesses. It can hurt your brand and undermine the integrity of the directory.
Build Your WordPress Directory Today With These Plugins
As you can see, WordPress has an impressive selection of directory plugins. Some of them focus on specific niches or local areas, while others are much broader and work for any location and any niche.
This versatility is why WordPress is the best platform to build your website on. You always have tons of options to choose from no matter what kind of niche website you are building. If you want to do something in WordPress, there is a plugin that can help.
Directories are just another example of this platform's dominance.
Do you avoid advertising bad businesses on your directory? Do you allow users to review businesses?