11 Best AI Plugins for WordPress to Improve Your Site
AI is a very interesting topic because it has the ability to change how the internet works. In fact, it's probably one of the most popular topics on the internet with the recent release of ChatGTP, but did you know that WordPress has AI plugins available?
Now, before you get the wrong idea, no, there are no AI plugins that will write your content for you, at least not yet. Instead, there are a variety of plugins that utilize AI to improve things like site performance or search engine optimization (SEO).
In other cases, there are AI plugins that utilize AI assistants or chatbots that can interact with users and display a pre-generated response to certain inquiries. These can help you make your site better and improve efficiency.
Today, I will share the best plugins on WordPress that utilize AI.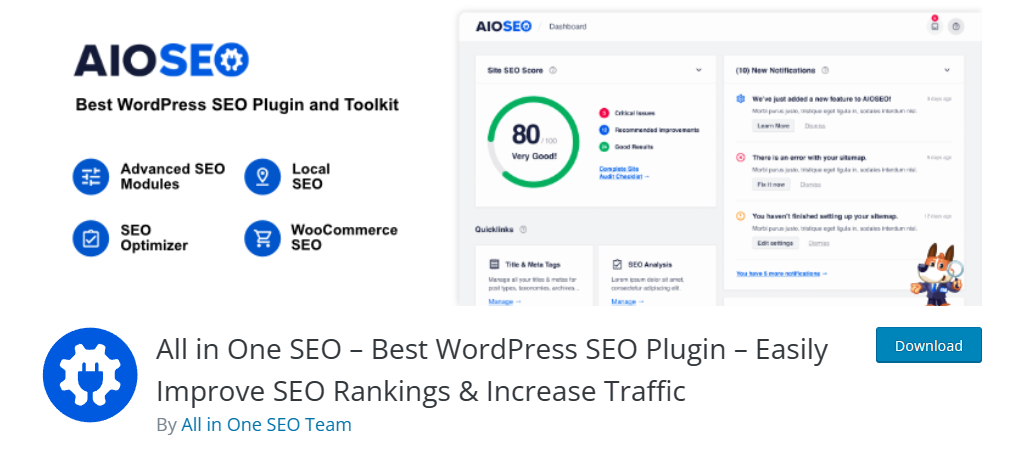 Your website's search rankings play a major role in how much traffic your website receives. As such, most websites employ some kind of SEO plugin, and ALL In One SEO is among the best the platform has to offer. But did you know it uses AI?
This plugin uses a proprietary AI technology called Link Assistant, which is designed to improve the internal link structure of your site.
Essentially, the plugin will use OpenAI to scan your content and provide internal link recommendations based on what it finds that can improve your site's SEO. It can also be used to help you fill in metadata like titles and descriptions.
Of course, this plugin offers a host of other features that your website can utilize such as automatic XML sitemap generation, content recommendations, schema markup, and much more, making it one of the best SEO plugins for WordPress.
Benefits of Using All In One SEO:
Includes Google AMP support to improve the mobile experience
Integrates with WooCommerce to ensure your store ranks highly
Easily connect with webmaster tools for all major search engines
Includes tools to help improve local SEO searches
Scan your competitor's site to compare SEO rankings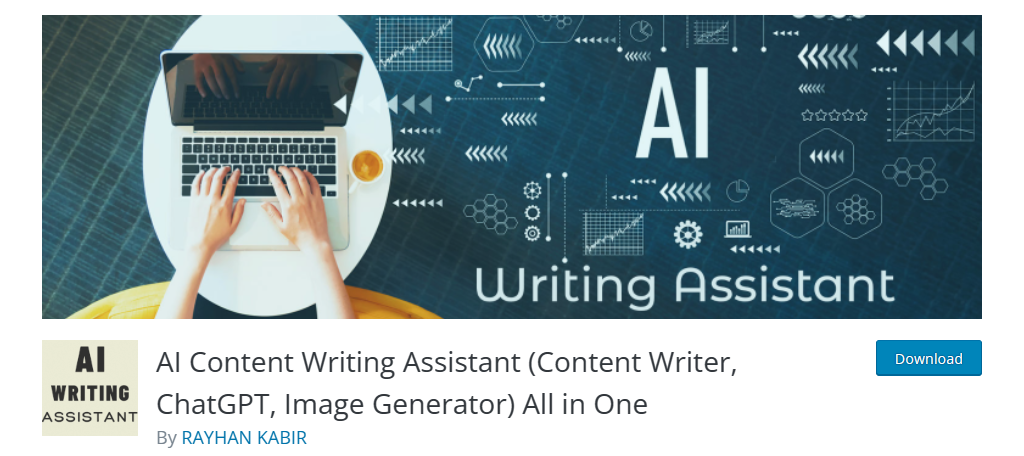 Alright, maybe I lied when I said there are no plugins that will write your content for you because the AI Content Writing Assistant does just that to a certain extent. It utilizes AI to create content for your website based on the information you enter.
It is also not just limited to text, as the plugin can also use AI to generate images for your website.
Now you probably don't think highly of AI writing, and there's a good reason for that. But the AI writing from this plugin integrates with GPT-3 to ensure the content sounds like it is coming from a human.
With that said, it is not perfect.
It's better to think of the content generated by this plugin as an outline. You should go in and correct the AI yourself and restructure the content as needed. AI still has a lot to learn when it comes to writing, but it is good at finding interesting facts and topics.
Benefits of Using AI Content Writing Assistant:
Includes 16 types of writing structures like Pros & Cons, FAQ, How-to, and more
Customize what headers (H1, H2, H3, etc.) the ai will generate
Generate a call to action above or below the content
Have the AI suggest titles for your own content
DALL-E integration ensures high-quality generated images
Every website struggles with preventing spam content from taking over the site, which is why Akismet Anti-spam is actually pre-installed on WordPress. It helps prevent spam from getting into your website through the comment section, form submissions, and more.
How does it actually do all of this? Well through the power of machine learning or artificial intelligence.
This is an incredibly important part of security plugins as a whole because hackers and malicious players are always updating the tools they use to bypass site security.
AI is able to help combat this by identifying these changes and implementing its own to counter them.
If the tool does fail to catch a spam comment, the site admin can tell the plugin that a post was spam, which allows it to learn and avoid making that mistake in the future. Overall, it's one of the best plugins on the platform when it comes to spam protection.
Benefits of Using Akismet Anti-Spam:
Easily view comments labeled as spam to ensure the plugin is blocking comments correctly
Deletes spam comments to not waste your website's storage
Helps block comments that may include spam links
Protect your website for free (paid plans available)
Works well with popular form builders
The internet is accessible from around the globe, which is a great thing that helps bring people together. However, there is one problem…language. There are 6,500 languages, which can make it a problem to translate your website.
The Google Language Translator attempts to fix this problem by utilizing AI.
It's no secret that if you are using Google Chrome, there is usually an option that will translate the page into your native language. That is done using Google's Translation Engine, which utilizes machine learning to carry out the task.
This plugin provides that tool on your website regardless of what web browser your users may be using. This allows you to avoid making a multilingual website where you have different sites for different languages, and instead, have a single one.
Benefits of Using Google Language Translator:
Translates WooCommerce product catalogs
Supports right-to-left translations (RTL)
Translates your categories and tags
Integrates with Google Analytics to help you see the most translated languages
Increases AdSense revenue with ad translations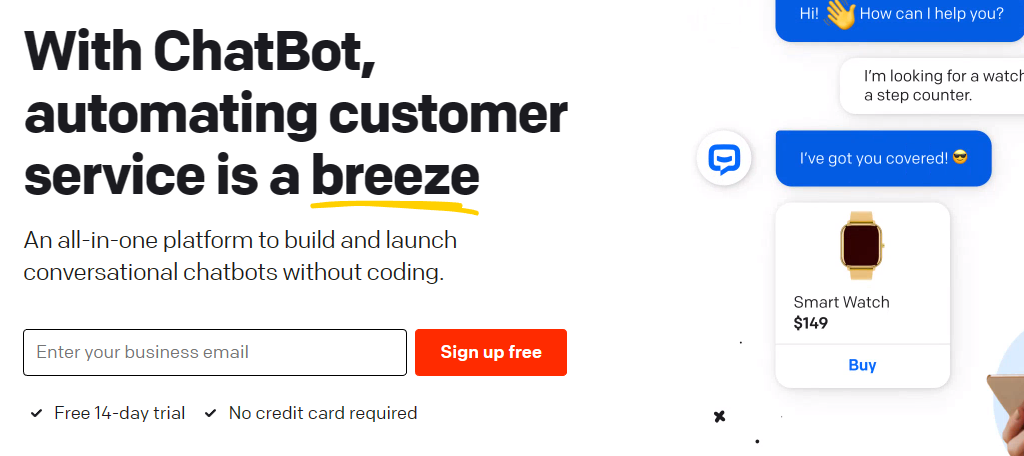 You might notice that a lot of businesses today have live chat options that you can interact with immediately when loading up the site. While it may seem that you are talking to a person, it is actually a bot that utilizes AI to scan what you type and display a reply.
When it comes to live chatbots that you can implement on your site, there is no better option than ChatBot.
What makes this a really powerful tool is that you are the one that can train the chatbot to say and respond. Essentially, you simulate an encounter and tell the AI what it should say in such circumstances.
It helps you make the user think they are talking to a human.
So, what can you actually do with this bot? Well, just about anything. You can use it to handle an initial interaction with users and help them get connected with the right agents, or you can help users find a product or a particular section of your website.
Benefits of Using ChatBot:
Lead customers to more expensive products or packages
Utilize A/B testing to see what scripts work the best
Works with 3rd-party applications like Slack to help manage employees
Integrate with MailChimp to send out emails to customers upon request
Train it to create tickets for your support team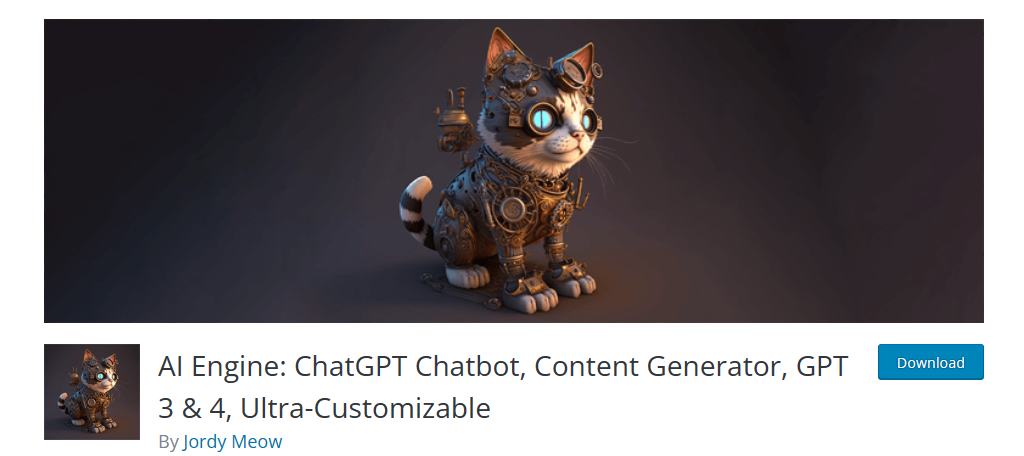 The AI Engine is the newest plugin on this list but has already built a large audience with 30,000 installs. It utilizes OpenAI to do a variety of things like create a chatbot for your website similar to ChatGPT, generate images, and more.
It can even create a writing assistant that you can ask for help while in the WordPress editor.
It's quite simple in implementation as well. You'll need to obtain a free OpenAI key and add it to the plugin. This key is free to use and it is typically good for six months or up to 650,000 words.
When creating content, you can use AI to generate titles and descriptions for your content. And as you might expect, it can even generate content for your website. Like most AIs, you should definitely use it as a starting point and edit it to meet your standards.
Benefits of Using AI Engine:
Supports multiple AI models like ChatGPT, GPT-3, and more
Let the AI brainstorm content based on a topic
Help translate your content with machine learning
Train the AI to better serve you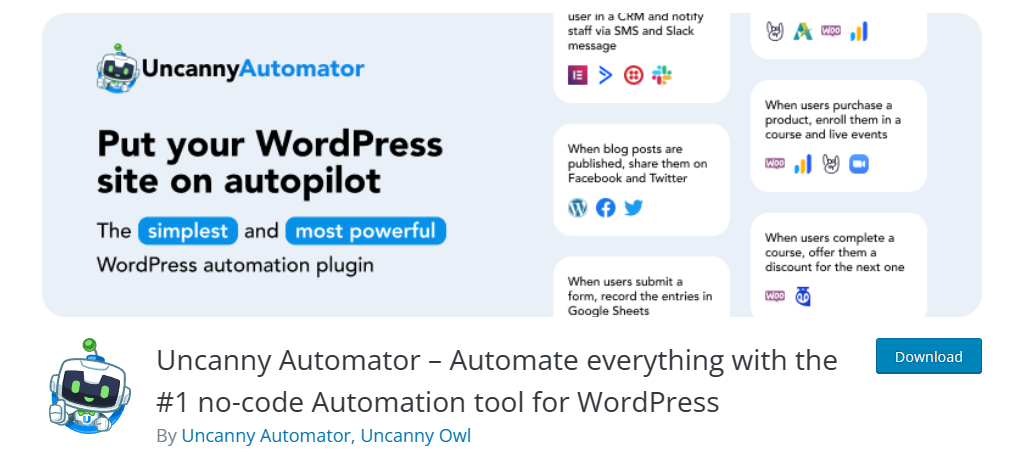 Releasing content regularly on your website is incredibly important and not just for the visitors. Even search engines value consistent content release schedules from websites, but it can definitely be hard to keep up with.
That's where the Uncanny Automator plugin comes into play. It focuses on scheduling content and ensuring it goes live on time.
This makes it a great plugin to have on your website, and all of this was before they added AI functionality. Users can now use AI to not only schedule content but also generate content and release it on a schedule with the click of a button.
For example, tired of manually creating a message to accompany a tweet when content goes live? Not a problem, this plugin can send the tweet and generate the message for it based on your scheduling rules.
Benefits of Using Uncanny Automator:
Integrates with most major WordPress plugins
Use OpenAI to proofread or translate your content
Schedule social media posts on any platform
Import Google Sheets into the plugin to add schedules
Trigger rewards for shoppers in your store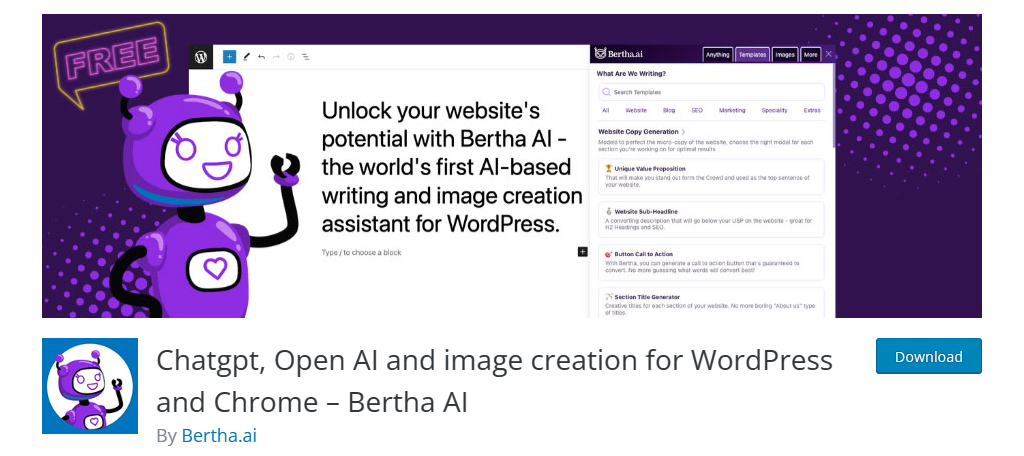 Have you ever thought to yourself that you wish you had a secretary? I'm willing to bet yes because while WordPress is an easy platform to use, there are a lot of moving parts to keep track of, which make it a full-time job.
Well, what if I told you that you can with the Bertha AI plugin?
This plugin will integrate with WordPress and place an AI assistant in every section. When you interact with it, Bertha can make recommendations of what to do, or be used to set reminders for yourself.
This plugin does a lot, but its strongest feature would probably be for eCommerce sites. If you run one, you know how annoying it can be to fill out product descriptions with tags and keywords, this plugin can generate it for you.
Benefits of Using Bertha AI:
Ask Bertha to fill in image descriptions and find AI images you can use
Creates SEO titles and other meta tags
Naturally integrates with Gutenberg so no need for a block
Integration with top page builders like Elementor
Ask Bertha to create emails for you to send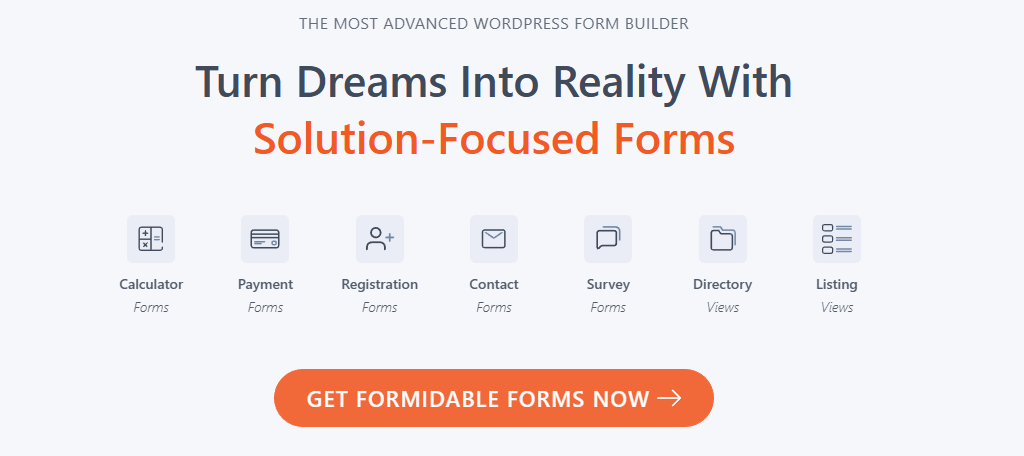 Most websites will need a form builder plugin to create essential forms like registration or adding shipping details. Regardless of why you need it, forms have gotten more advanced over the years, which is why they are starting to use AI.
Formidable Forms is one of the most popular and has AI options you can use to build forms faster and smarter than ever.
Have you ever filled out a form and noticed that the next question changed based on what you entered in one field? For example, when registering with a doctor, you may be asked if you are a smoker. If you answer yes, then a new field may appear asking you for how long.
This is called conditional logic, and with Formidable Forms, you can use AI to make it more responsive than ever to user inputs. You can even create a sales agent chatbot that can interact with your visitors.
Benefits of Using Formidable Forms:
Choose from over 30 premium add-ons to enhance your experience
Use a visual editor to design your forms
Allow users to upload files to forms
Includes a great library of templates including some generated by AI
Compile field results to obtain data and trends from users
One of the main reasons web design used to be so inaccessible was the high reliance on coding skills. Over the years, that has greatly diminished, and today, you can build an entire website without writing a line of code.
With that said, there are definitely times when writing and inserting code is a much better option than installing a plugin.
And in those situations, the CodeWP plugin will be your best friend. This plugin uses AI to generate usable code for your website. This tool was built for WordPress, thus it can generate PHP, Java, and other languages.
So how does it actually work? Well, just like most AIs, you'll be prompted to tell the AI what you want it to do, and it will generate code based on what you enter. It's quite handy, but I do recommend testing all of the code in a test environment first.
Benefits of Using CodeWP:
Export snippets in just a few clicks
Supports over eleven languages
Gain access to tutorials to help you make the most of this plugin
Includes a library of example snippets
Generate any kind of function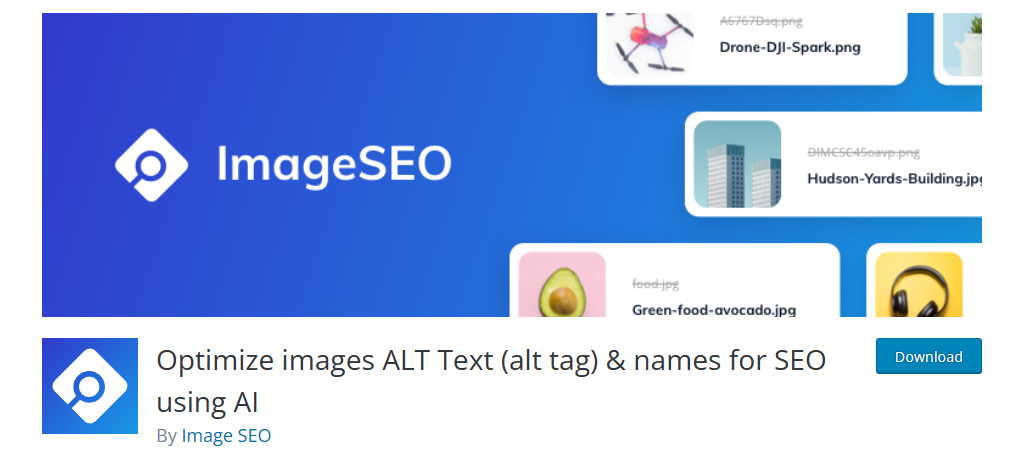 Perhaps one of the biggest missed opportunities when it comes to your website's SEO would be your images. Many users do not properly name them or add ALT text which can harm your website's SEO.
That's why closing out our list is the Image SEO plugin that does all of this automatically with AI.
That's right, the moment you add an image to your media library, the plugin will generate an image name and ALT text for it. And it even works when uploading multiple images. This can save a lot of time on larger websites that regularly upload dozens of images.
The plugin goes even further by offering integration with social media platforms. For example, you can automatically generate social cards for major platforms like Twitter, Facebook, LinkedIn, and more.
Benefits of Using Image SEO:
Simply enter the free API key and the plugin starts working
Includes an ALT text checker to scan your existing images for missing ALT text
View the title and ALT text before it goes live
Include product details like price in WooCommerce images
Generated content occurs very quickly
Utilize AI Plugins In WordPress Today
As you can see, WordPress has a versatile offering of AI-powered plugins at its disposal. Artificial Intelligence will remain a hot topic in the coming years, and will likely change how you manage a website forever.
In fact, there is a strong possibility that a lot of content you read online in a few years may be from an AI if current trends continue. However, we still have some time before AI writing becomes indistinguishable from humans.
What kind of impact do you think AI plugins will have on WordPress? What is your favorite AI plugin?