10 Best WordPress Facebook Plugins to Use in 2023
Social media has changed how people interact with one another in an online environment. And when it comes to these platforms, none of them are bigger than Facebook. You can integrate WordPress with Facebook by installing the right plugins.
What features you add to your website depend entirely on the plugin. There are plugins for sharing your posts on WordPress automatically, allowing users to log in using their Facebook account, liking content, and much more.
There are really no limits when it comes to integration options between these platforms thanks to the huge selection of plugins to choose from. And in most cases, the plugins will also work with other social networks.
Today, I will share the best Facebook plugins for WordPress you can install today.
Smash Ballon offers an incredible selection of social media tools for all platforms. But when it comes to Facebook, the Smash Balloon Facebook Feed plugin is simply the best at connecting your WordPress website with your Facebook account.
Simply put, this plugin automatically takes your Facebook posts and adds them to any post or page in WordPress.
This supports all kinds of content like text, images, and video content. It also supports multiple Facebook feeds, so if you have multiple accounts, you'll be able to connect them all to a single website with one tool.
More importantly, what really sets Smash Balloon apart as a plugin maker, is the focus they put on performance. Normally, social media plugins slow down your website because you are connecting to a third party, that's not the case here.
Benefits of Using Smash Balloon Facebook Feed:
Site health notifications alert you when a feed fails to update on WordPress
Includes a custom Elementor widget for you to embed your feed on any page created with Elementor
Choose how much information to show from Facebook with Feed control options
Intuitive design ensures that any user can utilize this plugin to the maximum effect
This plugin supports individual posts on Facebook and Group posts
Have you ever noticed how a lot of websites offer you the ability to log into your account using a social media account? There's a good reason for this, it makes it easier for the users because they do not need to remember another password.
And when you lower the barrier to creating a new account, users are more likely to create one in the first place.
The Nextend Social Login and Register plugin allows you to add this feature to your WordPress website. Users can opt to use Facebook, Twitter, LinkedIn, and other social networks to log in to their WordPress account.
There is no limit on the number of social networks you can link to a single account, which gives users a lot of freedom. The plugin will provide you with the information you would normally collect from a registration form like name, email, etc.
Benefits of Using Nextend Social Login and Register:
Social login buttons are added to your website's login area
The social buttons include the social networks icons to make it easier to identify at a glance
Users can freely remove a social network from their WordPress profile
You'll only need the social networks API key to get started
Displays profile pictures from Facebook, Google, Twitter, and more
Getting followers on your Facebook account is a real challenge as the competition is pretty fierce, to say the least. Many influencers and businesses have started to rely on giveaways to entice users to follow them on Facebook.
Generally speaking, these are simple contests where all Facebook followers have a chance of winning a prize of some sort.
The RafflePress plugin allows you to easily do this for your Facebook account through WordPress. It provides a template that you can use to create an event and set the criteria users have to meet to be eligible to win.
It can be as simple as just following you on Facebook, or you can make other criteria such as liking a specific post. It's worth mentioning that Rafflepress works with other social networks, so it is quite a versatile tool where giveaways are concerned.
Benefits of Using RafflePress:
Use a drag-and-drop builder to construct your giveawaysInc
Integrates with your CRM and email marketing tools for flawless integration
Allow users to share your content for more chances at the giveaway (encourages more sharing)
Responsive design ensures that RafflePress works great on devices of any size
Build landing pages for your giveaways to get the best results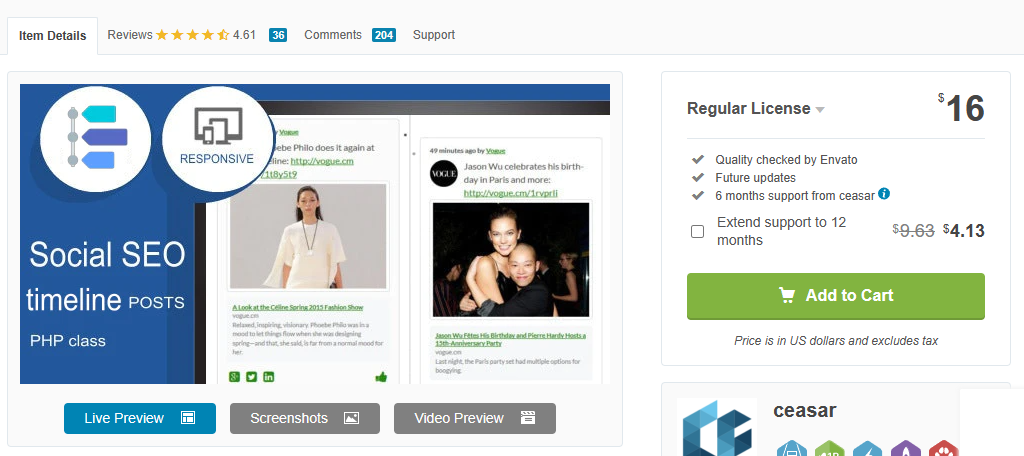 If you run a lifestyle blog, keeping readers informed of what's happening in your life is very important. While there are several ways to do this, one of the best is with the Social SEO Responsive Timeline Feed plugin.
It will create a full timeline from your Facebook posts. This will display the content of the post and the date it was posted.
Visitors can share any of the posts in your timeline on other social networks, like the post, and even comment on it directly from WordPress. The type of content that can appear in the timeline includes text, images, and video.
One of the biggest issues that many of these types of plugins have is not blending in with your site's theme, but that isn't the case here. All of the icons will use your theme colors to make it seem like a natural part of your website.
Benefits of Using Social SEO Responsive Timeline Feed:
Keep the timeline condensed by using a Read More tag on posts
Plays YouTube videos inline
Choose between two different layout options to better match your site's design
Utilizes the Facebook PageToken for the setup process
Support Arabic, Persian, and Hebrew languages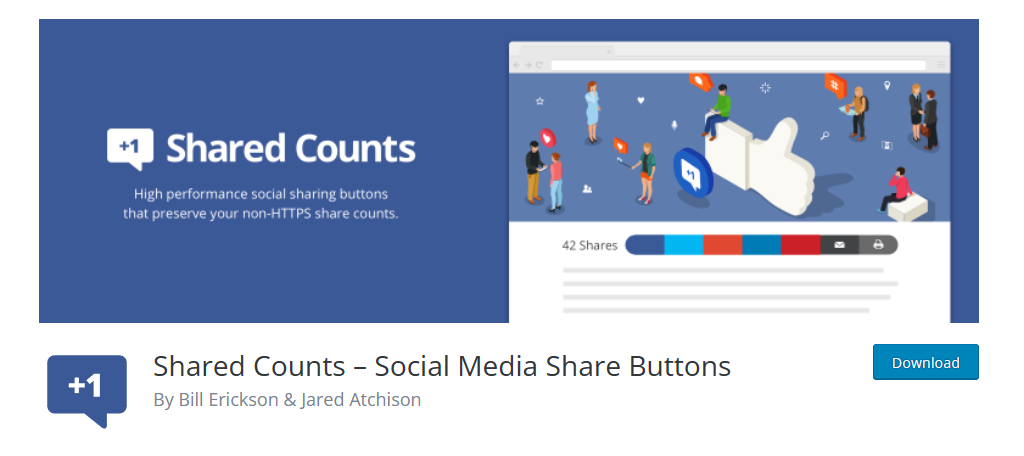 Perhaps one of the best ways to get someone else to do something is to show them that everyone else is doing it. And that's no different when it comes to sharing content online. The Shared Counts plugin can help you achieve that.
This plugin displays how many people have shared the content on a variety of social networks like Facebook, Twitter, and others.
Essentially, it is a small indicator that shows the total number of shares a page has. You can place them anywhere on the content, although the most common places are typically at the top or bottom of a page.
In terms of design, you have a ton of options. The plugin provides a variety of share counters that come in a variety of styles like rounded corners and more. It's one of the best ways to display this info in WordPress and it's completely free.
Benefits of Using Shared Counts:
Includes RECAPTCHA support to prevent email sharing abuse
Simply add the shortcode to the desired location and the social counters will appear
You can customize which platforms appear and the order they appear in
Includes recovery options if you upgrade from HTTP to HTTPS
No cookie tracking is included, thus it is GDPR friendly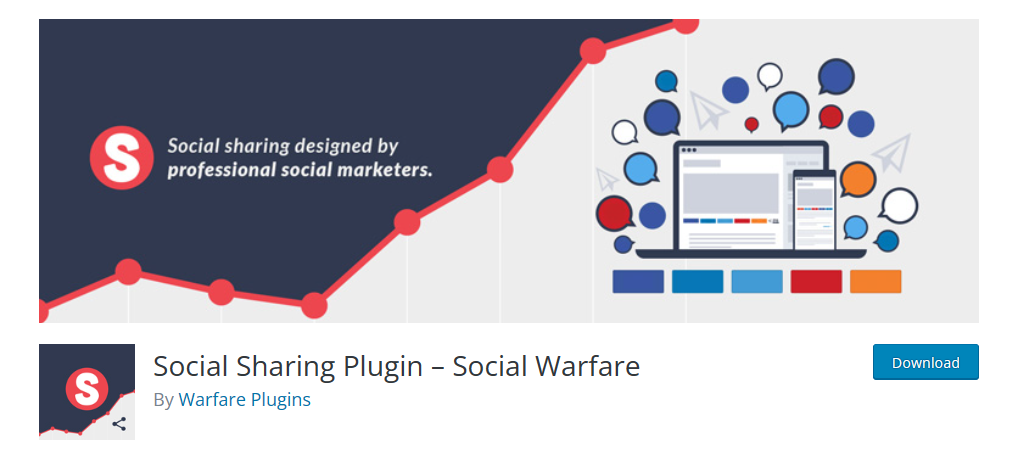 When it comes to increasing user engagement and getting more likes and shares on Facebook, there is nothing more important than a Call To Action (CTA). Simply put, a CTA is what prompts a user to interact with the content in a certain way.
It can be as simple as someone asking visitors to follow them on Facebook or offering a discount code for registering for a newsletter.
In any case, the Social Warfare plugin can help boost your social media presence with a variety of CTA tools that entice visitors to interact with them. For instance, you can enable a floating Facebook button to ask visitors to share the content they are reading.
You can ensure this isn't too annoying by modifying the settings. In fact, it is highly encouraged to do so, as this can easily drive some visitors away if it is too intrusive. The plugin isn't just for Facebook either, as it works on all of the major social networks.
Benefits of Using Social Warfare:
Includes share buttons you can place above and below post content
Gain access to a popular posts widget that determines popularity by user shares
Share recovery in the event your permalink structure changes
Uses Bitly to shorten share link URLs
Include social icons on post thumbnails
You might have noticed that many influencers and businesses are selling their products on Facebook. It's a great tactic because it puts your products on display to a much larger audience, and you can definitely do this with WordPress.
Facebook for WooCommerce is an official plugin from Facebook that connects your WooCommerce store with the social platform.
It is compatible with Facebook Pixel to help your products appear in front of visitors that are more likely to buy them. As a result, it is one of the most effective ways to boost sales and grow your customer base in one fell swoop.
It can also target visitors that viewed products on your website and didn't buy them. Those products will appear again when they are on Facebook to try and entice them once again. Best of all, since this is an official plugin, it is regularly updated.
Benefits of Using Facebook for WooCommerce:
Creates carousel ads to show off multiple products
Create an online store on your Facebook page
Responsive design ensures it looks great on any screen size
Automatically uploads your entire store's product catalog
Has great support with big reports available through GitHub
Are you looking for a simple way to display your Facebook feed in WordPress? If so, Widget for Social Feeds is one of the best Facebook plugins to use on your WordPress site. It adds a widget you can place in the header, footer, or sidebar area.
The widget will display your Facebook feed to visitors anywhere on your site and offers a lightweight design to help not slow you down.
You also have a lot of control over what content is shown in your feed. This can help you exclude things that you don't want to display on your site.
For example, you may automatically post on Facebook when a post goes live, that's a bit redundant to display on your site.
While the plugin offers you a dedicated widget, you also have the option to display your Facebook feed using a shortcode. This gives you more control over where you place your feed on posts and pages, which makes it a great choice.
Benefits of Using Widget for Social Page Feeds:
Only requires your Facebook Application ID and a URL to your page
Control the height and width of the display area
Insert your own custom CSS to match the rest of your website
Add your own call to action in the title area
Includes access to language packs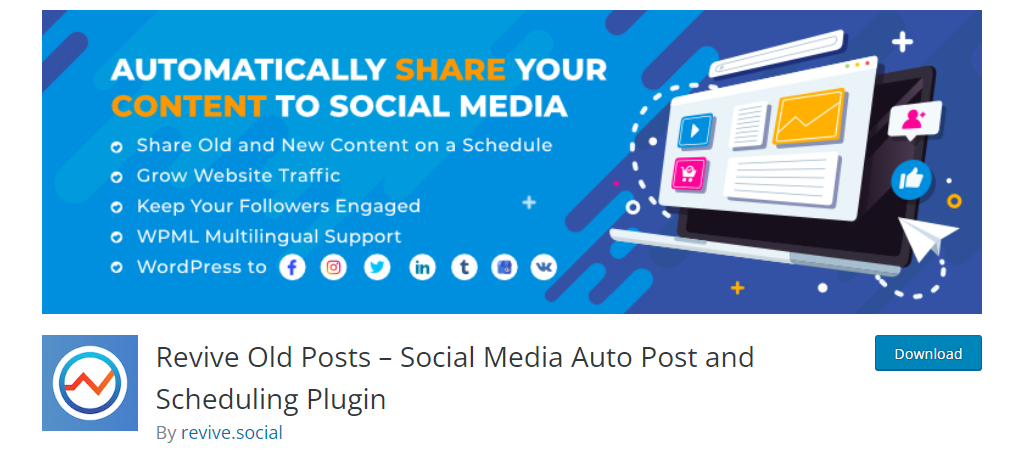 Do you have a lot of older content on your website? If so, that's perfectly normal. But getting visitors to interact with older content can be challenging. That's where the Revive Old Posts plugin comes into play.
You can schedule this plugin to post your older articles on Facebook once a certain amount of time has passed.
For example, you can set it to display a blog post six months after it was published on Facebook. You can make it more frequent, but you do want to keep a steady stream of new content, otherwise, users are going to catch on.
This plugin isn't just for old post content either. You can also use it to showcase older products you offer on your WooCommerce store. You can also choose to exclude certain content that may be time sensitive like holiday posts.
Benefits of Using Revive Old Posts:
Includes WPML multilingual support to reach more customers
Not just a Facebook plugin, it works on all other major platforms
Helps promote evergreen content to stay relevant
Also allows you to schedule new post content to be displayed on Facebook hours after the release
Exclude specific categories when scheduling
Closing out this list of the best Facebook plugins for WordPress is the Social Auto Poster plugin. As the name implies, this plugin focuses on scheduling social media posts that tell visitors when a new WordPress post goes live.
It works with all of the major platforms including Facebook, Twitter, Instagram, and more, which makes it ideal for marketing teams.
The main appeal of this premium plugin is being able to quickly release automated posts across a variety of plugins at once, but it can definitely just be used for Facebook if you desire.
You can insert a small message, followed by the page link, and it's ready to go.
When it comes to the appearance on Facebook, the message will include your post thumbnail followed by a short excerpt of the content, which you can customize in length. Users simply need to click on it to get to the actual post.
Benefits of Using Social Auto Poster:
This plugin is compatible with WooCommerce to also show off new products
The plugin is translation ready with WPML support
Gain access to a dedicated support team to help you work through any issues
Set up auto posts with a single checkbox
Automatically shortens your URLs to make them more sharable
There Are Other Social Media Platforms
This might sound strange after going through an entire list of Facebook plugins for WordPress, but it's important to realize there are other social media platforms you may want to consider using as well.
Facebook is undoubtedly the biggest social media platform in the world, however, other platforms have their own advantages.
For example, Instagram is another popular platform that focuses on images. This could be a much better fit for your website as you can show off travel destinations, products, and more on a platform dedicated to it.
It's also worth mentioning that Instagram has higher levels of user engagement than any other platform.
Another great example would be if you are posting about job openings at your company. Since most users like to unwind on Facebook, there's a good chance it won't have the desired impact. Instead, posting it on a platform like LinkedIn is the better option.
LinkedIn is a social media platform aimed at connecting employers with job seekers.
Ultimately, each platform has its own advantages and disadvantages, and some are just better than others when looking at specific metrics and content types.
Using a variety of platforms is the best option in 2023.
Social Media Platforms Constantly Update Their API
It's worth noting that social media websites regularly update their API for security purposes. This is especially true for Facebook, as it is the largest social network and is regularly targeted by nefarious organizations.
Unfortunately, this can mean that the plugins you install that utilize this API can stop working from time to time after a major update.
Thus, you need to regularly check if your plugins are working correctly.
The best way to avoid this is to install popular plugins that get updated regularly. The more popular the plugin, the more support it gets, at least generally speaking.
Avoid plugins that are not updated on a regular basis, as these are more likely to break.
In the event that a plugin does stop working, it is recommended to deactivate it until an update is available. You may also just want to uninstall the plugin altogether after enough time.
Integrate Facebook With WordPress Today
As you can see, WordPress has an incredible selection of plugins that connect the two platforms together. And it's no surprise considering that they are both the largest platform in their respective fields.
However, be sure to have original content on both your Facebook and WordPress websites. If all of the content is the same, users may just decide to use one or the other instead of both.
In any event, I hope that this list helps you find the best Facebook plugins for WordPress.
What kind of Facebook plugins did you install in WordPress? Do you think every social network should have an official plugin?